8 Potential Landing Spots for Jimmy Garoppolo: Browns, Seahawks, Dolphins Prime Locations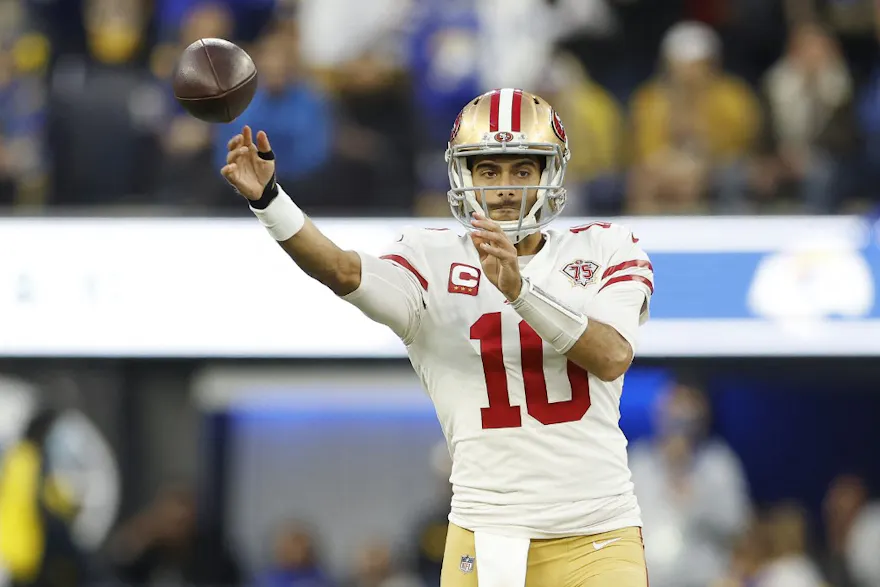 Ever since the Cleveland Browns traded quarterback Baker Mayfield to the Carolina Panthers, there has been some suspicion that Cleveland might be the next destination for San Francisco 49ers quarterback Jimmy Garoppolo.
Garoppolo, 30, has started 45 games for the 49ers over the past five seasons. While he has missed significant time with injuries, he has also been surpassed on the 49ers' depth chart by Trey Lance, the third pick in the 2021 Draft.
The Niners have compiled a 31-14 record with Garoppolo starting at quarterback and he has completed 67.7% of his passes, throwing 66 touchdowns and 38 interceptions. This all suggests that Garoppolo is a legitimate starting quarterback.
As for the Browns, they are still waiting on the final word when it comes to Deshaun Watson's suspension. An arbitrator ruled that a six-game suspension would be sufficient, but the NFL has appealed that decision, so there is the chance that Watson could miss more time; thus, the potential interest in Garoppolo to keep Cleveland competitive in 2022.
Odds for Jimmy Garoppolo's next team courtesy of DraftKings.
Check out the latest comprehensive and most trusted Sportsbook Reviews by SBR.
Cleveland Browns (+200)
The Browns seem to be the favorites for Jimmy G, not least of all because of their likely need at the position, but also because Cleveland has a chance to be a competitive team, so they should be motivated to make a deal for a bona fide starting quarterback after Watson's suspension.
Seattle Seahawks (+350)
It would make plenty of sense for the Seahawks to add Garoppolo because he is better than the two quarterbacks battling for the starting job in Seattle, Geno Smith or Drew Lock. Not only that, but the Seahawks have a premier pair of receivers with D.K. Metcalf and Tyler Lockett, so Garoppolo might be able to help the Seahawks avoid crashing this season, if they have any interest in that result.
Miami Dolphins (+400)
Once the Dolphins acquired Tyreek Hill from the Kansas City Chiefs, there has been concern that third-year Dolphins quarterback Tua Tagovailoa will not have the arm to properly utilize Hill as a downfield threat. It would be a major decision for the Dolphins to change course, but uncertainty at the position does create a potential opportunity.
Houston Texans (+550)
Holding the longest odds in the entire league to win the Super Bowl this season, the Texans are not incentivized to marginally improve those results, so they are more likely to stick with second-year quarterback Davis Mills to examine his long-term potential as a starting quarterback in the NFL.
Los Angeles Rams (+750)
As reports continue to track the progress of Matthew Stafford, the Rams quarterback who is dealing with an elbow issue, there is the possibility that the problem could linger and if it turned into something that would sideline Stafford long-term then the Rams might want to defend their Super Bowl title with a proven veteran option at quarterback. It might be a big challenge for the Rams to pull off this kind of trade with the 49ers, an NFC West division rival.
New York Giants (+750)
Going into the season, the Giants are committed to Daniel Jones, the sixth pick in the 2019 Draft who has regressed after showing some promise during his rookie campaign. Maybe the Giants would be ready to move on from Jones, but turning to a 30-year-old Garoppolo is not necessarily a natural fit either.
Tampa Bay Buccaneers (+1100)
Maybe the Bucs would be interested in setting up a succession plan for Tom Brady, just like it was supposed to happen in New England. There is enough reporting that Brady intended to join the Miami Dolphins in the offseason, but that deal fell apart, and the Bucs might like the idea of having an established NFL quarterback ready to go for the 2023 season in case Brady wants a new challenge.
Atlanta Falcons (+1600)
Much like the Texans, there is not much reason to think that the Falcons would want an established veteran quarterback, even if he is most likely better than their current starter, Marcus Mariota. The Falcons are too far away from contending to make those kinds of marginal, short-term upgrades.
Here are the latest Super Bowl odds from DraftKings, FanDuel, and Caesars.
Super Bowl Odds
Make sure to keep an eye on our Live Odds page throughout the week to get the best lines possible and connect with others in the SBR community on our popular sports betting forum.