NHL Shot Prop Picks, Predictions for Tuesday: Zegras Primed to Tame Preds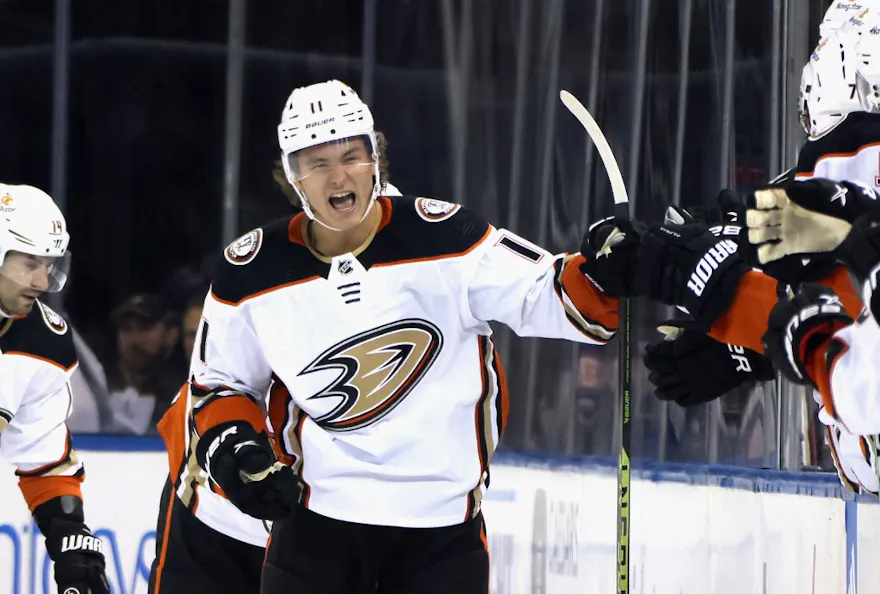 Anaheim Ducks center Trevor Zegras lands in a sneaky-good matchup against the Nashville Predators on Tuesday, and he headlines our top shot-prop picks for the nine NHL games.
It's been more difficult to find plus-money odds for 2.5-shot totals this season than in years past. However, Barstool Sportsbook is featuring the best collection of odds in the shot-prop markets for Tuesday, and there's a considerable margin in some cases.
Here are our top NHL shot-prop picks for Tuesday (odds via Barstool Sportsbook; Pick confidence is based on a 1-to-5-star scale).
Top NHL Shot Prop Picks for Tuesday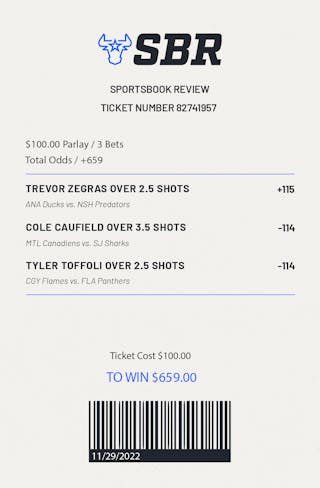 NHL Shot Prop Predictions
Trevor Zegras Over 2.5 shots (+115) ★★★★
Anaheim Ducks center Trevor Zegras has cleared this shot total in four of his past six games while averaging a healthy 19:07 of ice time and skating in a top offensive role. He also ranks fourth on the Ducks in shot attempts per 60 minutes in 2022-23, and now the forward gets a soft matchup.
The Nashville Predators are surrendering the eighth-most shot attempts per hour in the league across their past 10 contests. They've also given up the 10th-most during the campaign.
Additionally, I value the +114 odds available via Barstool. FanDuel Sportsbook is offering the next best odds at +104, and Caesars Sportsbook is hanging a -102 number.
Cole Caufield Over 3.5 shots (-114) ★★★
This is a bounce-back spot for Montreal Canadiens winger Cole Caufield. He's recorded just a single shot and seven attempts over his past two outings. However, Caulfield has cleared this shot total in seven of 11 games at the Bell Centre in 2022-23. He also paces the Habs in both shots and attempts per 60 minutes for the campaign.
The San Jose Sharks have been slightly more vulnerable on the road this season. They're surrendering 60.81 attempts and 30.9 shots per 60 minutes on the highway compared to 57.47 and 29.68 marks at home.
This play is also another example of Barstool offering the best price. San Jose has lost five of its past six contests, too.
Tyler Toffoli Over 2.5 shots (-114) ★★★★
The Florida Panthers are playing their second road game in consecutive nights after losing to the Edmonton Oilers 4-3 in overtime Monday. Florida will also be without No. 1 center Aleksander Barkov (illness) again.
The Calgary Flames have shuffled their lineup, and winger Tyler Toffoli is projected to skate on the top line with center Elias Lindholm and winger Jonathan Huberdeau. Add Toffoli's role on the No. 1 power-play unit, and I expect him to snap out of his recent low-shooting skid against a potentially tired opponent.
He's registered just eight shots and 16 attempts over the team's past five games. But Toffoli is averaging just 5.53 shots and 11.07 attempts per hour during his slump compared to 13.08 and 20.42 marks across the first 16 games of the campaign.
Where to Bet on NHL Shot Prop Picks
Here are our top-rated sportsbooks:
NHL shot prop picks made 11/29/2022 at 9:30 a.m. ET.