Mark Stone's Case for Conn Smythe: Golden Knights Captain Overlooked in Open Market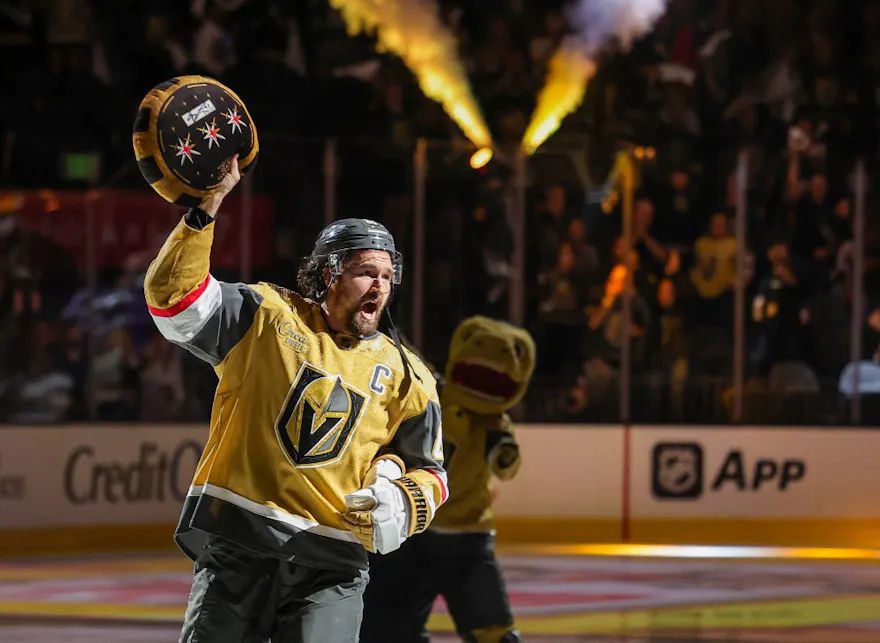 With the 2023 Stanley Cup Final set to begin, Sportsbook Review's Esten McLaren makes the case for Vegas Golden Knights captain Mark Stone to win the Conn Smythe Trophy based on the odds from our best sports betting apps.
The Vegas Golden Knights are comfortably favored over the Florida Panthers in the Stanley Cup odds. So why is there such great value on Golden Knights captain Mark Stone to win the Conn Smythe Trophy?
The Conn Smythe Trophy odds don't align with the Stanley Cup odds from our best NHL betting sites, and that's presenting an excellent opportunity for bettors. With both the Golden Knights and Panthers in uncharted territory entering the first Stanley Cup Final in franchise history, bettors should be looking to one of the most experienced players on the favored team with home-ice advantage.
Conn Smythe Trophy vs. Stanley Cup odds
Conn Smythe Trophy and Stanley Cup odds via our best NHL betting sites and presented in the order of DraftKings, FanDuel, BetMGM, Caesars, and PointsBet.
| Player | Conn Smythe odds | Team's Stanley Cup odds |
| --- | --- | --- |
| Sergei Bobrovsky | +210, +200, +200, +200, +200 | +105, +110, +110, +110, +105 (FLA) |
| Matthew Tkachuk | +290, +360, +300, +250, +325 | +105, +110, +110, +110, +105 (FLA) |
| Jack Eichel | +425, +400, +400, +375, +400 | -125, -130, -130, -130, -135 (VGK) |
| William Karlsson | +700, +700, +650, +600, +700 | -125, -130, -130, -130, -135 (VGK) |
| Jonathan Marchessault | +700, +650, +650, +500, +700 | -125, -130, -130, -130, -135 (VGK) |
| Mark Stone | +900, +2000, +1500, +1200, +1000 | -125, -130, -130, -130, -135 (VGK) |
| Adin Hill | +1200, +1000, +1000, +1200, +1200 | -125, -130, -130, -130, -135 (VGK) |
| Chandler Stephenson | +3000, +7500, +4000, +4000, +3000 | -125, -130, -130, -130, -135 (VGK) |
| Aleksander Barkov | +5000, +12000, +8000, +5000, +5000 | +105, +110, +110, +110, +105 (FLA) |
| Carter Verhaeghe | +5000, +12000, +6600, +5000, +5000 | +105, +110, +110, +110, +105 (FLA) |
Not intended for use in MA
Affiliate Disclosure: Sportsbook Review may receive advertising commissions for visits to a sportsbook
How Conn Smythe Trophy voting works
The most important fact to know when betting on the Conn Smythe Trophy winner, especially at this point of the Stanley Cup Playoffs, is that a member of the losing team in the Final has won just five times. No one has done so since former Mighty Ducks of Anaheim goaltender Jean-Sebastien Giguere in 2003.
So why are Sergei Bobrovsky and Matthew Tkachuk entering the 2023 Stanley Cup Final as betting favorites in this market?
Bobrovsky and Tkachuk have been the two most impactful players in the playoffs thus far. But that matters little. After all, the Panthers have needed a team effort to make it this far while defeating Eastern Conference opponents that entered each series against Florida as the Stanley Cup favorites.
If Tkachuk runs into a scoring dry spell, fails to provide the overtime heroics he routinely has to this point, or if the Panthers simply lose the series, he's not winning the Conn Smythe.
Bobrovsky—who's logged one shutout and a .935 save percentage during the playoffs—owns a slightly better case to be the sixth player from a losing Stanley Cup Final team to win the Conn Smythe Trophy if he slows down the powerful Golden Knights offense and get this series to a Game 7. But he shouldn't be the betting favorite.
With the Golden Knights favored to win the series in seven games, Conn Smythe bettors should be sticking to the team that could host Game 7.
Finally, Conn Smythe Trophy voting, like Super Bowl MVP, NBA Finals MVP, or any regular-season MVP award, is largely narrative-based. That's what's drawing my attention to Golden Knights captain Mark Stone.
Mark Stone's case for the Conn Smythe Trophy
Stone, a sixth-round pick of the Ottawa Senators in 2010, was dealt from the Sens to the Golden Knights late in the 2018-19 NHL season, Vegas' second year of existence. He became the franchise's first captain ahead of the 2020-21 campaign and has been holding that title ever since.
Stone has recorded 15 points (six goals) over three playoff rounds in 2023 while averaging 18:52 of ice time per game to rank second among the team's forwards. His resume this postseason also includes the game-winning goal during the final contest of Round 1 against the Winnipeg Jets. Long one of the league's top defensive forwards, Stone will also be on the ice late in games throughout the Stanley Cup Final, giving voters the opportunity to notice him at both ends.
On the narrative front, there's no one involved in this series with a better built-in case entering the final.
As captain, Stone would be credited with guiding the Knights—the NHL's second-youngest franchise—to their first Stanley Cup victory. Stone also underwent back surgery in January that held him out of the Knights' lineup until just before the playoffs. That was the latest in a string of injuries that have limited him to 200 regular-season games over the last four years, though the veteran has still put up 192 points.
Stone also withstood a brutal cross-check to the head from Dallas Stars captain Jamie Benn last round.
With the 27-year-old Adin Hill as the netminder for the Golden Knights (one of five to start games for them this season), it's unsurprising to see that forwards are the team's top options to win the Conn Smythe Trophy. But the club has used well-balanced scoring to get this far, with seven players recording double-digit points through three rounds, and only seven points separating Jack Eichel from Reilly Smith on that list. Stone is tied with Ivan Barbashev for third in team scoring with 15 points.
Best odds for Stone to win the Conn Smythe
FanDuel: +2000
Finally, and most importantly, there's the value we're being offered for Stone to win the Conn Smythe Trophy.
The +2000 odds via FanDuel present an added $110 in winnings on just a $10 bet from the market-low +900 odds DraftKings is offering.
(21+. Gambling Problem? Call 1-800-GAMBLER)
* Bonuses not applicable in Ontario.
Related pages