How to Assess NFL Futures Markets with Deshaun Watson Headed to the Cleveland Browns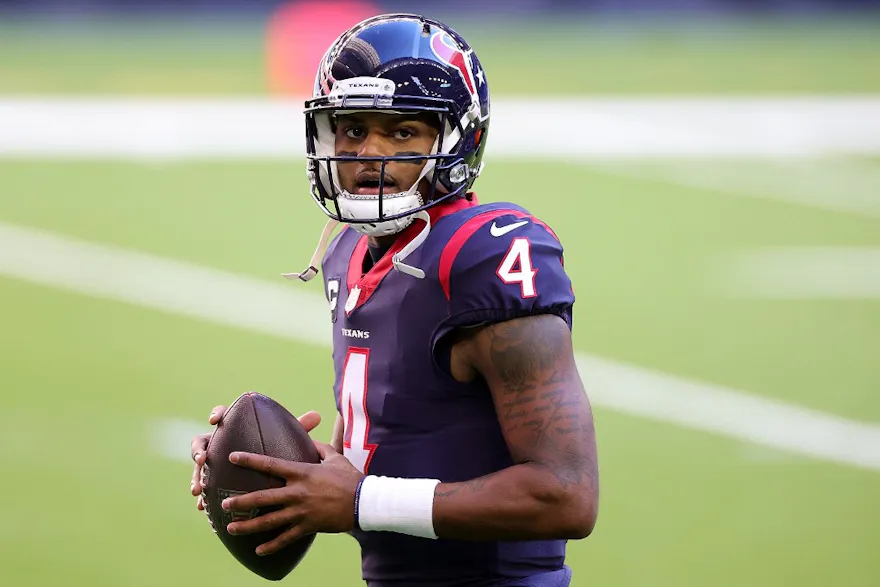 Deshaun Watson has reportedly agreed to a deal with the Cleveland Browns in a move that's sure to shake up NFL futures markets.
While the Cleveland Browns and Houston Texans still need to work out the official trade compensation, a deal to send QB Deshaun Watson to the Browns would reportedly see three first-round picks, a third-round pick, and a fifth-round pick sent back to Houston. From there, the Browns will reportedly sign Watson to a fully guaranteed five-year, $230 million contract.
With his statistics over the last several years, Watson is in the running for the NFL MVP award. In his final season with the Texans in 2020 (he sat out the 2021 campaign amid legal issues), Watson threw for a league-high 4,823 yards and 33 touchdowns. The then-fourth-year pro earned a Pro Football Focus player grade of 92.5, which would have been the highest of any quarterback in 2021.
https://twitter.com/CaesarsSports/status/1504909908348653581
How will Watson's arrival to the Browns affect NFL futures markets and what will be the best bets to make for the 2022 season?
NFL MVP Market
It is unfortunate for Watson that the NFL MVP is not exclusively based on your statistics for the season. With Watson's legal problems, it will be difficult to handicap how voters will view him in his first year back on the field.
Watson was listed at +2500 to win NFL MVP prior to the trade to the Browns. He immediately dropped to +1600 at DraftKings Sportsbook following the reported trade. To me, this is a price based solely on Watson's statistical ability to win the award with very little value added to account for the challenges Watson might encounter in the voting process. Before being cleared of his criminal charges, Watson could have been purchased at a price of +6600 for 2022 NFL MVP.
I would fade the current +1600 price point being offered on Watson to win the NFL MVP award. To consider buying Watson, we would require a much higher number, somewhere in the +4000 range.
https://twitter.com/FDSportsbook/status/1504915359832420352
Comeback Player of the Year
As long as Watson is cleared of his charges and has an impressive season, he will be in the running for the Comeback Player of the Year award. I believe this is an award the voters would be comfortable giving him immediately, whereas they'd likely need more time to give him a vote for NFL MVP.
This early in the offseason, these odds are not available; however, once they are released, I will be on the hunt for Watson's odds.
https://twitter.com/BetMGM/status/1504911228702969857
Where to Bet on NFL Futures
Here are our top-rated sportsbooks:
FanDuel SportsbookCaesars SportsbookDraftKings SportsbookPointsBetBetMGM
SEE ALSO: All picks, odds, and sports betting news. Be sure to check out SportsbookReview.com's community forums and betting tools.