Presidential Election Odds 2024: Campaigns Ramping Up with Primaries in Sight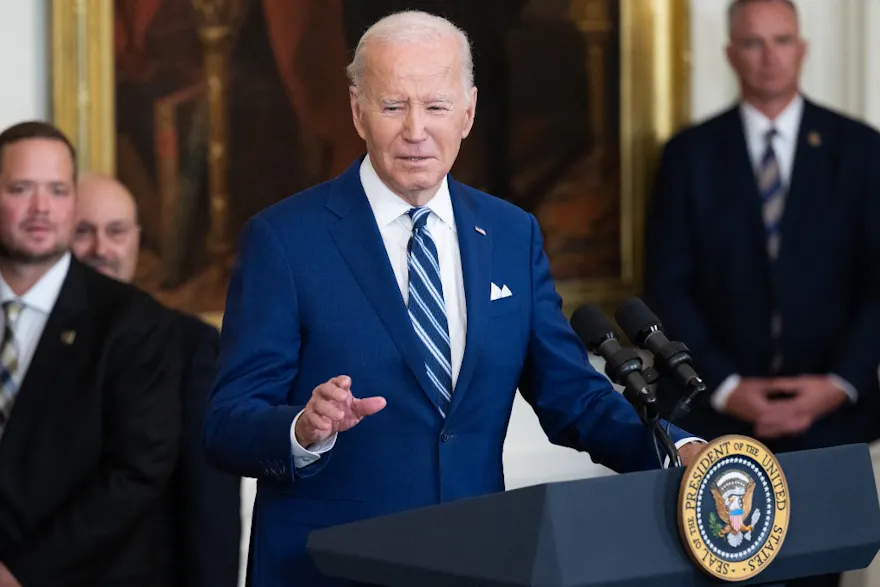 The 2024 U.S. presidential election odds continue to shuffle regularly with the big day just under a year out. Our best sports betting apps (outside the U.S., of course) keep offering U.S. presidential election odds with ever-changing lines, but Joe Biden and Donald Trump remain the consensus betting favorites.
The 2024 U.S. presidential election is nearly 10 months away, but candidates are looking ahead to the upcoming presidential primaries.
Those kick off in New Hampshire on Jan. 23, which is in fewer than two months. Donald Trump recently appeared at a major South Carolina football game and Joe Biden has been spending millions of dollars on ads.
The early primaries will be huge for candidates like DeSantis and former South Carolina governor Nikki Haley, who are looking to unseat Trump as the Republican nominee. The election appears to be headed for a 2020 rematch between Biden and Trump, but that's certainly not a done deal yet. Voters and bettors should expect to see more consistent movement over the coming weeks as the primaries approach.
Nikki Haley is gaining the most momentum right now, passing DeSantis in every market and the top talk on the street. It will be interesting to see if her odds can continue to gain momentum, because if so there is value to be had now at 35/1 with FanDuel.
Here is our look at the top 2024 U.S. presidential election odds from our best sports betting sites (odds available only from Ontario sports betting sites).
U.S. presidential election odds 2024
U.S. presidential election odds as of Dec. 4
Latest presidential election odds updates 2024
Nov. 24, 2023: The Israel-Hamas war begins its first day of a four-day cease-fire, which includes the release of 24 hostages that Hamas held in Gaza.
Nov 12, 2023: Tim Scott drops out of the presidential race. His supporters in South Carolina are backing Ron DeSantis.
Nov. 8, 2023: The third Republican debate is held, with participants including Nikki Haley, Ron DeSantis, Christ Christie, Tim Scott, and Vivek Ramaswamy. Haley is viewed as the biggest winner, while Ramaswamy strumbles.
Nov. 8, 2023: Glenn Youngkin said he's "not going anywhere" when asked about a potential presidential bid. The Virginia governor added that he's focused on his state and will not run for president in 2024.
Nov. 4, 2023: Thousands of pro-Palestinian protestors converge in Washington, D.C. to show their disdain for Joe Biden's support of Israel.
Nov. 4, 2023: Donald Trump and Ron DeSantis each take the stage to speak in Kissimmee, Florida, with Trump seemingly courting more favor with supporters.
Nov. 2, 2023: A trial to remove Trump from the 2024 ballot begins.
Oct. 28, 2023: Former Vice President Mike Pence drops out of the presidential race.
Oct. 27, 2023: Donald Trump Jr. campaigned for his father in Illinois, who lost badly in the state during each of the last two elections.
Oct. 26, 2023: Minnesota representative Dean Philips announces his candidacy for president.
Oct. 25, 2023: Mike Johnson of Louisiana takes over as Speaker of the House of Representatives, a position that puts him behind only vice president for next in line to be president.
Oct. 14, 2023: Joe Biden speaks to Israeli Prime Minister Benjamin Netanyahu and Palestinian Authority President Mahmoud Abbas over the course of the week in response to the ongoing conflict between Hamas and Israel.
Oct. 13, 2023: Biden visits Philadelphia to announce a federal grant for a hydrogen hub. He delivers remarks about the state of the U.S. economy, among other topics.
Oct. 8, 2023: Donald Trump moves ahead of Joe Biden as the favorite to win the 2024 U.S. presidential election at two of our three best sportsbooks.
Oct. 5, 2023: Biden administration moves to extend border wall with Mexico in Texas along the Rio Grande River. The border wall was denounced by Biden in 2020 and was a focal point of Trump's 2016 campaign.
Oct. 3, 2023: Donald Trump calls for the Republican National Committee to cancel future Republican debates so that the party can "refocus its manpower on defeating Joe Biden." Trump has not participated in either of the two Republican debates that have been held thus far, and he doesn't plan on participating in any that may be held in the future.
Sept. 29, 2023: Robert F. Kennedy "teases a major announcement" amid rumors he'll drop his bid for the Democratic nomination to run as a third-party candidate.
Sept. 27, 2023: Seven candidates participate in the second Republican debate - Chris Christie, Nikki Haley, Vivek Ramaswamy, Tim Scott, Ron DeSantis, Doug Burgum, and Mike Pence. Trump was notably absent.
Sept. 27, 2023: Trump delivers a speed near Detroit, and Biden joins a picket line in Wayne County, Michigan. Both Candidates are trying to win support from the striking United Auto Workers.
Sept. 22, 2023: A new CNN poll shows Biden holds an early advantage over Trump in New Hampshire "amid signs that anger toward Trump could outweigh dampened enthusiasm for another Biden term."
Sept. 22, 2023: Biden announces he'll join the United Auto Workers' picket line in Michigan on Sept. 26, showing his support for labor unions while also looking to gain an advantage over Trump, who's set to visit the state on Sept. 27.
Sept. 21, 2023: When asked their feelings about the 2024 U.S. presidential election, dread was the top emotion selected among 1,636 adults in the United States, according to a Yahoo poll. That was the most negative emotion of seven choices offered in the poll. Exhaustion was the next most commonly selected response.
Sept. 17, 2023: Donald Trump was asked about a female running mate during a recent interview with NBC's Meet the Press. "I like the concept, but we're going to pick the best person," he said.
Sept. 17, 2023: Trump said he's in favor of competency tests for all presidential candidates in that same interview. Biden, 80, and Trump, 77, have both faced questions about their advanced age.
Sept. 13, 2023: Speaking at the America First Policy Institute in Washington D.C., Vivek Ramaswamy said he would "use executive authority to shut down the deep state." Ramaswamy recently said he would fire over 75% of the federal workforce and abolish agencies such as the FBI and Food and Nutrition Service.
Sept. 11, 2023: Odds haven't shifted for any major candidate, with Joe Biden and Donald Trump far ahead of the pack for their respective parties and as the overall election winners.
Sept. 10, 2023: Republican candidate Nikki Haley says "yes I view China as an enemy," offering a glance at a foreign policy stance.
Sept. 9, 2023: Donald Trump and Ron DeSantis attend the Iowa-Iowa State football game and make quick comments at tailgate parties. Trump sits in a private suite, while DeSantis sits in the stands with Iowa governor Kim Reynolds. Vivek Ramaswamy appears briefly at a tailgate party before leaving for another engagement in New Hampshire. Trump currently leads the polls in Iowa.
Sept. 7, 2023: A CNN poll reports that only 28% of Americans say Biden inspires confidence, and 70% say the state of the country is poor.
Sept. 2, 2023: Bernie Sanders calls for unity among the "progressive community" and seemingly endorses Joe Biden, saying, "we cannot have four more years of Donald Trump in the White House"
Aug. 24, 2023: Donald Trump is arrested, booked and released in Fulton County, Georgia on charges related to his protestation of the 2020 election results
Aug. 23, 2023: First Republican primary debate is held, with notable candidates Ron DeSantis, Nikki Haley and Vivek Ramaswamy among the participants
Aug. 23, 2023: Tucker Carlson live-streams his interview with Trump on X (formerly Twitter) at the same time as the Republican debate
Aug., 2023: Vivek Ramaswamy and Gavin Newsom pull even with Ron DeSantis and move ahead of him briefly in the odds
July 18, 2023: Joe Biden's approval rating falls to 39.1%, the lowest of the year.
Favorites to win the 2024 US presidential election
Odds continue to remain settled for names at the top, with Trump as the favorite with most books except for FanDuel who has Biden penciled as the favorite. bet365 has odds closer to c0-favorites between both candidates
Haley has seen her odds shorten over the month of November, finally passing DeSantis to begin December and as low as +550 with BetMGM. Of all the presidential candidates right now, her odds are moving the quickest - so note that as we enter 2024 and if her odds continue to shorten then a ticket on her is worth a shot considering FanDuel's current +3500 holiday discount.
2024 presidential election Democratic candidates' odds
Biden is the heavy favorite to win the Democratic nomination. For another week, the odds among the Democratic nominees have remained the same.
It appears Biden will be the top candidate for the Democratic party, although Newsom's odds are fluctuating a bit. Still, its tough to see anyone but Biden run here, so its probably best to pass on this market for now or prepare to swallow an expensive -300 price tag.
Of the offering books, DraftKings has the best value for this market. So if you are shopping, start with them although the favorite is consensus.
Joe Biden 2024 president odds (-300 via bet365)
Politico recently echoed a disturbing trend for the incumbent. Biden's polling numbers are going down, while Trump's are on the rise.
Politico notes that of 13 separate pollsters, 11 showed Biden's position had worsened in November since the previous polls, and "Trump's vote share in the national polling average is higher now than at any point in the past year."
The president's decline can be attributed to a number of reasons, primarily the economy. The recent war in the Middle East will likely influence voters substantially, too.
Newsom continues to attract attention despite his repeated claims that he's not running for president in 2024. He recently visited China and Israel in a highly publicized trip, along with a debate against DeSantis.
DeSantis said he's been warning Republican voters that it may not be Biden in 2024 on the Democratic side.
"This guy is running a shadow campaign," DeSantis said. "He denies it, but even people in his own party are saying it. You have (Vice President Kamala) Harris, you have a lot of these other people who could end up running in 2024 if Biden's not able to do it. I think there's a lot of people in the Democratic Party who do not want Biden to run. Ultimately, it's going to be his decision, but I think there's a lot of pressure there for him to take a step back."
DeSantis' comments reflect the thoughts of many in the Republican party who believe Newsom is a presidential hopeful, despite comments to the contrary. Based on recent odds movement, oddsmakers would seem to agree.
2024 presidential election Republican candidates' odds
The only significant odds movement here is from Haley, despite Trump's odds at a very high -600. Haley has seen her odds cut in half, and at this rate would be advised for a ticket on simply based on the pace of her odds shifting.
Trump attended the Palmetto Bowl on Saturday in Columbia, South Carolina to drum up support for his campaign in a state where he's getting the backing of Governor Henry McMaster and senator Lindsey Graham. He stood at the 50-yard line during halftime while receiving mixed reactions from the crowd.
Trump is the clear favorite in the state, far ahead of former South Carolina governor Haley and current Florida governor DeSantis. South Carolina will hold its GOP primary on Feb. 24. It will be the fourth state to do so after Iowa, New Hampshire, and Nevada, making South Carolina an important state in Trump's bid for a third straight Republican nomination.
Ron DeSantis 2024 president odds (+1600 via bet365)
DeSantis received a formal endorsement in Iowa from evangelical leader Bob Vander Plaats on Tuesday. Vander Plaats has been a staple of Iowa Republican politics for two decades, and "Evangelical Christians have made up almost two-thirds of Iowa GOP caucus goers in past years," according to The Washington Post.
DeSantis has fallen far behind Trump in early polls, and he's not the clear runner-up in some states as a result, all as Haley continues to push forward in her bid to unseat the former president. The most recent poll numbers from Iowa in late October showed 43% for Trump and 16% each for DeSantis and Haley.
The DeSantis campaign views Iowa as its last hurrah in an effort to rebound from a terrible year when the Florida governor's support waned dramatically.
2024 presidential election non-political candidates odds
Celebrity candidates aren't in the picture to make significant noise this election (unless you're still counting Trump in that group). Instead, the 2024 election could feature the most prominent third-party candidate in 32 years. Robert F. Kennedy Jr. holds a legitimate chance to steal votes from each major party candidate and make a serious impact on the 2024 election.
Robert F. Kennedy Jr. 2024 president odds (+1000 via FanDuel)
The Salt Lake Tribune recently outlined RFK Jr.'s plan to visit a Salt Lake City club on Nov. 30 to get support for his name to be included on the ballot in Utah.
"Normally, independent candidates pay companies millions of dollars to gather signatures," he said. "We're taking a different route that starts with our thousands of volunteers in every state."
Utah features 574,075 registered unaffiliated voters, according to the Washington Examiner, and that total has been steadily increasing recently. Over 100,000 of them are reportedly inactive after not voting in at least two consecutive general elections. That amount of unaffiliated voters is more than double the Democratic voters, and over half of the Republican voters.
Utah is just one of 50 states in which RFK Jr. hopes to get on the ballot, and the number of registered unaffiliated voters there speaks to his likely aim across the country. He could significantly impact the final tally for both Trump and Biden.
U.S. presidential election winners
| Year(Election #) | Winner (Party) | Winner Odds | Runner-up (Party) | Runner-up Odds |
| --- | --- | --- | --- | --- |
| 2020 (59) | Joe Biden (D) | -175 | Donald Trump (R) | +150 |
| 2016 (58) | Donald Trump (R) | +375 | Hillary Clinton (D) | -550 |
| 2012 (57) | Barack Obama (D) | -450 | Mitt Romney (R) | +360 |
| 2008 (56) | Barack Obama (D) | -900 | John McCain (R) | +800 |
| 2004 (55) | George W. Bush (R) | -188 | John Kerry (D) | +138 |
| 2000 (54) | George W. Bush (R) | -175 | Al Gore (D) | +125 |
| 1996 (53) | Bill Clinton (D) | -1000 | Bob Dole (R) | +600 |
| 1992 (52) ++ | Bill Clinton (D) | -800 | George H. W. Bush (R) | +500 |
| 1988 (51) | George H. W. Bush (R) | -700 | Michael Dukakis (D) | +400 |
| 1984 (50) | Ronald Reagan (R) | -700 | Walter Mondale (D) | +450 |
| 1980 (49) | Ronald Reagan (R) | -110 | Jimmy Carter (D) | -110 |
| 1976 (48) | Jimmy Carter (D) | +100 | Gerald Ford (R) | -120 |
Trump was the first candidate since Jimmy Carter in 1976 to win an election as the underdog. Trump was the heavy dog to Hillary Clinton in 2016, while Carter was a small dog to incumbent Gerald Ford in '76. Trump's win is the clear outlier based on recent data, and going back as far as 1872, Trump was the second biggest underdog to win a presidential election, behind only Harry Truman's improbable defeat of Thomas Dewey in 1948 at +1500 odds.
Odds among the top candidates will move frequently until the election in November, 2024, but bettors should keep in mind that the favorite has won in 25 of the last 30 presidential elections.
U.S. presidential election FAQs
Who won the last U.S. Presidential election?
Joe Biden became the 46th President of the United States after defeating incumbent Donald J. Trump in the 2020 election.
When will the U.S. Presidential election be decided?
The 2024 United States presidential election will be held on Tuesday, Nov. 5, 2024.
Where will the U.S. Presidential election be decided?
Candidates will campaign for office in several cities and states until November 2024. Ultimately, voters will decide who will be the President of the United States at polling booths across the country.
How to watch the U.S. Presidential election
Every major news outlet will be covering the results of the 2024 United States Presidential election.
(21+. Gambling Problem? Call 1-800-GAMBLER)
* Bonuses not applicable in Ontario.
Related pages