Coca-Cola 600 Picks, Predictions & Odds 2023: Red-Hot Larson Will Be Tough to Beat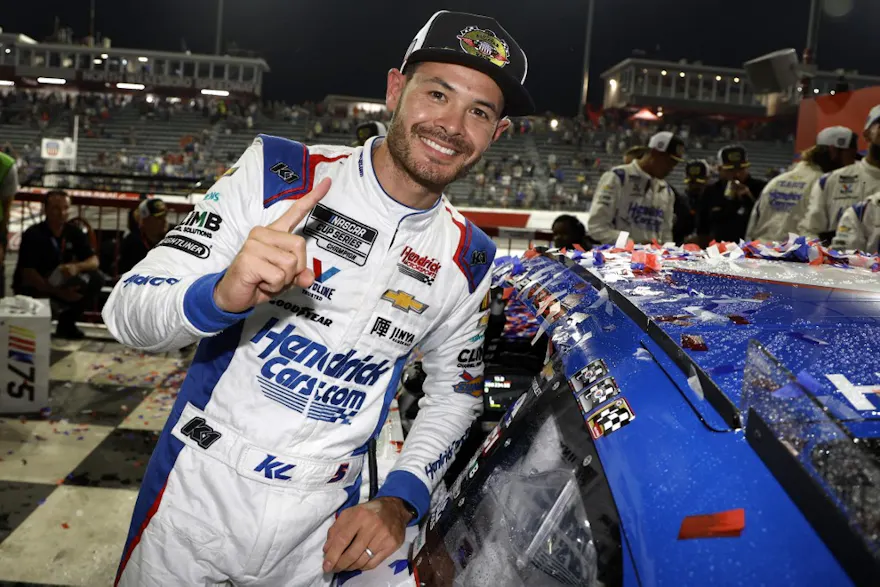 There's lots of value to be found before the Coca-Cola 600. We break down some of the best NASCAR picks and predictions while making our Coca-Cola 600 picks based on the top odds from our best sports betting sites.
The NASCAR Cup Series will take center stage in the nightcap to a busy Sunday of racing this weekend. Charlotte Motor Speedway will play host to the crown jewel event known as the Coca-Cola 600. Formerly known as the World 600, this is also the sport's longest race of the season in terms of distance.
For proof of just how much can happen over a 600-mile race, look at last year's event. The Trackhouse Racing tandem of Ross Chastain and Daniel Suarez seemed like the cars to beat through 300 laps. Ultimately, both drivers finished outside of the top 10, with Denny Hamlin going on to victory lane as the race winner.
Oddsmakers have now pegged Kyle Larson as a decisive favorite heading into the 2023 Coca-Cola 600. Larson has been running well on a weekly basis and is coming off of a dominant performance in the NASCAR All-Star Race. Will the 2021 winner be able to get the job done again in the longest race of the year?
Here are our best bets and 2023 Coca-Cola 600 picks for Sunday evening's event at Charlotte Motor Speedway (odds via FanDuel, Caesars, and BetMGM; Pick confidence is based on a 1-to-5-star scale).
Coca-Cola 600 picks
Outright winner: Kyle Busch (+1200 via BetMGM) ⭐⭐
Head-to-head matchup: Kevin Harvick (+120 via Caesars) vs. William Byron ⭐⭐⭐⭐
Top-10 finish: Chris Buescher (+380 via FanDuel) ⭐⭐
Not intended for use in MA
Affiliate Disclosure: Sportsbook Review may receive advertising commissions for visits to a sportsbook
Coca-Cola 600
| | | | | | |
| --- | --- | --- | --- | --- | --- |
| Driver | DraftKings | FanDuel | BetMGM | Caesars | PointsBet |
| Kyle Larson | +350 | +420 | +400❄️ | +350 | +420 |
| William Byron | +700🔥 | +600 | +700🔥 | +550❄️ | +625 |
| Denny Hamlin | +800🔥 | +700❄️ | +800🔥 | +750 | +750 |
| Martin Truex Jr. | +1000🔥 | +850❄️ | +1000🔥 | +900 | +900 |
| Ross Chastain | +1100🔥 | +900❄️ | +1000 | +1000 | +1000 |
| Chase Elliott | +1000🔥 | +900 | +900 | +900 | +900 |
| Kyle Busch | +900❄️ | +1100 | +1200🔥 | +1000 | +1100 |
| Christopher Bell | +1100❄️ | +1200 | +1400🔥 | +1400🔥 | +1200 |
| Tyler Reddick | +2200🔥 | +1600 | +2000 | +2200🔥 | +1500❄️ |
| Kevin Harvick | +1800 | +1800 | +1900🔥 | +1500❄️ | +1800 |
Coca-Cola 600 predictions
Outright winner: Kyle Busch (+1200 via BetMGM) ⭐⭐
This probably isn't the same Kyle that many bettors will be backing to win the Coca-Cola 600, but he makes for an interesting play nonetheless.
Kyle Busch has already logged two outright wins this season, his first driving for Richard Childress Racing. Both Busch and RCR have been quite successful at Charlotte Motor Speedway over the years.
As far as consistency is concerned, no driver has displayed more of it at this track than Busch. "Rowdy" won the Coca-Cola 600 back in 2018 and has finished fifth or better in four of the five races run there since. A runner-up showing last year marked his fourth top-three finish in the last six Charlotte races. In his last nine starts here, Busch has only finished worse than sixth twice over his last nine starts in Charlotte.
Chase Elliott is the only other driver who has matched Busch with three top-five results over four races at Charlotte since 2020. Meanwhile, the No. 8 Richard Childress Racing Chevrolet was a top-10 car in three of the last four years with Tyler Reddick behind the wheel. Austin Dillon won this race outright in 2017 and placed among the top 10 in each of the last two years.
When you combine the success of Busch and RCR in this race and at this track, it's hard to count the No. 8 team out heading into the weekend.
All of our top best sports betting apps are currently listing Busch's odds to win between +1000 and +1200, with BetMGM falling on the favorable side of that range.
Head-to-head Matchup: Kevin Harvick (+205 via Caesars) vs. William Byron ⭐⭐⭐⭐
Anyone who has been handicapping NASCAR for a while would be hard-pressed to recall the last time they saw a +205 return available on a head-to-head matchup.
The pricing for this matchup between Kevin Harvick and William Byron didn't materialize accidentally. Alongside his Hendrick Motorsports teammate, Kyle Larson, Byron has been the hottest driver in the Cup Series this season. He leads all drivers with three wins, and Chevrolet has performed particularly well at 1.5-mile oval tracks like Charlotte.
While Harvick may not have recorded a race win to date in 2023, he's been remarkably consistent. He's sitting third in the points standings and has amassed four top-five finishes and six top-10 results at the midway point of the season. He was third in the Coca-Cola 600 a year ago and has finished 10th or better in seven of the last eight races at Charlotte Motor Speedway.
Byron has logged only two top-10 finishes over six Cup Series starts at Charlotte. He's been very hit-or-miss, with three finishes of 21st or worse, including a DNF last year. Harvick should be the underdog in this head-to-head, but a +205 return is just too rich to pass up.
To further put the absurdity of this Caesars line into perspective, Harvick is only a +105 dog in a head-to-head clash against Byron's Hendrick Motorsports teammate, Chase Elliott, at BetMGM.
Top 10 Finish: Chris Buescher (+380 via FanDuel) ⭐⭐
For all of the struggles that RFK Racing endured last season, Chris Buescher was wicked fast in the Coca-Cola 600. That was until he got into a wreck, and his car flipped over onto its roof in the final stage of the race. Buescher went from being well on his way to a top-10 finish to having his race cut short.
Despite the bitter end to last year's race, that performance combined with the significant progress of the RFK Racing organization bodes well for a rebound showing this weekend. Both Buescher and teammate Brad Keselowski currently sit among the top 16 in the points standings, a far cry from a year ago.
Buescher has notched five top-10 results and a pair of top-five finishes on the season. In many ways, the RFK duo has contradicted the series-wide trend of Ford struggling as a manufacturer. The No. 17 team hasn't been great at 1.5-mile ovals, but there's plenty of cause for optimism based on last year's showing at Charlotte.
Once again, the betting odds help make a Buescher top-10 wager that much more appealing. FanDuel's +380 price on this prop offers a considerably greater return than our other best live betting sites in the market. This same prop was found priced as low as +275 elsewhere.
Coca-Cola 600 info
Date: Sunday, May 28, 6 p.m. ET
Location: Charlotte Motor Speedway, Concord, NC
How to watch: FOX
Defending winner: Denny Hamlin
Coca-Cola 600 picks made 05/26/23 at 11 p.m. ET
(21+. Gambling Problem? Call 1-800-GAMBLER)
* Bonuses not applicable in Ontario.
Related pages