Los Angeles Dodgers Sign Freddie Freeman: How it Impact Futures Markets and Bets to Make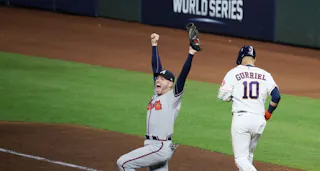 Freddie Freeman has signed a $162 million contract with the Los Angeles Dodgers. In this article, we analyze how this affects the numbers for the Dodgers team and player futures odds, with bets to make right now.
The long-anticipated signing of first baseman Freddie Freeman was completed Wednesday night and after 15 seasons in the Atlanta Braves organization, Freeman is headed to the National League West. The Los Angeles Dodgers signed Freeman to a six-year contract reportedly worth $162 million.
SEE ALSO: MLB Free Agent Tracker
Freeman recorded a WAR of 4.5 with the Braves last season. Since 2012, Freeman hasn't finished a season with a WAR below 3.3. He is one of the most consistent batters in MLB a sports a lifetime slash line of .295/.384/.509.
The Dodgers saw a player with 3.7 WAR (95 games) leave their organization when Corey Seager signed with the Texas Rangers. They were likely anticipating Seager's departure as a free agent when they traded for Trea Turner last season.
Turner is now the starting shortstop, and the Dodgers are able to lessen the blow of losing Seager by signing Freeman. That is what makes the Dodgers so elite, and why they will not stop winning anytime soon. The Dodgers always have a plan, and their organizational depth is unmatched.
SEE ALSO: World Series Odds and Picks
This article examines how the Dodgers' signing of Freeman will affect multiple futures bets.
Dodgers Team Futures Bets
The signing of Freeman will not significantly affect the odds for the Dodgers to win the World Series. Due to their already short odds of +550, this will not have the same effect as it would on other teams.
Combining the signing of Freeman with the news of San Diego Padres shortstop Fernando Tatis Jr.'s injury, the Dodgers' odds in the NL West will begin to shorten. Based on the current narratives, both the Dodgers and Padres seem to be trending in opposite directions, and this will be reflected in the odds.
SEE ALSO: Dodgers Odds Drop After Signing Freddie Freeman
At the time of the Freeman signing, the Dodgers had a win total of 96.5 at DraftKings Sportsbook. During the next few days, I expect this number to increase by one or two games. Although, this increase may not necessarily be directly related to the news about Freeman. According to Baseball Prospectus' latest PECOTA projections, the Dodgers are expected to win 99 games this season.
Check out our top-rated sportsbooks here
Dodgers Player Futures Bets
The initial reaction to Freeman's signing may have you seeking out odds on Freeman in several player futures markets. However, I believe his signing will actually have a greater positive impact on the odds of one of his teammates.
The odds of Turner leading the MLB in total runs are at +1200. In order to lead MLB in runs, you must be part of a lineup with extraordinary depth and talent. It is not a category that a player can lead all on their own merit; it is a team effort. Turner was already positioned well to score a lot of runs, as he will bat at the top of the order for this stacked lineup. In addition to the quality bats that have been driving Turner home before, he now has Freeman in the middle of the order to do the same.
Turner, who recorded a WAR of 6.9 while splitting last season between the Dodgers and Washington Nationals, was also a player I kept an eye on in the NL MVP market. Currently, Turner's odds to win the NL MVP are +1300 at DraftKings, and while the signing of Freeman will not directly affect his odds, it does boost his chances. Turner will be able to bolster his statistics throughout the season by batting in a lineup that includes Freeman.
SEE ALSO: World Series Market Moving Slowly on Fernando Tatis Jr. Injury News
Where to Bet on the World Series
Here are our top-rated sportsbooks:
SEE ALSO: All picks, odds, and sports betting news. Be sure to check out SportsbookReview.com's community forums and betting tools.