World Cup Best Bets, Odds Today: Matchups, Picks, Predictions for Saturday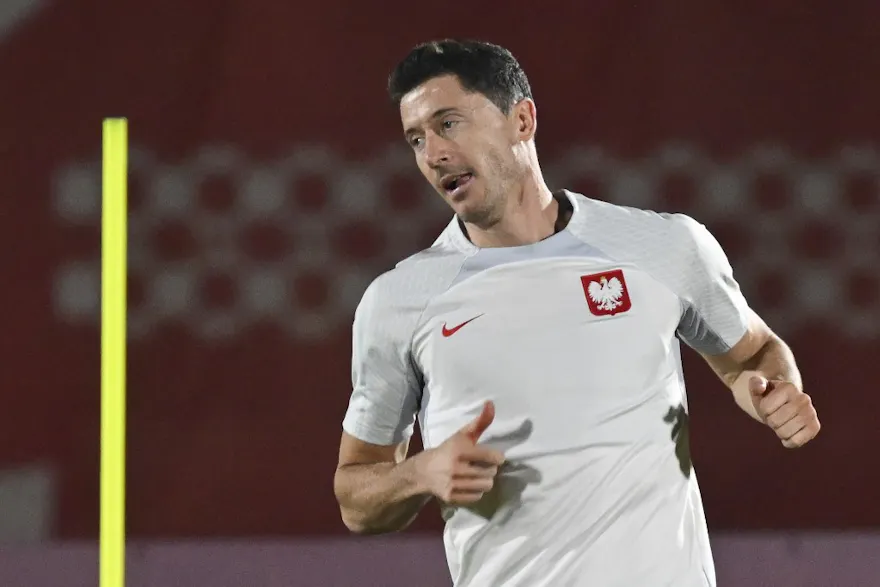 Just days after the shocking defeat to Saudi Arabia, Lionel Messi and Argentina return to the World Cup stage with a do-or-die mission. Read on for our World Cup picks and best bets for Saturday's matches.
If Argentina fail against Mexico, they could be out of the World Cup after just two matches, which would be a surprise of planetary dimensions. The other star match on Saturday is France vs. Denmark, but many eyes will also look at Poland vs. Saudi Arabia given how it went in the first round of matches in Group C.
Here are our best bets ahead of Saturday's World Cup matches (odds via DraftKings Sportsbook and FanDuel Sportsbook; pick confidence based on a 1-to-5-star scale).
Saturday's World Cup Schedule and Odds
(odds via FanDuel)
Group C: Poland (-135) vs. Saudi Arabia (+400)
Group C: Argentina (-185) vs. Mexico (+550)
Group D: Tunisia (+120) vs. Australia (+250)
Group D: France (-135) vs. Denmark (+400)
Saturday's World Cup Best Bets
Moneyline: Argentina (-185 via FanDuel) vs. Mexico
Spread: Argentina -1 vs. Mexico (+150 via FanDuel)
Total: France-Denmark Over 2.5 (-130 via DraftKings)
Upset: Denmark to draw or win vs. France (+100 via DraftKings)
Prop bet: Lewandowski anytime goalscorer vs. Saudi Arabia (+135 via FanDuel)
Parlay: Messi, and Lautaro Martinez all to Score on Saturday (+362 via FanDuel)
Check out all of our World Cup odds.
World Cup Top Picks for Saturday
Moneyline: Argentina (-185) ★★★★
Messi and his colleagues were under heavy criticism following their alarming defeat at the hands (feet) of Saudi Arabia in their Group C opener on Tuesday. The players and head coach Lionel Scaloni asked for calm, assuring a similar performance won't be repeated against Mexico.
Even though the caliber of the opponent is higher, Argentina, one of the tournament's biggest favorites, risks leaving Qatar through the back door even before the knock-out rounds. Saudi Arabia stopped a 36-game undefeated streak for Argentina with their shock win in Lusail. Now, Argentina is forced to go straight back to winning when they confront Mexico.
The CONCACAF members weren't impressive against Poland in their tournament opener, but they still saved a point with a 0-0 draw. Even though the motivation inside the Mexican team will be at a superior level given the context, Argentina should be able to get the three points and honor their status.
Spread: Argentina -1 (+150) ★★★
Argentina opened the scoring against Saudi Arabia, but faced a fierce response in pressing and couldn't create anything after two great goals reduced them to complete silence. But the fantastic quality in the Argentinean side is still there, so you can't underestimate a group featuring the likes of Messi, Di Maria, Lautaro Martinez, Papu Gomez, Julian Alvarez, and Enzo Fernandez.
Argentina not only need a win against Mexico but a statement one as well, as millions will want to see if they can be taken seriously when they say they want to leave the world party singing, with the trophy in their hands.
Check out our top sites for Maryland sports betting.
Total: France-Denmark Under 2.5 (-130) ★★★
Before the World Cup, Denmark was one of the in-form European sides that everyone should have wanted to avoid. The 0-0 draw against Tunisia somehow faded their aura, but it would be a massive mistake for anyone to ignore their run from the past year and a half.
Fueled by Eriksen's class, Denmark are always ready to raise their game. A close match is expected against France, so goals shouldn't come flying in the two nets. At -130 via DraftKings, Under 2.5 seems to be a decent betting option. FanDuel has Under 1.5 goals at +230, while a 0-0 draw is valued at +900 for the more adventurous bettors.
Upset: Denmark to draw or win vs. France (+100) ★★★
Denmark only drew against Tunisia (0-0), but it's unlikely that they go into full attacking mode when they face the defending world champions on Saturday. Denmark will still need to play Australia in the final Group D match, so a draw vs. France would be more than welcome.
That's a result that wouldn't trouble France either, as they will be all but certain to top the group heading into the Round of 16. If you want to opt for a straight tie, FanDuel offers it at +260.
Prop bet: Lewandowski anytime goalscorer vs. Saudi Arabia (+135) ★★★
Robert Lewandowski missed a penalty against Mexico, so his motivation to show he can lead his team is massive. His teammates will do everything to support him too, as they are on a run to reach the Round of 16 and they must get behind their best player to stand any chance of progress.
Lewandowski will be another test for the Saudi Arabian defenders after they were confronted with Messi, Lautaro Martinez, and Alvarez four days ago. FanDuel has Lewandowski scoring two or more goals at +850, while a hattrick stands at +4500.
Parlay: Messi and Lautaro Martinez all to score (+352)
Argentina's leaders and attacking players need to deliver. Messi and Lautaro Martinez didn't enjoy the best of World Cup matches on Tuesday, but if they are to shine in Qatar, they must do it now.
Where to Bet on World Cup Picks
World Cup odds and best bets from 11/25/2022 at 4:02 p.m. ET.