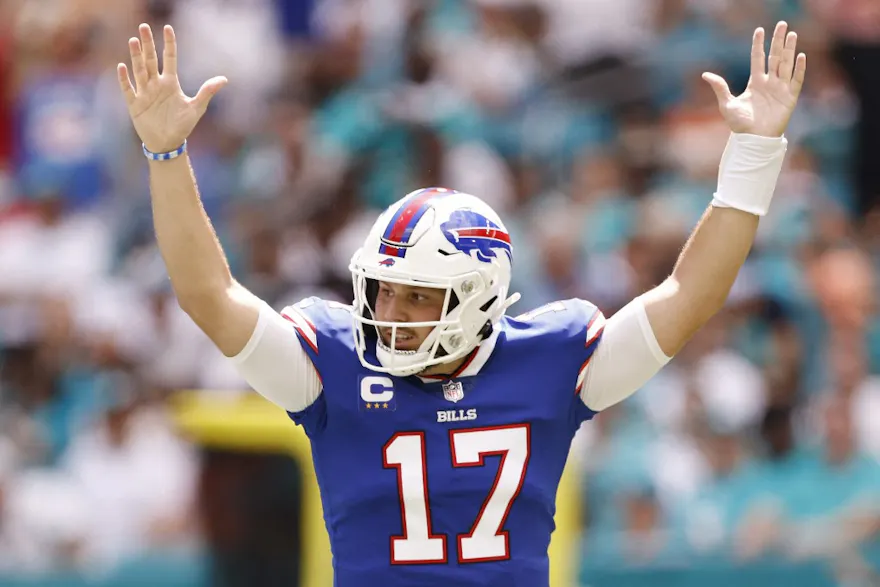 This article is outdated. Click through for our early Week 9 parlay picks here!
We nailed a three-team parlay on these pages last week. Can we do it again?
Let's be honest, hitting parlays is not easy. You need a degree of skill and for luck to go your way. That doesn't mean they are impossible to win against the betting odds, it just makes sense to be prudent. Don't load a lot of bets into one parlay because the chances of winning drop with each wager added.
With 15 games to choose from this week, which gives us more flexibility, we hope we can produce enough winners.
Here's a look at my top parlay picks for Week 8 NFL action (Odds via Circa; pick confidence based on a 1-to-5-star scale).
Week 8 Parlay Picks
Miami Dolphins vs. Buffalo Bills -13.5 (-110)
Down 20-7 in last week's loss to the Atlanta Falcons, the Miami Dolphins played very much like a weary team that didn't get a week off after a trip to London.
Despite reports the Dolphins are again very interested in Deshaun Watson, current quarterback Tua Tagovailoa led his team all the way back to take a 28-27 lead. However, Miami fans knew what was coming next as their 31st-ranked scoring defense could not contain Atlanta and the Dolphins lost on a field goal.
Next for the Fins is a trip to Buffalo and though it won't be December cold, they are likely to be heated up by a Bills team that lost a winnable contest in Tennessee. The Bills' defense was shredded by the Titans for 34 points and nobody saw that coming.
With Buffalo coming off a bye week, expect the Bills to wreak havoc and jump to 12-3 against the spread after scoring 25 points or more in two straight games.
PICK: Bills -13.5 ???
Jacksonville Jaguars vs. Seattle Seahawks -3 (-120)
If you watched the Monday nighter between the Seattle Seahawks against Pittsburgh Steelers, Geno Smith's play drove home something we already knew: The Seahawks' backup quarterback is way more useful holding a tablet than a football at this point in his career. Smith is Pete Carroll's only option under center and the coach candidly admitted he missed Russell Wilson, who remains out with a finger injury.
Jacksonville had two weeks to relish its first victory in 20 tries and now will try to get a win in the U.S.
The Seahawks have to rev up their running game and come right at the Jaguars. If the run game works, then they'll be able to get Smith on the edges to run or throw against a Jacksonville defense allowing 28.6 points per game.
PICK: Seahawks -3 ????
Dallas Cowboys -2.5 (-110) vs. Minnesota Vikings
Conventional wisdom says take the points with the Minnesota Vikings as a home underdog, especially with the Dallas Cowboys 3-11 ATS since 2019 when the line is anywhere between +3 and -3. However, we feel more comfortable at +3 or higher with the Vikings and will instead support the Cowboys on the road.
Quarterback Dak Prescott has the Cowboys' offense brewing up 34.1 points per game. The run game is averaging 5.1 yards per carry (third in the NFL) and Minnesota is permitting 4.8 yards per carry (29th). The Dallas ground attack will open up the passing game for Prescott.
Though impressed with Kirk Cousins' lack of mistakes, he has struggled in big games throughout his career. The 'Boys in a close one.
PICK: Cowboys -2.5 ???
Combined Odds: Bills -13.5 (-110) + Seahawks -3 (-120) + Cowboys -2.5 (-110) = +568
SEE ALSO: College Football Week 9 Parlay Picks