Sunday's Best Bets: Add This NFL Week 4 Parlay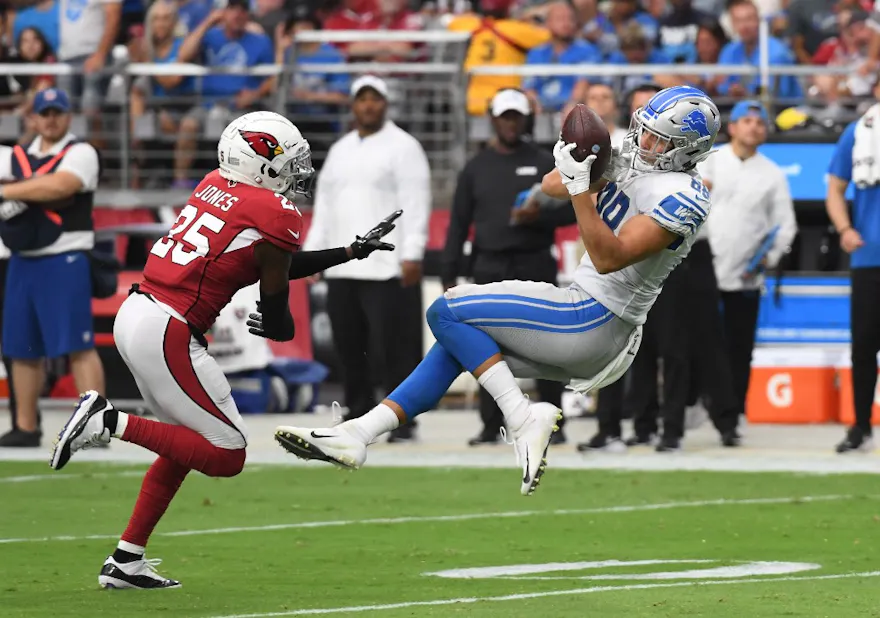 Top sportsbooks have released their odds for Sunday's Week 4 action. Two games, in particular, interest me as worth investing in: the Titans vs. Jets and Lions vs. Bears.
For reasons that I will explain, you should play the first-half total in the first game and the full-game total in the second. Feel free to parlay both bets at an online sports betting site in order to maximize your profit.
Tennessee Titans vs. New York Jets
Sunday, October 3, 2021 - 1:00 PM ET at MetLife Stadium
Trend
Last week, I successfully advocated for the first-half "under" between the Broncos and Jets and I am sticking to this same play for our sports betting. The main reason why I like this play remains the same: through three weeks this season, the Jets have scored a total of three points in the first half.
I prefer the first-half "under" to the full-game "under" because the Jets' offensive ineptitude creates a threatening sort of ripple effect where they go down early, but then score meaningless points late, in garbage time, so that the "over" is in danger. In the first half, the game is still going to be relatively close, meaning the opposing defense won't take its foot off the pedal.
https://youtu.be/7LEsmXbWFXk
Concerned About Titans' Defense?
After its performance last season, there were plenty of concerns about the Titan defense heading into this season. These concerns grew amplified after the team's first two games of the season, in which it allowed 38 points to Arizona and 30 to Seattle. But then, last week, Tennessee allowed 16 points to the Colts, holding them to 265 yards of offense and allowing their only touchdown of the game to come on a fairly short field.
One major difference between the Seahawk and Cardinal offenses, on the one hand, and the Colt offense on the other, is obvious: the former two teams enjoy a star-studded quarterback with top-level wide receivers while the latter possesses neither. It is also clear, too, which offense the Jets resemble quality-wise. They are starting a rookie in Zach Wilson who has thrown seven interceptions to two touchdowns and is completing 55.2-percent of his passes.
Braxton Berrios #10 of the New York Jets. Rich Schultz/Getty Images/AFP
Zach Wilson suffers for lack of pass protection, for which reason he has been sacked 15 sacks so far this season. While the Seahawk offensive line also gives up a lot of sacks -- like it did last year -- they have a very mobile quarterback in Russell Wilson whose star-studded reputation derives partly from his playmaking abilities outside the pocket.
Wilson lacks these abilities altogether. He lacks any sort of comfort passing the ball and he sorely needs help from his offensive line. With Braxton Berrios as his top wide receiver -- a guy who has never accrued more than 400 receiving yards in an NFL season -- Zach Wilson doesn't get much help from his receivers, either.
Zach Wilson #2 of the New York Jets. Elsa/Getty Images/AFP.
Jet Defense vs. Titan Offense
One might make the following counter: Denver almost took care of the first-half "over" by itself last week by scoring 17 points against the Jets. Tennessee's offense is more powerful, for which reason the first-half total for this game is a couple of points higher.
The NFL odds still seem too high to me because, based on the spread, they imply New York's ability to generate first-half points, which ability the Jets have hardly shown. Also, these odds do not reflect the key respects in which the Titan offense should be doubted especially in the first half.
The motor of the Titan offense is superstar Derrick Henry. But the Titan running back is the kind of running back who grows stronger as the game goes on.
Henry uses his strength and physical size and skill set to wear down opposing defenses. In the earlier parts of the game, defenses are not yet fatigued or worn down and so they do a better job of handling Henry. Therefore, Henry this season averages 2.2 YPC in the first quarter and 3.9 in the second. This stat helps explain why an "under" in a Titans game should be a first-half "under" for your best bets.
Derrick Henry #22 of the Tennessee Titans runs with the ball . Andy Lyons/Getty Images/AFP
Detroit Lions vs. Chicago Bears
Sunday, October 3, 2021 - 1:00 PM ET at Soldier Field
Good Spot For Bears Defense
Chicago is creating a pattern for itself where it performs poorly on the road, but then bounces back at home. After its season-opener blowout loss to the Rams, Chicago defeated the Bengals 20-17 in a game that easily stayed "under."
Last week, the Bears were decimated again on the road, this time 26-6 in Cleveland. They return home, looking to bounce back.
Dominant Pass Defense
In that Week 2 win against a vastly improving, 2-1 Bengal squad, the scoring total creates a misleading impression.
While 37 points are already not a lot, it easily could have been less. Seven of the points came off of a pick-six, 10 of the other points came off of drives that totaled fewer than 10 yards, and three of the other points came off a 29-yard drive. Accounting for this information unveils how strong the defense truly performed.
Specifically, the Bear passing defense was dominant, limiting Joe Burrow to easily his worst performance of the season. Burrow's passer rating in that game (66.2) was almost 60 points lower than in any of his other games this season. His YPA (6.9) was also considerably lower.
Jared Goff #16 of the Detroit Lions signals against the Green Bay Packers on September 20, 2021 in Green Bay, Wisconsin. Wesley Hitt/Getty Images/AFP
Fade The Quarterbacks: Goff
One must observe the prowess of Chicago's pass defense, supported by a top-ranked pass rush, All-Pro linebackers, and a cornerback group that, after the departure of Kyle Fuller, only merits concern when facing higher-end quarterback-to-wide receiver combos.
Jared Goff is trying to operate a pass-heavy offense, despite his dependence on play-action plays as a Ram. He also misses the class of wide receivers in L.A., as his leading wide receiver is only third on the team in yards.
Goff's reliance on the team's leading pass-catcher, tight end T.J. Hockenson, is worrisome against a Bear defense that ranks seventh in limiting opposing yardage from tight ends.
Justin Fields #1 of the Chicago Bears on September 26, 2021 in Cleveland, Ohio. Emilee Chinn/Getty Images/AFP
Fade The Quarterbacks: Fields/Dalton
After completing 14 of 35 passes so far, Bear rookie quarterback Justin Fields clearly has a lot of work cut out for himself. He takes a lot of sacks partly because he holds on for the ball too long. But when he tries to make plays, he fails.
Andy Dalton, if he starts despite his knee injury, does not seem willing to make plays at all as he averages only 5.3 YPA.
The offensive line certainly deserves blame. While Bear backers would like to point to the quality of the opposing pass rushes as an excuse, Detroit's is no slouch. Vivified this year by its new defensive coordinator and the activity of its linebackers, Detroit ranks seventh in sack rate.
For your NFL picks, expect the quarterbacks in this game to struggle massively.
Andy Dalton #14 of the Chicago Bears on September 12, 2021. Ronald Martinez/Getty Images/AFP
The Verdict
The spot and match-up are just right for a low-scoring first-half between the Jets and Titans and a low-scoring full game between Detroit and Chicago.
For the above reasons, parlay the Titans/Jets first-half "under" with the Lions/Bears full-game "under."
Feel free to use our trusty parlay calculator for your parlay betting needs.
Parlay Pick
(visit our Sportsbook Review)
*The pick reflects the line at the moment the writer made the play, the odds at the beginning of this article show the live line movement. Since the lines might vary, don't forget to refer back to our live odds.