NFL Week 3 Best Bets: Eagles vs. Cowboys Monday Night Football Picks and Predictions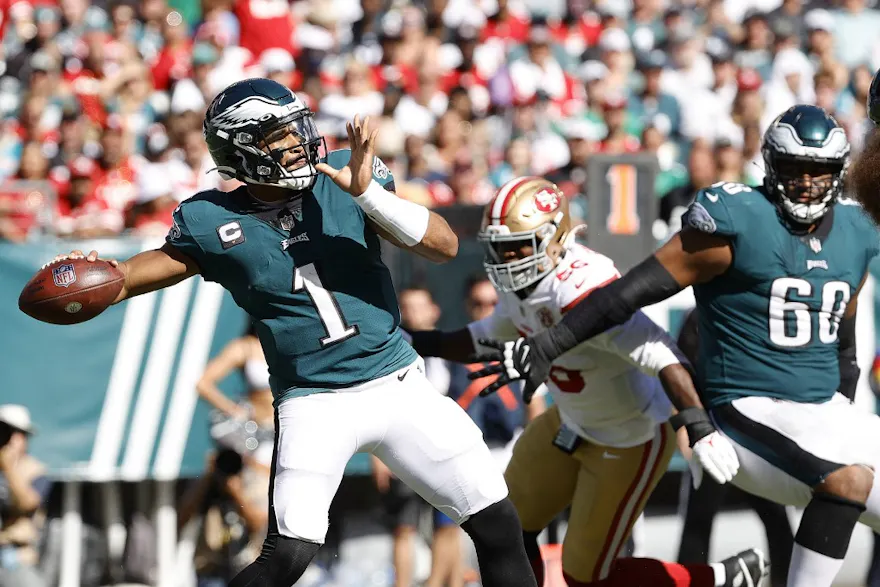 The Philadelphia Eagles and Dallas Cowboys will renew their rivalry on Monday night with the first meeting between quarterbacks Jalen Hurts and Dak Prescott. The Eagles are coming off a disappointing 17-11 home loss to the 49ers while the Cowboys were solid in a 20-17 win against the Chargers to put both teams at 1-1.
Below, we'll take a look at the early NFL odds and the best sportsbook to bet with this week.
Philadelphia Eagles vs. Dallas Cowboys
Monday, September 27, 2021 - 08:15 PM EDT at AT&T Stadium
The Cowboys are a 3.5-point favorite at many of the top sportsbooks. Prescott is 5-2 in the games he has finished against the Eagles in his career, but this is a different team with Nick Sirianni as the coach and what has so far been an impressive defense.
https://www.youtube.com/watch?v=bIfft3wLMYY
Eagles: Someone Turned Down the Turnovers Slider
The 2021 Eagles are the third team in NFL history to start a season with no giveaways or takeaways in the first two games. The only other two teams to do it, 1998 Broncos and 2017 Saints, both had three takeaways in their third game. So, you might want to place a bet on Prescott to throw an interception this week. He has thrown one in each game so far this season. But the Dallas offense against the Philadelphia defense does look like the strength vs. strength matchup in this one.
For the first time since the 2018 playoffs, the Cowboys were able to win a game without scoring 30 points, beating the Chargers 20-17 on the road. The Cowboys rode what was still a very efficient offensive game in Los Angeles to a win with their best rushing performance yet under coach Mike McCarthy.
https://twitter.com/Eagles/status/1441138725061201921?s=20
The odd thing was that it was Tony Pollard leading the way with 109 rushing yards as he outdid Ezekiel Elliott, who also had 71 yards and a touchdown. Zeke looks a little quicker this season, but Pollard has just been more impressive when given opportunities. The Cowboys should continue to use him instead of feeding just Elliott.
Amari Cooper is coming off a quiet game (24 yards), but he is known for that. He usually bounces back the next week. CeeDee Lamb was good again with 81 yards against the Chargers. The Cowboys are still without wide receiver Michael Gallup but there are enough weapons here to produce.
The Cowboys could stand to finish drives better. They are currently ranked fifth in yards per drive but only 13th in points per drive. The Eagles are fifth in yards and fourth in points on defense, so this should be a good one. But despite the lack of yards and points allowed (23 in two games), the Eagles will need to start getting more splash plays. Zero turnovers and three sacks in two games will not cut it.
Cowboys: Someone Cranked Up the Turnovers Slider
New defensive coordinator Dan Quinn had his work cut out for him in taking over this Dallas defense. The unit was lacking in talent, to begin with, then DeMarcus Lawrence was injured and is out. Did the shorthanded defense have a good game in Los Angeles? Not exactly.
While the Chargers scored seventeen points, they only had seven possessions in the game, and they missed a field goal and had two touchdowns taken off the board for tacky penalties. But at least the defense came away with two interceptions, which is how this defense is surviving so far.
The Cowboys had four takeaways in Tampa Bay on opening night to stay in that game despite allowing so many plays. Dallas currently ranks No. 1 in takeaways per drive, which is hard to sustain. Quinn has not dialed up many blitzes at all and the Cowboys have just two sacks on defense.
https://twitter.com/JClarkNBCS/status/1439652152604041228?s=20
Jalen Hurts has seen his share of blitzes so far, but the Cowboys have to be careful as he is a very good scrambler. Hurts just rushed for 82 yards on Sunday after rushing for 62 yards in Atlanta. He still can throw too and just completed a 91-yard pass against the 49ers to Quez Watkins, but the drive failed to result in any points.
Accuracy was the big question mark for Hurts coming into the season after some troubling numbers as a rookie. We are still dealing with very small sample sizes, but according to Pro Football Reference, his on-target pass rate is 77.8% this season, up from 60.7%, which was the lowest in 2020. Either way, the Eagles are not missing Carson Wentz one bit.
But Hurts will have to get his top receivers better involved this week. If you take out the 117 passing yards to Watkins against the 49ers, Hurts only passed for 73 yards to the rest of his teammates. DeVonta Smith, Jalen Reagor, and Dallas Goedert all need to be more involved than that.
https://twitter.com/JClarkNBCS/status/1439652152604041228?s=20
Prediction
Fun fact: despite going to overtime three times, all fourteen matchups in this rivalry since 2014 have been decided by at least six points. This is actually the second year in a row that Dallas started the season with two games decided by fewer than four points, but I think playing Tampa Bay so tough on the road on opening night was a good sign that the Cowboys can hang with anyone this year. This team is a lot easier to trust when Prescott is playing so well.
When these teams met last December, Hurts passed for 342 yards, but the Cowboys dominated the game and won 37-17 with Andy Dalton carving the defense up for 377 yards. The Eagles and Hurts are better now, but so is Dallas with Prescott back. I am going with Dallas to cover for my NFL picks to close Week 3.
NFL Pick: (visit our Sportsbook Review)
*The pick reflects the line at the moment the writer made the play, the odds at the beginning of this article show the live line movement. Since the lines might vary, don't forget to refer back to our live odds.