Giants vs. Saints Free NFL Picks for Week 4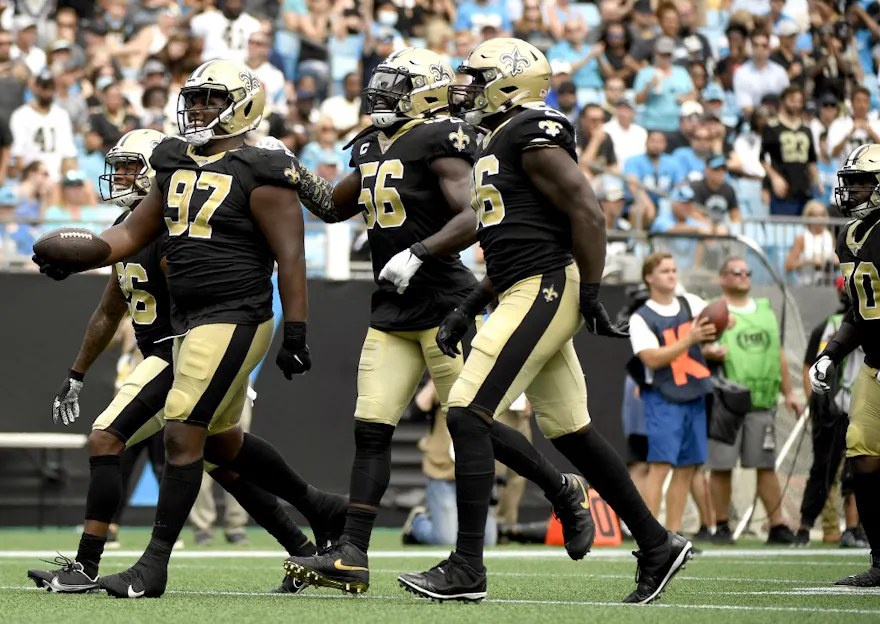 The New York Giants are still one of the five winless teams in the NFL, a bad sign for development in head coach Joe Judge's second season. The New Orleans Saints are 2-1 after a dominant defensive showing in a 28-13 win in New England on Sunday.
These two teams meet for Week 4 so let's take a look at the NFL odds for this one.
New York Giants vs. New Orleans Saints
Sunday, October 03, 2021 - 01:00 PM EDT at Caesars Superdome
The Saints are a 7.5-point favorite at most sports betting sites. The Giants have joined the Chiefs as the only teams to blow multiple fourth-quarter leads in the first three games this season.
The Saints are one of six teams who have yet to play a close game in the fourth quarter as all three of their games have been decided by 15 or more points. Does that trend continue?
https://youtu.be/36pWoPQsPCo
Giants: Familiar Problems
Much like last year, the Giants are struggling on offense under coordinator Jason Garrett. Daniel Jones has yet to throw a pick this season, but he only has two touchdown passes in three games.
Jones has not thrown more than two touchdown passes in any game since the Week 16 win over Washington in his rookie season (2019).
Jones has also gone 17 straight games, which is every game with Judge and Garrett as his coaches, without passing for 280 yards. If he does that again on Sunday, he'll tie Sam Darnold and Christian Ponder for the third-longest streak of sub-280 yard passing games since 2012.
Josh Allen (27 games) has the longest streak in that time, but Allen also broke out in his third season. We are still waiting for Jones to be more than a good runner in this league.
https://twitter.com/Giants/status/1442175912745836547?s=20
There are weapons in this offense, but with the offensive line and game plans, nothing ever seems to come together for the Giants on game day. They only scored 14 points at home against the Falcons on Sunday.
Saquon Barkley is averaging a pathetic 2.9 yards per carry in the five games he has played since 2020. Kenny Golladay has hit 64 yards in two of the games this year, but he has yet to connect with Jones for a touchdown as the Giants are tied for 31st with the Jets in red zone touchdown percentage (33.3%).
The Saints have been unpredictable on defense this season, but they destroyed Aaron Rodgers and the Packers in Week 1's 38-3 win. Given the last two weeks, Rodgers can still play at a high level, so that looks like a big positive for the Saints.
Giants' Leonard Williams celebrates a tackle during preseason. The defense is the best part of New York so far this season. Mike Stobe/Getty Images/AFP
They also embarrassed rookie Mac Jones on Sunday with a couple of huge interception returns. But the loss in Carolina was a different story as Sam Darnold looked good against this defense.
On the other hand, the Saints were ravaged by injuries that day and division games can be weird like that. The Saints had Marshon Lattimore back after missing Week 2.
This does not look like the right matchup for the Giants to suddenly start figuring things out on the offensive side of the ball. They are going to have to rely on the defense to keep this one close against what has also been a hard-to-explain New Orleans offense without Drew Brees this year.
https://twitter.com/Giants/status/1442175912745836547?s=20
Sean Payton: He Still Likes Passing, Right?
Conventional wisdom thought that Sean Payton's Saints would continue to be a pass-happy team after replacing Brees with Jameis Winston. After all, Winston averaged a prolific 274.1 passing yards per game with Tampa Bay.
Payton was still going to sprinkle in plays for Taysom Hill and feature Alvin Kamara on the ground, but this team was going to throw like a normal passing offense.
Well, through three games that couldn't be any further from reality. Winston has passed for 387 yards in three full games this season. He has not cracked 150 yards in any of them. This is a quarterback who threw for over 450 yards in consecutive games in December 2019, the first in NFL history to do so.
If it wasn't for the 2021 Bears (272 yards) being so bad, the Saints (341 yards) would have the fewest net passing yards through three games in the NFL in the last 14 seasons.
Jameis Winston #2 of the New Orleans Saints talks with head coach Sean Payton. Grant Halverson/Getty Images/AFP.
Instead of fixing Winston's turnover problems by helping him see the field better, Payton has so far just kept the ball out of his hands. It is only working so far because of how good the Saints have been at getting turnovers and setting up Winston on short fields, which he has taken advantage of well.
The Saints have scored eight touchdowns in nine red-zone trips, even if Winston did get away with a crazy throw on Sunday for a touchdown in New England. The Saints have the best average starting field position in the NFL this year.
However, you cannot live on turnover-driven short fields forever. Winston and the passing game will have to start producing more as the Saints rank 30th in yards per drive, barely ahead of Chicago. The Saints have gone three-and-out 34.5% of the time, a rate only exceeded by the Jaguars this year.
As a positive, the Saints are used to doing their best in the Superdome, and Sunday will be the first game this season played there since Hurricane Ida forced the Saints to play the Packers in Jacksonville in Week 1 and the last two games were on the road.
https://twitter.com/shonrp2/status/1442238001317392388?s=20
So, maybe this is the week where Payton is ready to open things up a bit more with Winston because we know he can make a lot of big throws.
His problem has always been throwing the ball to the other team. Fortunately, the Giants have just one interception this season and are allowing quarterbacks to complete 75.4% of their passes. But after letting go of Emmanuel Sanders and still not having Michael Thomas due to injury, the Saints are limited at receiver.
That has to be playing a factor in Payton's approach to these games, but let's see what happens in the Superdome on Sunday.
Prediction
The last time these teams met in New Orleans, the Saints won 52-49. We probably won't even see 52 points combined on Sunday as the total is set to 43. In his career as a 7.5-point favorite, Payton is a lousy 6-5 SU and 5-6 ATS. The Saints have certainly lost to worse teams before.
A low-scoring game would certainly help the Giants in covering, but let's look at some facts. Jones has started 29 games for the Giants and led them to fewer than 20 points in 15 of them. In those 15 games, the Giants are 1-14 and lost by more than seven points in 11 of them.
Barring a meltdown by Winston, I do not see the Giants scoring 20-plus points in this game. I think the Saints will open things up more in front of the eager home crowd and still ride Kamara and a dominant defense to a cover for your NFL picks this Sunday.
NFL Pick: (visit our Sportsbook Review)
*The pick reflects the line at the moment the writer made the play, the odds at the beginning of this article show the live line movement. Since the lines might vary, don't forget to refer back to our live odds.