Falcons vs. Giants Free NFL Picks for Week 3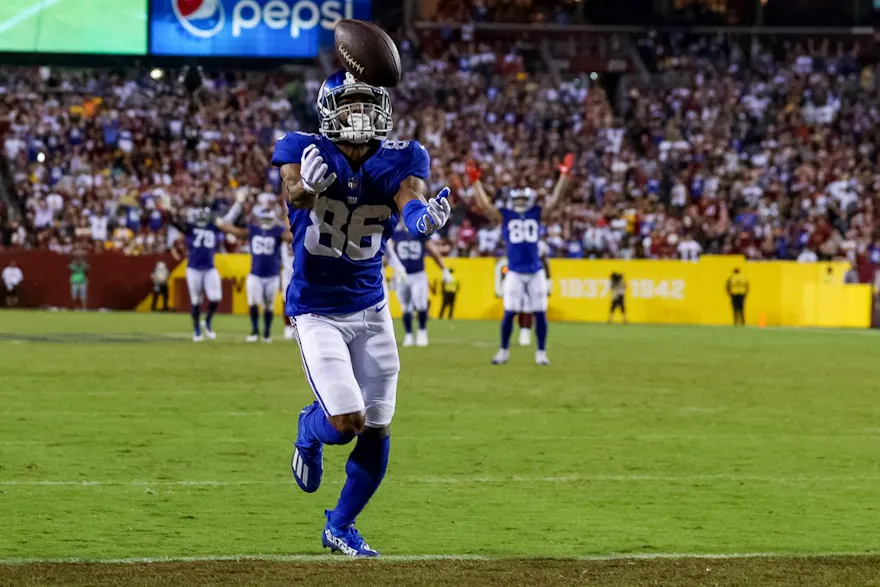 One of the NFL's seven 0-2 teams should finally get a win when the Atlanta Falcons meet the New York Giants on Sunday afternoon. The Giants were an offsides penalty on a field goal away from beating Washington while the Falcons have started off as the worst team (statistically) in the NFL, under rookie coach Arthur Smith.
So, let's take a look at the NFL odds for this game on Sunday!
Atlanta Falcons vs. New York Giants
Sunday, September 26, 2021 - 01:00 PM EDT at MetLife Stadium
The Giants are a 3-point favorite at many online betting sites. Can Matt Ryan get this offense on track, or will Daniel Jones finally win a home game against a non-division foe?
He is 8-20 as a starter and every home win was against Washington, Philadelphia, or Dallas.
https://youtu.be/eUSthNJt7lQ
Falcons: Weren't Things Supposed to Be Better?
It was just a season ago when the Falcons had the best scoring differential in NFL history for a 4-12 team, losing too many close games in an inexplicable fashion. After hiring coach Arthur Smith and veteran defensive coordinator Dean Pees, things were supposed to be better.
Now the 2021 Falcons are the 18th team in NFL history to start 0-2 with both losses by at least 23 points. It was one thing to get destroyed in the fourth quarter with two pick-sixes against Tampa Bay on Sunday, but that 32-6 home loss to the Eagles in Week 1 also looks worse now.
The Eagles were nothing special against the 49ers on Sunday, but Jalen Hurts had no problems lighting up Atlanta.
https://twitter.com/AtlantaFalcons/status/1439718592694587394?s=20
The Falcons have one takeaway on defense and quarterbacks have a 131.2 passer rating so far against them. Ryan ranks 30th in QBR (28.9), only ahead of the two struggling rookies in Trevor Lawrence (25.0) and Zach Wilson (22.7).
He is not getting the ball down the field, and this has been the worst two-game start to a season in his career.
Rookie tight end Kyle Pitts at least showed a bit more of his explosive ability on Sunday with five catches for 73 yards, but so far, the trade-off of a rookie tight end for the departure of Julio Jones looks unfavorable.
Cordarrelle Patterson has been a decent addition at running back as he scored two touchdowns in Tampa Bay, but this offense lacks an identity right now, which should please a New York defense that has not impressed to start the season. This means that Mike Davis has not been the starter that many expected.
Calvin Ridley (#18) hasn't had many looks down the field as Matt Ryan has to deal with more pressure in the pocket. Eric Espada/Getty Images/AFP
Giants: Finish Drives, Daniel
Fans of the Falcons can relate to this one. The Giants are moving the ball reasonably well this season, but they are not finishing enough drives for touchdowns. New York is 2-for-6 in the red zone at scoring a touchdown. Only two teams are currently worse through
Week 2. While Daniel Jones had a long touchdown run taken away from him on a weak penalty on Thursday night, the Giants need to find better ways to use their weapons in the red zone and score touchdowns.
This was the problem last year too when the Giants finished 31st in red zone touchdown percentage. At least they may be getting down there more this season.
Jones is really an incredible runner, but he only looks the part as a passer sometimes. After rushing for 95 yards on Thursday, he leads the team with 122 yards.
https://twitter.com/NextGenStats/status/1438664278597246978?s=20
Saquon Barkley (83 yards) has just not been able to get things going behind one of the league's worst offensive lines. Barkley has a 41-yard run this season, but his other 22 carries have gained 42 yards.
He's a poor man's Barry Sanders, but at least he's playing. Tight end Evan Engram has yet to make his season debut because of injury and it is unclear if he will be ready for Sunday.
Sterling Shepard has been good in both games, but new addition Kenny Golladay has yet to find the end zone and was seen yelling at offensive coordinator Jason Garrett on Thursday night.
I like for him to find the end zone in this one and put that scuffle behind him. The Falcons have allowed eight touchdown passes to zero interceptions so far this season.
https://twitter.com/Giants/status/1438667186906845187?s=20
The Pick
In his career as a 3-point underdog, Matt Ryan is 8-9 SU and 9-8 ATS. Great, sounds like another coin flip. How about a 3-point underdog with an 0-2 record? Since 2001, those teams are 4-14 SU and 8-8-2 ATS. How about the home team in a battle of 0-2 teams? Since 2001, those teams are 12-10-1 SU and 10-12-1 ATS.
Picking Jones against a non-Washington team is a scary proposition, but I actually like the way he is playing better than what Ryan and the Falcons are doing right now.
Between a mobile quarterback and some good receivers at home, I think the Giants are the better choice for your NFL pick in this matchup.
But it could be a fairly close game, so one of those "Giants by 1-13" or "Kenny Golladay touchdown/Giants moneyline" parlays could be a better bet than just the spread. After all, picking the Atlanta Falcons to lose a close game is usually not a bad bet. It hit nine times in 2020.
NFL Pick: (visit our Sportsbook Review)
*The pick reflects the line at the moment the writer made the play, the odds at the beginning of this article show the live line movement. Since the lines might vary, don't forget to refer back to our live odds.