UPDATED NFL Divisional Round Betting Odds, Lines, and Picks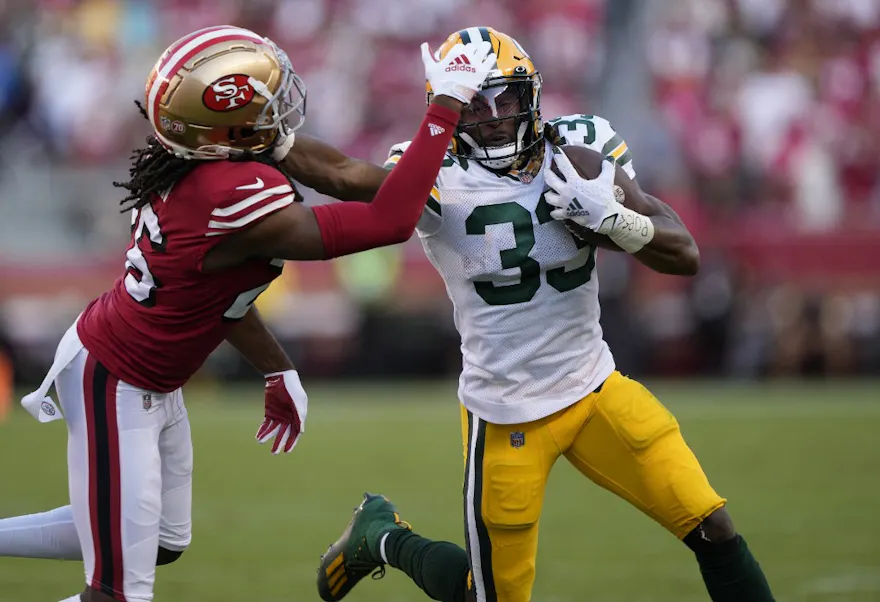 After a less than thrilling opening postseason weekend, the Divisional Round of the NFL playoffs has not seen a lot of movement when it comes to spreads and totals. Maybe the books and marketplace are just in happy agreement, but there are some slight changes to consider as we track the updated lines, odds, and totals for the Divisional Round in the NFL.
As the NFL Playoffs move into the second weekend, there are not huge changes in any of the point spreads. While the San Francisco 49ers-Green Bay Packers line has fluctuated some during the week, it has ultimately moved just half a point towards the Packers. The biggest move of the four lines is with the Buffalo Bills, now 1.5-point underdogs at Kansas City, a full point less than the opening line, as money pours in on the Bills.
The totals have held steady, with the exception of the 49ers-Packers total dropping from 47.5 to 47, perhaps some concern related to the shoulder injury suffered by 49ers QB Jimmy Garoppolo.
The Packers, L.A. Rams, and Bills all have the majority of wagers and money on their respective sides. The only game in which there is a difference is with the Cincinnati Bengals getting a slight edge in terms of bets, but more money is still on the Tennessee Titans.
Here's a look at the updated NFL odds for the Divisional Round, along with my picks based on the opening lines (odds via FanDuel Sportsbook; pick confidence based on a 1-to-5-star scale):
Updated NFL Odds, Lines, and Picks for Divisional Round: Saturday
Bengals (11-7 SU, 11-7 ATS, 8-10 O/U) vs. Titans (12-5 SU, 10-7 ATS, 8-9 O/U)
Opening line: Titans -3.5Current line: Titans -3.5
Opening total: 47Current total: 47
The line and total have both held steady since earlier in the week. The Bengals do have some positive news with pass-rusher Trey Hendrickson practicing in full Wednesday after he was in concussion protocol, but there is an inherent challenge in going against the top-seeded Titans, a team coming off a bye week.
Not only do the Titans come into the game off a bye week, but it sure looks like star rusher Derrick Henry is going to be activated for this game. He has not played since Week 8 and is coming back from surgery on his foot. If Henry is at full strength and as strong as ever, he can control the game. Since it has been 12 weeks since Henry last played there is naturally some uncertainty over how game-ready he might be. As a result, 51% of the wagers for this contest are on the side of the Bengals, but 64% of the money rides with the Titans.
Pick: Bengals +3.5 (???), Over 47 (???)
SEE ALSO: Bengals vs. Titans Picks
49ers (11-7 SU, 10-8 ATS, 8-10 O/U) vs. Packers (13-4 SU, 12-5 ATS, 8-9 O/U)
Opening line: Packers -5.5Current line: Packers -6
Opening total: 47.5Current total: 47
Uncertainty reigns with the 49ers, as Garoppolo is dealing with a slight shoulder sprain. He is likely to play but if the shoulder limits his effectiveness in any way, well, that complicates what is already a daunting challenge. Niners linebacker Fred Warner expects to play, but he suffered an ankle injury against Dallas and defensive end Nick Bosa suffered a concussion in the wild-card game. Those are impact players and if they are unavailable or diminished, that will leave San Francisco fighting uphill.
Packers wideout Marquez Valdes-Scantling did not practice Wednesday, which puts his status in doubt. The Packers do expect veteran receiver Randall Cobb to return from core muscle surgery. Green Bay is also looking at returns to action for left tackle David Bakhtiari, corner Jaire Alexander, and linebacker Za'Darius Smith, all of whom are star performers when healthy. In any case, the Packers appear healthier coming off a bye week and, not surprisingly, 69% of wagers and 74% of the money for this game is on the Packers.
Pick: Packers -6 (????), Over 47 (???)
SEE ALSO: 49ers vs. Packers Picks
Updated NFL Odds, Lines, and Picks for Divisional Round: Sunday
Rams (13-5 SU, 9-9 ATS, 9-8-1 O/U) vs. Buccaneers (14-4 SU, 10-8 ATS, 9-9 O/U)
Opening line: Buccaneers -3Current line: Buccaneers -3
Opening total: 48.5Current total: 48.5
After an impressive wild-card win against the Arizona Cardinals, the Rams have received plenty of support - 65% of the tickets and 71% of the money - but it has not been enough to shift the line off of a field goal. Rams left tackle Andrew Whitworth injured his ankle against the Cardinals and is questionable for Sunday's game at Tampa Bay.
As for the Buccaneers, they are still dealing with injuries. Center Ryan Jensen and right tackle Tristan Wirfs are both hampered by ankle injuries, which could leave QB Tom Brady vulnerable. Running back Leonard Fournette appeared to have a chance to play last week but was not activated so the extra week ought to give him a better opportunity to play and be a factor against the Rams.
Pick: Buccaneers -3 (??), Over 48.5 (???)
SEE ALSO: Rams vs. Buccaneers Picks
Bills (12-6 SU, 10-6-2 ATS, 9-9 O/U) vs. Chiefs (13-5 SU, 9-9 ATS, 11-7 O/U)
Opening line: Chiefs -2.5Current line: Chiefs -1.5
Opening total: 54.5Closing total: 54.5
Not only did the Bills win 38-20 at Kansas City in Week 5, but they finished the season strong. After a bit of a midseason slump, Buffalo won four straight games to finish the regular season, with each win by at least 12 points, before routing the New England Patriots by a 47-17 score in the wild-card game. Relatively healthy and playing well, the Bills are a lively underdog and that is why 54% of the bets and 65% of the cash sides with Buffalo. That has moved the line from 2.5 in favor of the Chiefs down to 1.5.
The Chiefs were impressive enough in their own right, winning nine of 10 to wrap up the regular season before a 42-21 win against Pittsburgh on Wild Card Weekend. While running backs Darrel Williams and Clyde Edwards-Helaire are dealing with injuries, Jerick McKinnon emerged for Kansas City against Pittsburgh, gaining 142 yards on 18 touches after spending most of the season in a reserve role. Ultimately, both teams have plenty of weapons and can move the ball down the field, so this game has the potential to be a high-scoring affair, as a line of 54.5 would suggest.
Pick: Bills +1.5 (???), Over 54.5 (???)
SEE ALSO: Bills vs. Chiefs Divisional Round Picks
See all picks and odds. Be sure to check out SportsbookReview.com's community forums and betting tools.
NFL Divisional Round odds from 1/20/2022 at 12:58 p.m. ET