Eagles vs. Panthers Free NFL Picks for Week 5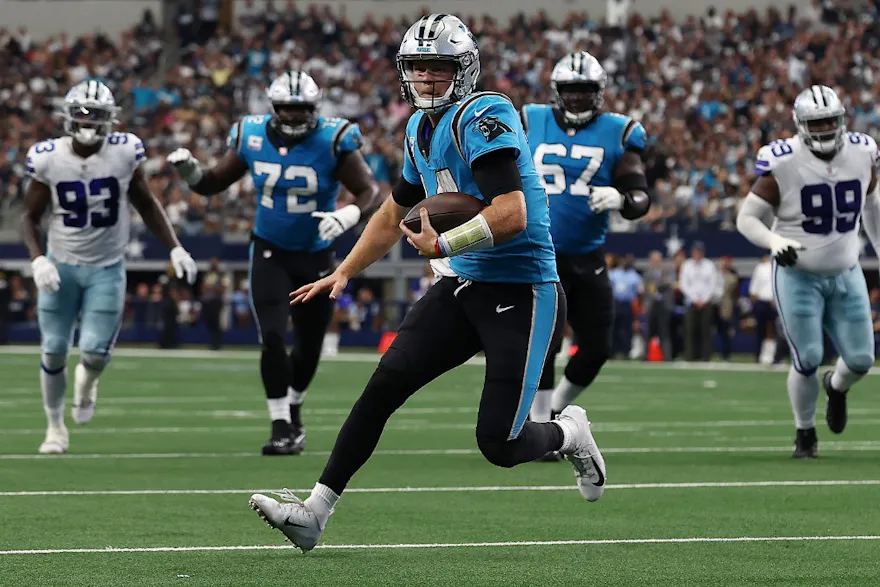 The Panthers are a 3.5-point favorite at many of the top sportsbooks. While Carolina's defense may have been exposed for beefing up on a weak schedule by a legit offense in Dallas, the Eagles lack an identity four games into Nick Sirianni's tenure.
Can the Eagles get a better road performance this time? Below, we'll take a look at the early NFL odds.
Philadelphia Eagles vs. Carolina Panthers
Sunday, October 10, 2021 - 01:00 PM EDT at Bank of America Stadium
It is Week 5 and quarterback Sam Darnold is leading the NFL in touchdown runs with five. That might be the craziest stat of the week as the Philadelphia Eagles (1-3) and Carolina Panthers (3-1) are both coming off disappointing losses on Sunday.
For the Panthers, the 36-28 loss in Dallas was the first time all season that the team trailed in a game. The Eagles were ripped to shreds by the Chiefs, 42-30, after allowing six touchdowns on seven drives.
https://youtu.be/ktyd6PBEvs8
Eagles: What Is This Team?
It is hard to recall a season where so many teams are being redefined weekly by the opponent they just played. A big piece of Week 1 fool's gold, Philadelphia's 32-6 win in Atlanta suggested a great offense behind second-year quarterback Jalen Hurts and potentially a great defense. As it turns out, the Falcons are really struggling on offense with new coach Arthur Smith and their defense is still poor. After the Eagles lost 17-11 to the 49ers in Week 2, maybe the defense was legitimate in Philadelphia, but the offense would have growing pains against a talented 49ers defense.
Of course, the 49ers have allowed 28-plus points to their other three opponents this year and lost two in a row. The Eagles then played a sloppy game in Dallas on Monday night in Week 3, losing 41-21.
Jalen Hurts #1 of the Philadelphia Eagles. Tim Nwachukwu/Getty Images/AFP
While Hurts and the offense rebounded with a better game against Kansas City's awful defense, they still had too many miscues in the red zone (three-for-six at touchdowns) and settled for too many field goals while Patrick Mahomes almost put the ball in the end zone on every drive in the 42-30 loss.
So, what is Philadelphia's identity? The defense is certainly not good if it plays a legitimate offense. The offense will have to carry the team, and while Hurts has improved his accuracy this year, things are still not clicking enough yet. The Eagles rank an impressive fifth in yards per drive but fall to 15th in points per drive. Turnovers have not been a problem as the Eagles only have two giveaways (and two takeaways on defense) through four games. But that covers up that the Eagles have gone 1-for-7 on fourth down, one of the worst rates in the league.
While rookie wideout DeVonta Smith had his first 100-yard game on Sunday, second-year receiver Jalen Reagor continues to struggle and is fifth on the team with 116 yards. The running game has also been inconsistent with Hurts leading the team with 226 yards.
Miles Sanders was only given two carries in Week 3 in Dallas, but the team still failed to get him going against Kansas City's putrid run defense. Sanders finished with 7 carries for 13 yards.
https://twitter.com/Panthers/status/1437103615634726916?s=20
Panthers: Good Fight in Dallas
Carolina allowed more points (33) through three quarters in Dallas on Sunday than they allowed in the first three games combined (30) this year. We can safely say that the big 3-0 start was helped by playing the Jets with a rookie coach and quarterback, the short-handed Saints (COVID) and their no-show offense, and a Houston team starting rookie Davis Mills on a short week. That's the same Davis Mills who just melted 40-0 in the rain in Buffalo.
But despite allowing Dallas to run wild for 245 yards and for Dak Prescott to throw four touchdown passes, I found some of the loss to be encouraging for the Panthers going forward. Some of the pressures from the front seven helped keep the game close for a half as Dallas finished 3-of-9 on third down. The game really turned in the third quarter after the Panthers missed a 54-yard field goal. Dallas hit two big plays and scored two touchdowns in a five-minute span.
https://twitter.com/Panthers/status/1444758876755304456?s=20
But even down 36-14 in the fourth quarter, Darnold led the Panthers on consecutive touchdown drives to make it 36-28 with plenty of time left for a game-tying drive. But the Dallas offense put the game away and Darnold never got the ball back.
Darnold was sacked five times and the Panthers missed star running back Christian McCaffrey, but there is still enough on this offense to play well in this matchup with the Eagles. D.J. Moore should be a nightmare for the secondary that just allowed Tyreek Hill to score three touchdowns on nearly 200 receiving yards.
Sam Darnold #14 of the Carolina Panthers. Tom Pennington/Getty Images/AFP
Darnold has been unexpectedly consistent for the Panthers so far this year. In each of the four games, he has finished around 67% completions and 300 yards. The Eagles only have one interception against quarterbacks this season as getting any turnovers has been a real problem.
Whether McCaffrey plays or not, I think the Panthers can get a steady game out of both units and take care of the Eagles in this one.
https://twitter.com/Panthers/status/1444725827413889028?s=20
Prediction
In Week 5 since 2001, 3-1 teams are 11-9 ATS and 14-6 SU against 1-3 teams. Carolina head coach Matt Rhule has eight wins in the NFL, and they all have come by at least five points. The Panthers lead the NFL in passing yardage margin at plus-494. I will take the home team with the better defense in this one for your Sunday NFL picks.
NFL Pick: (visit our Sportsbook Review)
*The pick reflects the line at the moment the writer made the play, the odds at the beginning of this article show the live line movement. Since the lines might vary, don't forget to refer back to our live odds