College Basketball Best Bets, Odds Today: Matchups, Odds, Picks, Predictions for Sunday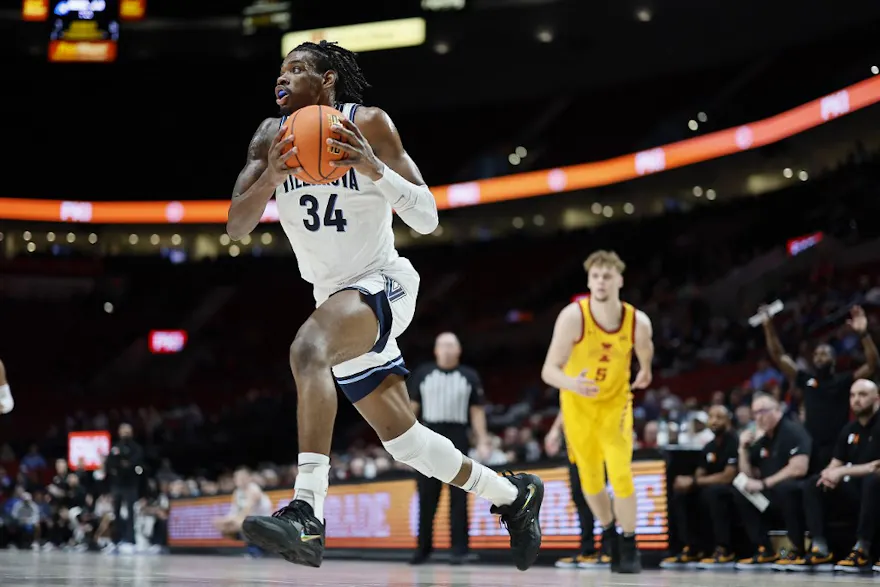 The championship matchups in the two Phil Knight brackets provide a nice diversion for those who need a respite from NFL betting. We have highlighted the odds, movements, and our college basketball picks and best bets for Sunday.
Duke vs. Purdue in the Phil Knight Legacy and Iowa State vs. UConn in the Phil Knight Invitational was not exactly the finals many envisioned. The top two teams in the preseason AP poll, North Carolina and Gonzaga, were upset on Friday. But while these will still be high-level matchups, the previous round's upsets make for even more must-watch consolation games in each bracket.
Here are our best bets for Sunday's college basketball slate (odds via Caesars Sportsbook, PointsBet, and FanDuel Sportsbook; pick confidence based on a 1-to-5-star scale).
Sunday's College Basketball Schedule and Odds
(odds via DraftKings Sportsbook)
Saint Louis (+235) vs. Auburn (-280)
North Carolina (-105) vs. Alabama (-115)
Duke (-130) vs. Purdue (+110)
Bellarmine vs. UCLA (No ML, -23)
Iowa State (+200) vs. UConn (-240)
Sunday's College Basketball Best Bets
Moneyline: Villanova (-132 via FanDuel) vs. Oregon
Spread: Xavier +7.5 (-110 via PointsBet) vs. Gonzaga
Total: Portland-Michigan State Over 145.5 (-110 via FanDuel)
Upset: Purdue (+110 via Caesars) vs. Duke
Prop pick: UConn -2.5 first half spread (-108 via FanDuel) vs. Iowa State
Check out our top sites for Maryland sports betting.
Top College Basketball Picks for Sunday
Moneyline: Villanova (-132) ★★★★
It is crazy to think that either Villanova or Oregon, two teams ranked in the top 21 of the AP preseason poll, is going home from this tournament with three losses in four days. The Wildcats are off to their worst start since the late 90s, and while most will be quick to say new head coach Kyle Neptune is in over his head, one must remember Villanova is without two starters (Justin Moore and Cam Whitmore) that each would have been contenders for Big East Player of the Year. As it is, the Wildcats should have enough to beat Oregon in this game.
Outside of a Friday's thrashing by Portland, Villanova was a 3-pointer away from beating Michigan State on the road and took an Iowa State team that could win this tournament to overtime. The Wildcats' smaller lineup will be able to pull Oregon's 7-foot center Kel'el Ware and 6-foot-11 N'Faly Dante away from the hoop, which could ultimately force head coach Dana Altman's hand to give up on his strength and go smaller for defensive purposes.
Spread: Xavier +7.5 (-110) ★★★
Gonzaga has been a No. 1 seed four times in the last five NCAA tournaments, but this year's Bulldogs squad does not appear on a path for that position, primarily because of poor guard play and a lack of consistent scorers outside of Drew Timme. In losses to Texas and Purdue, Gonzaga had one player score more than 13 points outside of Timme. And the fact that Gonzaga lost in two completely different ways is concerning.
First, the Bulldogs committed 20 turnovers against Texas and lost by 19 points despite shooting 47.4% from 3-point range. While Gonzaga committed just seven turnovers against Purdue, its 18-point loss had much to do with shooting just 9-for-28 from deep.
We are believers in Xavier's resurgence under new head coach Sean Miller and look for Jack Nunge's versatility offensively to be an issue for the Bulldogs.
PointsBet is not only one of the only sportsbooks offering a line of +7.5, but it is the only one not charging extra juice to back the 'dogs.
Total: Portland-Michigan State Over 145.5 (-110) ★★★
Portland has looked comfortable on the offensive end through two games in this tournament. The Pilots followed up a 16-for-26 from 2-point range effort against North Carolina by making 16 of 24 shots in close against Villanova. That ability to penetrate and/or pound the ball down low has allowed open 3-point attempts, which the Pilots are making at a 38.1% clip (top 43 in the country). On the other side, Michigan State ranks 26th in adjusted offensive efficiency, as head coach Tom Izzo is smartly playing through guards A.J. Hoggard and Tyson Walker.
The Over has cashed in each of Michigan State's last four games and is 11-5 in Portland's last 16 overall.
Upset: Purdue (+110) ★★★★
Duke has not looked cohesive offensively in the last two games, as it narrowly avoided upsets against Oregon State and Xavier. In its game against the Beavers, Duke's 27% field goal percentage was the team's lowest in a win in the last 25 seasons.
The Blue Devils have one of the most talented freshmen in the country in Kyle Filipowski, but he is about to be taken to school by Purdue's 7-foot-4 center Zach Edey, as Edey is shooting 63.1% from the floor this year. However, the biggest surprise for Purdue thus far has been the heady play of freshman point guard Braden Smith (11.0 points, 23.4 assists per game). His leadership and the way he runs the offense are big reasons the Boilermakers rank seventh in adjusted offensive efficiency.
The Boilermakers are as low as +106 elsewhere, so Caesars is a great place to shop for Purdue backers.
Prop pick: UConn -2.5 first half spread (-108) ★★★
Iowa State came into the Phil Knight Invitational as a relative unknown, but head coach Danny Hurley's Huskies will be ready to play against the Cyclones after witnessing what they did to Villanova and North Carolina.
UConn has held halftime leads of 11 and five points so far this tournament and will stun Iowa State in the first 20 minutes with how much more physical it is than the Cyclones' first two opponents in Oregon.
Where to Bet on College Basketball
Here are our top-rated sportsbooks:
College basketball best bets from 11/27/2022 at 8:25 a.m. ET.