College Basketball Best Bets, Odds Today: Matchups, Odds, Picks, Predictions for Friday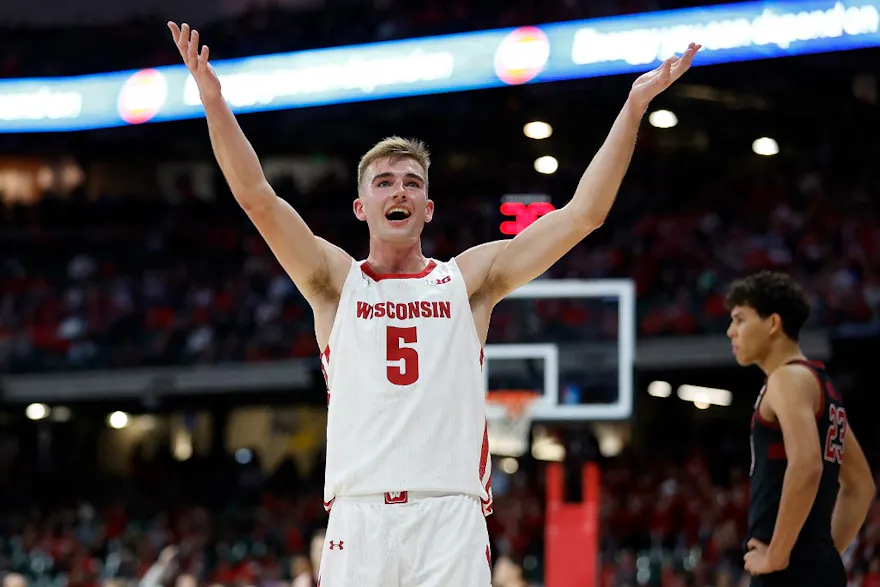 The two Phil Knight tournaments continue in Oregon, and other intriguing non-conference matchups around the country highlight a fascinating Friday slate. We have highlighted the odds, movements, and our college basketball picks and best bets for Friday.
There are many thrilling games from the Phil Knight Legacy and Invitational brackets, with each nearly having upsets of top eight teams in the first-round action. In addition, we should be in for a thrilling Battle 4 Atlantis Championship as Kansas and Tennessee look to add a huge non-conference win to their resumes.
Here are our best bets for Friday's college basketball slate (odds via PointsBet, Bet365, BetMGM, and DraftKings Sportsbook; pick confidence based on a 1-to-5-star scale).
Friday's College Basketball Schedule and Odds
(odds via DraftKings)
Jackson State vs. Indiana (No Moneyline, -28)
Duke (OFF) vs. Xavier
Coppin State vs. Maryland (No ML, -22.5)
North Carolina (OFF) vs. Iowa State
Maryland-Eastern Shore vs. Virginia (No ML, -28.5)
Iowa (-390) vs. Clemson (+320)
Tennessee (OFF) vs. Kansas
Lindenwood vs. Illinois (No ML, -32)
UConn (OFF) vs. Alabama
Purdue (OFF) vs. Gonzaga
Oregon (OFF) vs. Michigan State
Check out our top sites for Maryland sports betting.
Friday's College Basketball Best Bets
Moneyline: Wisconsin (+105 via BetMGM) vs. USC
Spread: Iowa State +5 (-110 via Bet365) vs. North Carolina
Total: Iowa-Clemson Under 149 (-110 via DraftKings)
Upset: San Francisco (-105 via PointsBet) vs. Davidson
Prop Pick: St. Bonaventure Team Total Under (OFF)
Check out our top sites for Maryland sports betting.
Top College Basketball Picks for Friday
Moneyline: Wisconsin (+105) ★★★★
As long as the Wisconsin Badgers can get around losing to Kansas on a reverse layup off of a missed shot with 0.2 seconds left, they should overwhelm an inferior USC team. This has a chance to be head coach Greg Gard's best defensive team in his time at Wisconsin.
The Badgers are the nation's best team at defending the 3-point line (30.2% allowed) and rank 10th in effective field goal percentage defense. Meanwhile, USC has been hitting less than 30% of its shots from deep, and we expect Gard to have a solid game plan defensively for guard Boogie Ellis, who has averaged 22.3 points per game over his last three outings.
Spread: Iowa State +5 (-110) ★★★
Thursday's 81-79 final score would suggest Iowa State was in a slugfest with Villanova, but the fact is that the Cyclones could have iced things late in the second half. Poor game management led to a furious 7-0 Villanova rally in the final two minutes. As it was, the Wildcats never held the lead in the second half or overtime, so we should not undervalue the Cyclones for what was a more dominant performance than the final score would indicate.
While we are not undervaluing Iowa State, not many would argue that North Carolina is a tad overvalued as the No. 1 team in the country. Though the Tar Heels return four starters from last year's national runner-up finish, they are still KenPom's 19th-ranked team for a reason. The Cyclones have the necessary bigs in Osun Osunniyi and Hason Ward to negate UNC's Armando Bacot and Pete Nance. Iowa State's length forced Villanova into making more 3s than 2s (13 to 12), and the two transfers will be a big reason Iowa State will compete in this semifinal.
Total: Iowa-Clemson Under 149 (-110) ★★★★
As is typical for Fran McCaffery-coached teams, the Hawkeyes play at one of the fastest tempos in the country. But while Iowa ranks 36th in overall tempo and second in quickest offensive possessions (averaging 14.1 seconds per possession), the Clemson Tigers know how to muck a game up defensively.
Since being upset by South Carolina, Clemson has allowed 59 points per game over its previous three games and spent 18.9 seconds on average per defensive possession (343rd in the country). The Under is 9-2 in Clemson's last 11 games following a win, and it is easier to slow a team down than it is to speed one up, so we expect the Tigers' tempo to win out. Not to mention, Iowa held Seton Hall to 67 points in its toughest test to date, so it can get after it on the defensive end as well.
DraftKings offers the best number for Under backers, as most other sportsbooks are at 148.5. And the 149-point total is 1.5 points better than PointsBet's 147.5.
Check out our top sites for Iowa sports betting.
Upset: San Francisco (-105) ★★★★
San Francisco showed well at the Hall of Fame Classic with wins over Northern Iowa and Wichita State. Despite the team's 6-0 start, it has been an auspicious beginning of the season for Khalil Shabazz, as he has been held to eight or fewer points in three games. However, he has scored at least 18 points in the other three games and should be in for another big performance against a Davidson defense that does not defend the pick-and-roll well.
This is not your typical high-scoring efficient Davidson offense. The Wildcats have been held to fewer than 70 points in back-to-back games against defenses that rank 294th and 258th in effective field goal percentage. Look for the Dons to steal one on the road in this matchup.
Prop pick: St. Bonaventure team total Under (OFF) ★★★★
There may not be many more mismatches in returning production all season than in this St. Bonaventure-Notre Dame matchup. The Bonnies return just 0.5% of their minutes from last season (ranks 357th), while Notre Dame returns 54.3% of its production from last year (ranks in the top 80). However, instead of suggesting that leads to a big Fighting Irish victory, we expect Mike Brey's team to clamp down defensively.
The Bonnies scored at least 80 points in three of their five games but have faced just one team inside KenPom's top 200 and were held to 62 points on a 24-for-63 shooting performance in that contest. Notre Dame will be happy to grind its way to a victory, playing at the 342nd slowest pace in Division I.
St. Bonaventure has an implied team total of 65.5 points, and that is precisely where we would be comfortable playing this number.
Where to Bet on College Basketball
Here are our top-rated sportsbooks:
College basketball best bets from 11/25/2022 at 7:39 a.m. ET.