NBA Playoffs Value Picks: Can Lillard Put Trail Blazers on His Back Again?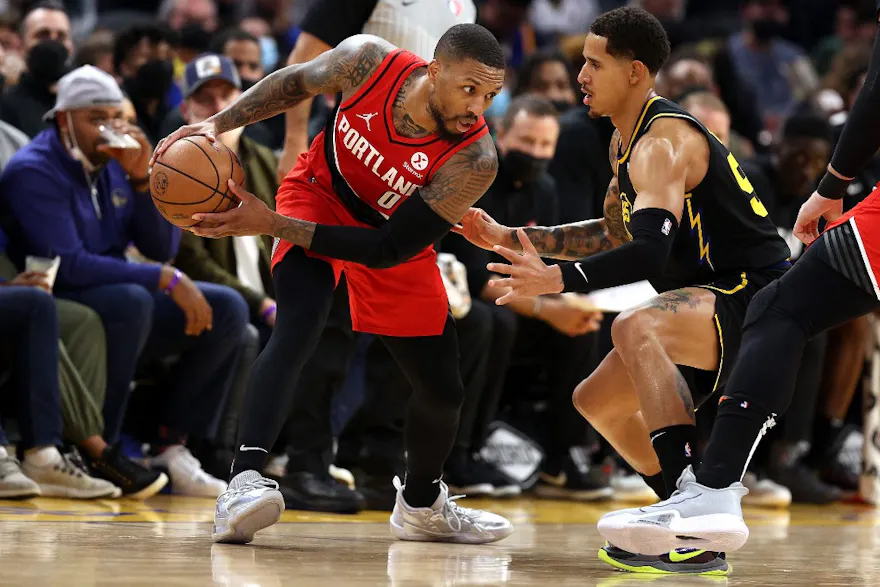 The 2022-23 NBA regular season is just a few weeks away. That means it's the perfect time to begin looking for value in the NBA futures markets. We're examining three value bets on potentially playoff-contending teams.
The Golden State Warriors and the Boston Celtics represented their respective conferences in last year's NBA Finals, which concluded with the former winning its fourth title in eight years.
We've identified three teams that could make waves throughout the 2022-23 regular season en route to capturing a playoff spot.
Here are my picks and predictions for three NBA teams that are providing bettors with good value thanks to their odds to make the playoffs (odds via FanDuel Sportsbook, DraftKings Sportsbook, and PointsBet).
Which Teams' Postseason Odds Provide Best Value?
Trail Blazers (+154 via FanDuel)
The Portland Trail Blazers were a staple in the Western Conference playoff race heading into last season, with eight consecutive postseason appearances from 2013 to 2021.
However, last season was a different story. Over the past six seasons, the tandem of Damian Lillard and C.J. McCollum were considered one of the best backcourt duos in the NBA. But the Trail Blazers dealt McCollum to the New Orleans Pelicans in hopes to reduce their salary cap and gain a few assets in the process.
In the end, Portland won just 27 games last season, the team's worst total since the 2010-11 campaign when they produced a 28-38 record during a lockout-shortened season.
Though Lillard can go off on any given night, his production (24.0 points, 4.1 rebounds, and 7.3 assists) may not be enough to ensure a playoff berth.
The interesting part of this bet, though, is that FanDuel has the Trail Blazers as one of the favorites to qualify for the play-in tournament (-140). If Portland does notch a play-in tournament spot, Lillard could very well propel his team to the postseason.
Check out the latest comprehensive and most trusted Sportsbook Reviews by SBR.
Bulls (-125 via DraftKings)
Before last season, the Chicago Bulls had missed the playoffs in each of the last four campaigns. But thanks to a shakeup in the front office and a few shrewd offseason acquisitions – namely DeMar DeRozan, Lonzo Ball, and Alex Caruso - the Bulls finally ended their playoff drought.
As expected, Caruso proved to be a valuable defender and Ball played well before a knee injury kept him on the shelf for most of the second half of the season. For his part, DeRozan produced one of the best NBA seasons of his career. He averaged 27.9 points, 5.2 rebounds, and 4.9 assists per contest.
The last time DeRozan surpassed the 27 PPG threshold was 2016-17 when he was a member of the Toronto Raptors. Based on what we've seen in his first year with the team, there's no reason to believe he won't be a valuable contributor this upcoming season.
Unfortunately, Ball isn't expected to return before the start of the season, and there is no definitive recovery timetable from a recent surgery he had on his left knee.
The good news is that the Bulls played a good chunk of last season with Ball out of the rotation. As long as the team's Big Three of DeRozan, Zach Lavine (24.9 points, 4.6 rebounds, and 4.5 assists), and Nikola Vucevic (17.6 points and 11 rebounds per outing) can consistently play at a high level, the Bulls have enough firepower for a return trip the playoffs.
Pelicans (-155 via PointsBet)
The New Orleans Pelicans aren't historically a perennial playoff contender. In fact, dating back to the 2010-11 season, New Orleans has advanced to the postseason just four times. Based on that trend, some may question why this team has early favorable odds to make the playoffs.
A big reason is a perceived return to health for Zion Williamson. He suited up just 24 times in 2019-20, appeared in 61 games in his sophomore campaign, and missed the entire 2021-22 season with a foot injury. However, he appears to have improved his conditioning this offseason and looks ready to return with a vengeance.
During his rookie season, he averaged 22.5 points and 6.3 boards per contest. He followed that up with per-game averages of 27 points and 7.2 rebounds per outing in 2020-21. Additionally, he's shot an efficient 60.4% from the field.
Things seem to be looking up for New Orleans. After acquiring McCollum from the Trail Blazers, the Pelicans went on to clinch the No. 8 seed in the conference playoffs. Not only that, but they pushed the top-seeded Phoenix Suns to six games.
The Pelicans will gladly welcome back Williamson to join McCollum and the rest of their budding stars. They should be in the postseason hunt once again.
Where to Bet on NBA Futures Picks
Here are our top-rated sportsbooks:
SEE ALSO: All picks, odds, and sports betting news. Be sure to check out SportsbookReview.com's community forums and betting tools.
NBA playoffs value picks from 9/30/2022 at 6:10 p.m. ET