Coastal Carolina vs. Arkansas State College Football Week 6 Picks and Predictions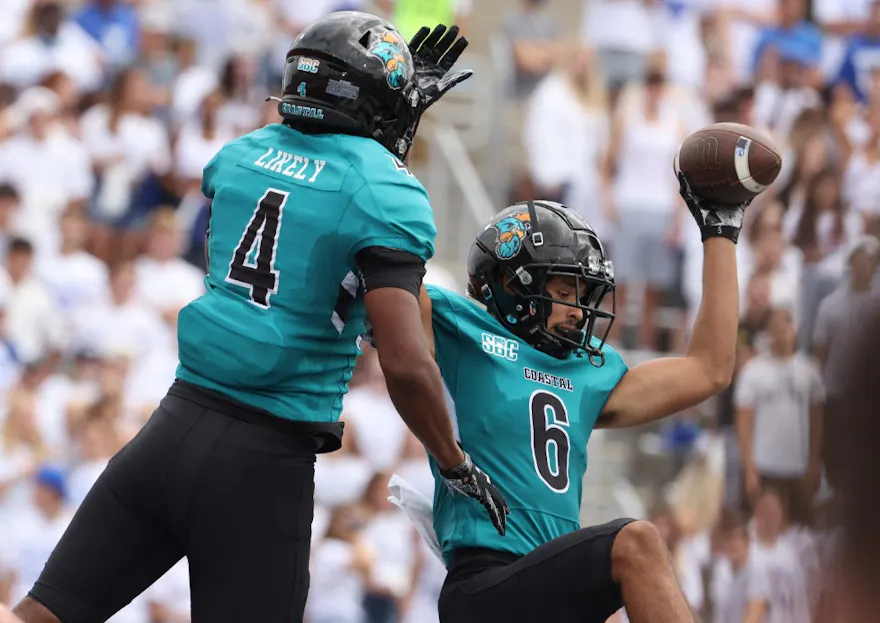 Coastal Carolina hasn't played major competition this year but has absolutely crushed their schedule, minus the game against Buffalo. Can Coastal Carolina continue to dominate, on the road against a 1-4 Arkansas State team? For your NCAAF pick, read my prediction below!
Coastal Carolina Chanticleers vs. Arkansas State Red Wolves
Thursday, October 07, 2021 - 07:30 PM EDT at Centennial Bank Stadium
The Coastal Carolina Chanticleers are currently ranked 15 in the nation with very low profile wins over teams that just aren't competitive. With wins against Louisiana Monroe, UMass, Buffalo, Kansas, and The Citadel, some believe Coastal Carolina doesn't deserve to be ranked as high as 15.
Either way, they'll take on another low profile team on Thursday, when they visit a 1-4 Arkansas State team.
https://youtu.be/CDk_lW-eWfI
The NCAAF odds tell that Coastal Carolina can really do no wrong against these bad teams. They're averaging 48.2 points per game and are gaining about 528 yards per game. Quarterback Grayson McCall has thrown for 1113 yards on just 69 completions with 10 touchdowns and one interception.
I will say that the pass protection for McCall can be better, but he is getting rid of the ball quickly while also having plenty of playmakers on his side. If anything, the only thing that can beat Coastal Carolina is not giving McCall enough time in the pocket.
Arkansas State has actually looked solid upfront with plenty of pressure on the quarterback this season. However, the coverage has been so poor that the pass rush really isn't as effective as it could be. Arkansas State is allowing 563.8 yards per game on defense, including 300.6 yards passing and 263.2 yards rushing.
Grayson McCall #10 of the Coastal Carolina Chanticleers. Timothy T Ludwig/Getty Images/AFP.
With Coastal Carolina running the ball for 257.4 yards per game, the expectation is that they'll run right through an Arkansas State team that has struggled against the run but has also struggled to just make tackles.
Arkansas State has an average offense averaging 32 points per game but the defense is allowing 45.6 points per game, which is just really bad. Coastal Carolina might even be the best offense Arkansas State will face all year as a defense, even after playing Memphis, Tulsa, and Washington already this season.
https://twitter.com/AStateFB/status/1444391079906881536?s=20
Prediction
Coastal Carolina is averaging 48.2 points per game while Arkansas State is allowing 45.6 points per game. I will say that Arkansas State's offense can sling it around the field, however, against Coastal, it's going to be a challenge.
Arkansas State is going to look to throw the ball around the field but Coastal has allowed 130.8 yards per game in the air. The pass rush and coverage, along with tackling, have been elite this season for the Chanticleers.
So while Arkansas State has the offense to stay in the game, going up against Coastal Carolina's defense, they just don't match up well enough. There's nothing elite about Arkansas State's offense. They just get the ball a lot because they allow big plays throughout the game.
More possessions mean more points. I like Coastal to score near 45 points in this game and don't expect Arkansas State to score more than 24. Choose your best sportsbook. I'll take Coastal Carolina against the spread at -17.5.
NCAAF Pick: (visit our Sportsbook Review)
*The pick reflects the line at the moment the writer made the play, the odds at the beginning of this article show the live line movement. Since the lines might vary, don't forget to refer back to our live odds.