College Football Odds and Lines Analysis for Week 6: Wisconsin Drawing Sharp Action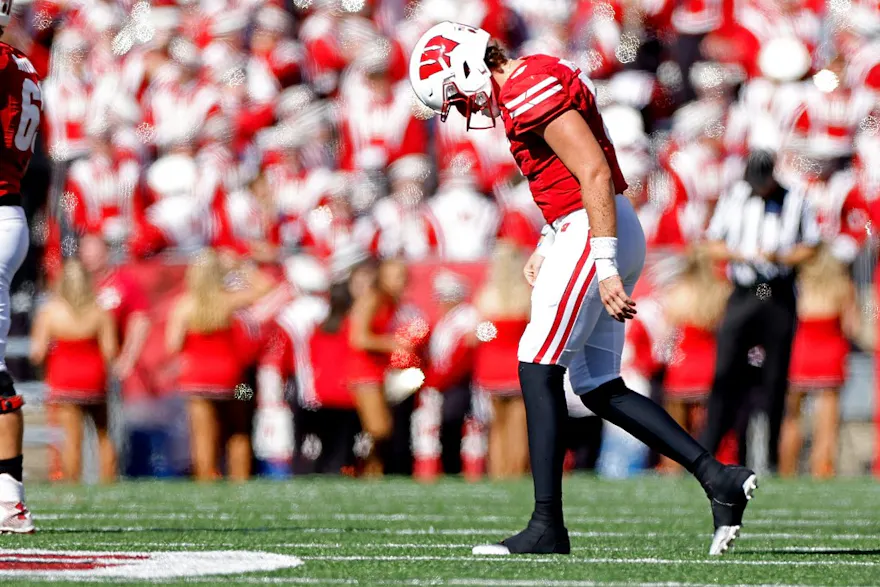 Wisconsin football is clearly in a state of chaos right now. With conventional wisdom being to fade the Badgers on the road against Northwestern, why has the line moved in Wiscy's favor? SBR's college football odds and lines analysis discusses the betting action for this game and several other notable matchups.
Five weeks of the 2022 college football season are officially in the books. By now, the betting power rating has been adjusted positively or negatively for several teams relative to preseason expectations. As more games are played, it's only natural that the market will begin to gain a better sense of what certain teams have to offer.
With the midway point of the regular season quickly approaching, bettors are advised to update their own power ratings accordingly. Evolving is critical, but it is also important to avoid over-adjusting relative to preseason expectations.
As always, a successful handicapping operation should involve monitoring the market throughout the week and digging deeper into major moves or suspicious lines. Read on for our college football odds and lines analysis for Week 6 (odds via Caesars Sportsbook).
College Football Betting Market Analysis for Week 6
Missouri vs. Florida
Odds: FLA -11 | O/U 55
We begin this week's market analysis with an SEC clash. Missouri somehow lost in each of the last two weeks. The Tigers squandered two golden opportunities to beat Auburn outright as touchdown underdogs on the road two weeks ago. Last week, the Tigers led then-No. 1 Georgia the entire way, only to give up a go-ahead touchdown with four minutes left and lose.
Based on the fight Mizzou has shown the last two weeks, it seems that the Tigers are capable of at least being competitive in the loaded SEC this year. Like Missouri, the Gators are winless through their first two SEC games this season having lost to both Kentucky and Tennessee.
Of course, Florida is one of the most publicly-bet teams in all of college football. However, there has been plenty of support for Missouri this week likely in response to how tough the Tigers battled Georgia. Despite a fairly even ATS ticket count on this game, the point spread has moved a full point in the Gators' favor.
Buffalo vs. Bowling Green
Odds: BUF -2 | O/U 54.5
Both the point spread and total for Saturday's MAC contest between Buffalo and Bowling Green have experienced significant movement. Oddsmakers opened the Falcons as 2-point home favorites. The market responded by moving the line through pick'em to -2 in favor of the Bulls.
Considering how topsy-turvy the MAC has been dating back to last year, there are bound to be some notable discrepancies between bettors and oddsmakers when it comes to how the teams are power rated. Both Buffalo and Bowling Green actually lost to FCS-level opponents earlier this season. At the same time, the two schools have combined to win four of six games over the last three weeks.
The Bulls feature a run-heavy offense and a solid defense. On the flip side, Bowling Green's defense has shown very little ability to contain opposing offenses. At the same time, senior quarterback Matt McDonald and the Falcons' offense are more than capable of putting up points.
Considering that the game total has risen from 49.5 to 54.5, the betting market is clearly leaning toward Bowling Green's style of play winning out. Despite this, the spread has moved in Buffalo's favor. As such, it seems like only one of these line moves can ultimately be correct.
Wisconsin vs. Northwestern
Odds: WIS -10 | O/U 44
Who the heck wants to bet on Wisconsin right now? The Badgers are in a state of disarray following a 24-point home loss to Illinois last week. Head coach Paul Chryst was fired in the aftermath of that embarrassing defeat which dropped the team's record to 2-3 on the season.
Despite all of this, it's clear that several sharp bettors are backing Wisconsin against Northwestern. After opening as an 8-point road favorite, the Badgers are now laying a consensus line of 10 points. Needless to say, this line move goes completely against how the majority of the betting public views the Badgers right now.
Updated betting percentages from DraftKings Sportsbook show that Northwestern has taken nearly two-thirds of all ATS bets as the home underdog. And yes, this is the same Wildcats team that has lost four straight games, including two home losses to FCS-level Southern Illinois and a Miami (Ohio) team that was without its starting quarterback!
Will Chryst's firing help jumpstart Wisconsin? It's hard to say. Georgia Tech sure rose to the occasion last week after Geoff Collins was canned. However, we have also seen both Nebraska and Arizona State play uninspired football in their respective first games after Scott Frost and Herm Edwards, respectively, were dismissed.
BYU vs. Notre Dame
Odds: ND -3.5 | O/U 52
No worthy college football betting slate would be complete without at least one instance in which a ranked team is catching points from an unranked opponent. The matchup between BYU and Notre Dame serves as the poster child for all other smelly and fishy lines.
After getting past rival Utah State last Thursday, BYU comes into Saturday's game ranked 16th in the latest edition of the AP Poll. Meanwhile, Notre Dame remains outside of the Top 25 following back-to-back losses to Ohio State and Marshall to begin the season. Yet, it's the Fighting Irish who are laying 3.5 points ahead of this neutral site contest set to be played in Las Vegas.
If market trends out at prominent Las Vegas sportsbooks are any indication, this line may grow higher still. Several shops have already adjusted the spread to Notre Dame -4. Typically when a ranked team is catching points to an unranked opponent, a public underdog situation arises. That is not the case here, with over 60% of ATS bets siding with the Irish.
Of course, Notre Dame came into the season with a much higher power rating than BYU. While the Irish are down to a backup quarterback and have been very mediocre offensively so far, the Cougars haven't exactly lit the world on fire either. BYU failed to cover at home against a pair of lesser Mountain West opponents the last two weeks.
Oregon vs. Arizona
Odds: ORE -13 | O/U 70.5
Those who like offensive shootouts will want to stay up late this weekend. The betting market is calling for points aplenty in Saturday night's Pac-12 matchup between Oregon and Arizona. Case in point, the consensus total of 70.5 at the time of writing is the highest Over/Under line for any game on the Week 6 slate.
From the standpoint of market analysis, it's also important to note that this line has moved heavily toward the Over. Oddsmakers first opened the game total at 66.5. The adjustment happened so quickly that DraftKings' betting percentages actually show 71% of all bets as being on the Under. Despite this, the line has yet to move back in the opposite direction.
Considering the teams involved, it's no surprise why a shootout is expected. Oregon scored at least 41 points in each of its four games played since being blown out by Georgia in Week 1. While QB Bo Nix and the offense have been rolling, head coach Dan Lanning's defense remains a work in progress.
The Ducks' defense will certainly be tested on Saturday by transfer quarterback Jayden de Laura and a vastly improved Arizona offense. The Wildcats scored 31 or more points in all but one game so far this season. A year after averaging just 17.2 points per game, Arizona comes into Week 6 having scored 32.3 PPG against FBS-level opponents.
Where to Bet on College Football