Sports Betting Industry News Week in Review: Latest State News and Reported Handles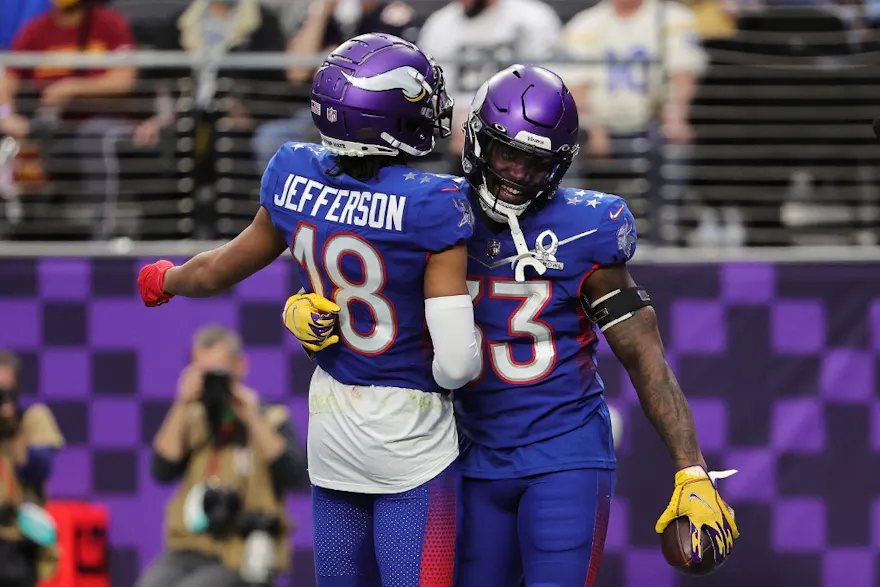 It was a bit of a slow week in terms of sports betting opportunities, with the NBA paused for its All-Star break and the lack of NFL. But that didn't stop the overall industry from making a ton of noise the last seven days. Sportsbooks themselves and prospective legal betting states dominated the headlines.
Let's take a peek into some of the most pertinent legal sports betting stories from the last week and conclude with the Bettor Best Awards – stories inspired by you, the sports betting public.
TwinSpires Getting out of the Sportsbook scene
News dropped Thursday of TwinSpires, one of the most recognized names in the U.S. gambling industry, getting out of the sportsbook game to focus solely on horse racing, their true bread-and-butter.
It is unclear what will happen with the TwinSpires sportsbooks operating in Arizona, Colorado, Indiana, Michigan, New Jersey, Pennsylvania, and Tennessee. Still, industry pundits expect the company will shut down its mobile books in those states.
The 2021 earnings report showed a $31.9 million loss on the sportsbook side of the business while at the same time showing a spike in their horse racing wing, which the company will focus on going forward.
Read more here:
In Other Sportsbook news:
This week, Rush Street Interactive (RSI) reported that they are ready to expand their reach with moves into Ohio, Maryland, and Missouri. Thanks to an existing relationship with Penn National Gaming, RSI's BetRivers brand will be coming to those jurisdictions pending licensing and regulatory approvals.
We can officially add Caesars Entertainment to the list of sportsbooks looking to cut spending on their advertising. Despite reported Q4 revenue growth and the company's share price continuing to perform well (it rose 8% Wednesday to $83 with the news of the advertising cutback).
https://twitter.com/ButlerBets/status/1496496195551862784
Read more here:
FanDuel strengthened its New York presence this past week by announcing an Official Sports Betting Partnership with the Buffalo Sabres. FanDuel gets the usual perks such as promotional opportunities, branding options, and valuable signage in and around the Sabres' home building - Buffalo's NHL club will gain a "fan engagement" angle for its fan base.
Read more here:
Caesars Entertainment announced Thursday that they have signed a multi-year partnership with the Cleveland Cavaliers to become the NBA club's latest "Official Casino Partner." Caesars gains some brand recognition into the yet-to-be-launched Ohio market while the Cavs get another high-end sportsbook to assist with their fan engagement endeavors.
Read more here:
Bally's this past week signaled their intention of getting in on the bustling New York legal mobile sports wagering scene. Their New York launch will reportedly come sometime in the first half of this year and closely coincide with another critical launch for the company – Ontario. The news came as part of a Q4 earnings call transcript from Thursday.
Read more here:
In prospective state news:
The state of Arkansas received some great news last week when the state's Administrative Rule Review Subcommittee approved a set of rules that will pave the way for mobile sports betting apps to launch in the state - hopefully in time for March Madness.
https://twitter.com/BennettConlin/status/1496154510628167700?cxt=HHwWqIC58bamtMMpAAAA
Read more here:
Missouri is making a solid push to bring legal sports betting to their jurisdiction. A state House Special Committee on Public Policy heard two similar proposed Bills at a meeting Tuesday, backed by pro sports teams in the states, casinos, and hopeful sportsbook operators.
Affinity Gaming, Boyd Gaming, Caesars Entertainment, Century Casinos, Penn National Gaming, and Bally's Corp. are all in on the proposals, along with the state's six professional sports franchises. All hope to join neighbors Illinois, Tennessee, Iowa, and Arkansas as successful legal sports betting destinations.
https://twitter.com/sports_handle/status/1483875987901321218?ref_src=twsrc%5Etfw%7Ctwcamp%5Etweetembed%7Ctwterm%5E1483875987901321218%7Ctwgr%5E%7Ctwcon%5Es1_&ref_url=https%3A%2F%2Fsportshandle.com%2Fmissouri-house-committee-ponders-legal-betting%2F
Read more here:
On Monday, lawmakers in the state of Oklahoma passed a sports betting bill that will bring in-person wagering to bettors in that jurisdiction. The state's Appropriations and Budget Subcommittee on General Government voted 6-4 in favor of such a platform on Monday.
Read more here:
Keep an eye on the state of Maine as Governor Janet Mills finally threw her support behind a legal sports betting bill after years of resisting such a platform.
Bill L.D. 585 would give the state's native tribes the opportunity to open retail and mobile sports betting - a battle assured in Maine. Commercial casinos have already voiced opposition to such a plan, including existing operators and off-track betting facilities. Stay tuned!
Minnesota is emerging as a potential legal sports betting jurisdiction. Last week, Sen. Roger Chamberlain held a press conference to introduce a Bill that would bring wagering to his state. Tribal casinos and the state's racetracks would be the immediate beneficiaries - hopeful mobile providers must partner with one of the state's native tribes.
There is a ton of support for legal sports betting in Minnesota, including lawmakers, the state's pro sports teams, betting providers, and tribes.
Like others on the list of potential states joining the U.S. legal sports betting family, we'll eagerly await further news.
SEE ALSO: Minnesota Preparing Legislation To Legalize Sports Betting
States that reported their January handles this past week
One of the country's top sports betting jurisdictions, Pennsylvania, started 2022 with a bang. The state's sportsbooks took in a record $793.7 million, besting the previous record by just over $17 million. January's figures are also a 5.8% increase from December's sports betting haul. Tennessee joined the rash of legal sports betting states that posted a record handle during January, thanks mainly to the popularity of Super Bowl wagering. Regulators reported a $386.1 million handle, a slight 2.9% bump from the old record. Mississippi sportsbooks reported a month-over-month uptick in sports betting activity this week. In January, $66,523,295 was taken in by the state's sportsbooks, about $10 million more than January. Last month's revenue total, however, is about 28% less than the same January wagering period in 2021, when $9,114,483 was recorded by the state's sportsbooks. January gave us an early indication of the potential of the Louisiana legal sports betting scene that added mobile operators on January 28 to its list of retail providers. When the dust settled, bettors in Louisiana spent $89.8 million at the state's sportsbooks - $40.5 million in four days of mobile wagering and $49.3 million at the state's retail facilities. In February, all eyes will be on Louisiana - their first whole month of a full-blown sports betting platform.
The Bettor Best Awards
"The Turning Something into a Whole Lot Award"
The Super Bowl is in the rear-view mirror, but new stories are emerging about the gambling success of some. This guy took a Free Bet with DraftKings and turned it into $1.5 million. It's stories like these that keep us all coming back!
https://twitter.com/DKSportsbook/status/1493307830870458375
Read more here:
"The Pretty Payout Parlay Award"
This bettor looked into their crystal ball and managed to parlay a $25 bet into $32,639.51. Suddenly user Tisikk gained some followers. (via/Reddit)
Make sure to keep an eye on our Live Odds page throughout the week to get the best lines possible and connect with others in the SBR community on our popular sports betting forum.