New Wagering Handle Record Set in New York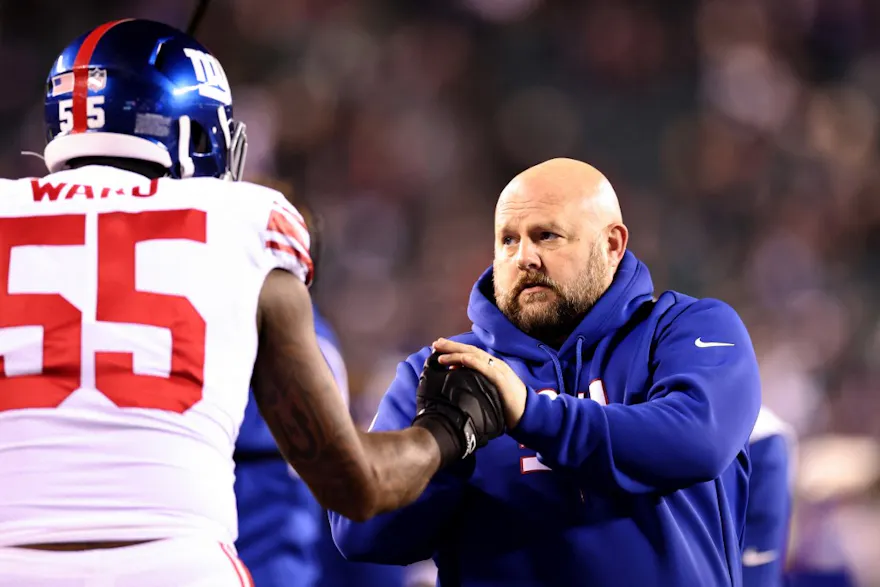 Helped by an unexpected playoff appearance by the New York Giants, a new wagering handle record was set in New York in January 2023.
It's an empire state of mind for the New York sports betting landscape these days. The New York State Gaming Commission released the latest figures for sports betting in New York, and January's numbers set all-time highs.
Handle topped out just shy of the $2 billion mark with $1.8 billion wagered. That mark cruises past the previous all-time monthly record of $1.69 billion from January 2022 when online sports betting in New York first went live. Impressively, New York claims the top eight monthly handle records in the years following the repeal of PASPA and also holds 10 of the top 12 overall marks.
All 13 months of active online sports betting in New York crack the list of the top 50 all-time handles reported nationwide in the United States. January's record-breaking month also set new milestones for revenue for NY sports betting operators as well as tax revenue for the state itself. The new record for total revenue is just south of $150 million, giving New York the seven highest monthly revenue totals in the post-PASPA era across the U.S. sports betting industry.
Not a bad start to the new year after New York sports betting smashed nearly all conceivable records during 2022.
New York sports betting wins the Super Bowl
As total wagering numbers for Super Bowl 57 continue to trickle in, it seems New York bettors had the most skin in the big game this year. GeoComply—a company that specializes in fraud detection and cybersecurity for the sports betting industry by identifying a sports betting app user's true identity and geolocation—reported that the New York sports betting market recorded 13.9 million geolocation checks which accounted for nearly 14% of the total 100 million geolocation transactions GeoComply conducted during Super Bowl weekend across the United States.
The Ohio sports betting market, a relative newcomer to the U.S. sports betting industry after launching on January 1, 2023, followed as runner-up for geolocation checks with 12.6 million, and the Pennsylvania sports betting market recorded 11.8 million checks. Of its 13.9 million geolocation checks, New York saw the second-highest amount of unique accounts register a check with 851,000 accounts registered, following only Ohio's 1.1 million.
What are the best mobile sportsbooks in New York?
The legal NY sports betting scene comprises nine of the country's best sportsbooks, and January's record-setting handle obviously benefitted those with the biggest market share. FanDuel accounted for just over 40% of all accepted wagers in the Empire State, boasting a handle of $726.7 million. DraftKings came in second after collecting $593.4 million in total handle, and Caesars rounded out the top three with a handle of $223.7 million.
BetMGM was the only other operator to post a nine-figure handle of $122.9 million. Both PointsBet and BetRivers posted new records for their respective all-time monthly handle marks with the former hitting just shy of $58 million and the latter collecting $47.6 million in bets. WynnBet is struggling to compete in the New York sports betting arena as its roughly 2% hold on the market fell dead last among the nine mobile sportsbook operators.
Are NY sports betting ads doomed?
With all the positive momentum surrounding the growth and proliferation of the legal sports betting industry in the U.S. also comes a fair share of negative backlash. Sports betting advertising is an oft-criticized facet of the industry, especially as operators try to win market share in newly launched jurisdictions. New York Congressman Paul Tonko recently introduced the Betting on our Future Act, legislation that would effectively ban all online and electronic sports betting advertising, not just in his home state of New York but across the entire U.S. sports betting industry if passed.
"In the years since the Supreme Court leglized sports betting, these unfettered advertisements have run rampant, with betting companies shelling out billions to ensure they reach every screen across America." Tonko even directly called out the likes of DraftKings and FanDuel for creating an environment where "tens of millions will be bombarded by ad after ad" from betting operators "in their ruthless pursuit to get new customers hooked on their products."
Such strong language is certainly something to pay attention to coming from a federal legislator, especially since this is not the first time a federal lawmaker from New York has attempted to regulate the sports betting industry from the Congressional level. In 2018, New York Senator Chuck Schumer teamed up with then-Utah Senator Orrin Hatch in introducing the Sports Wagering Market Integrity Act which would have forced the states to seek approval from the U.S. Attorney General for their sports betting regulatory frameworks. Even though that 2018 bill did not even make it out of committee, it will be interesting to see if Sen. Tonko's legislation finds any more traction.
For now, New York sportsbook promos are not just safe but are prospering in the country's biggest sports betting market.