States That Came On Board or Expanded the Charging Legal Sports Betting Train in 2021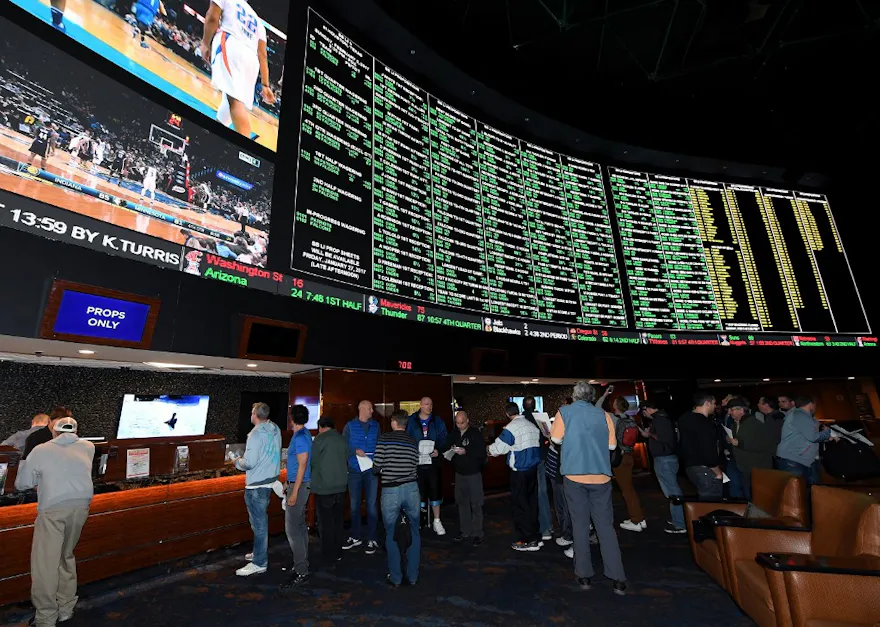 Legal sports betting continued to blossom across the US in 2021.
It was an incredible year in the expansion of the US legal sports betting industry. The legal scene grew exponentially not only in the dollars that it took in, but also in the number of jurisdictions that came online.
Eleven US states managed to go live in 2021. Six others committed to 2022 for launch. By the end of 2021, 33 US states will have either launched or legalized their own legal sports betting platform, setting up 2022 to produce explosive revenues for participating states.
Let's take a peek at some of the states that joined the legal sports betting family in 2021 - some are huge and others small, but all will contribute to America's exploding legal sports betting scene.
The newest
Ohio bettors got somewhat of a nice Christmas gift with the signing of legal sports betting legislation by Governor Mike DeWine. While the actual platform isn't scheduled to go live until late 2022, the fact that regulators are talking about "Who" will launch and not "What" a potential platform will look like is somewhat of a big deal. Ohio will be one of the largest sports betting jurisdictions in the US as the seventh-largest state in terms of population with 11.7 million residents.
Louisiana hoped to have legal sports betting by the start of the NFL season but is still lagging. Retail betting launched Oct. 31, but the more lucrative mobile platform isn't expected until the beginning of 2022. The retail side has been impressive so far with a $27.6 million handle in November, but it will be when the 20 mobile operators kick into business that Louisiana will begin to be a major player.
Wisconsin's tribal operators didn't need a new law to open their own sportsbooks. However, they did renegotiate their compacts with the Wisconsin Governor. Wisconsin's Oneida Nation was the first to launch retail sports betting in December. There is no timeline for mobile just yet.
Maryland voters signaled their support for legal sports betting on the Nov. 3, 2020 election ballot. Lawmakers and regulators worked diligently throughout 2021 to get something hammered out. While retail sports betting launched Dec. 9, the larger, more lucrative mobile launch is expected sometime in early 2022.
Connecticut finally joined its Northeast neighbors with its own legal sports betting platform on Sept. 30. It was a tad late in the NFL season but in time to take advantage of the majority of its bread-and-butter season. It took until Oct. 12 for the state's mobile platform to go live but as of Christmas Day, Connecticut has a full and complete legal sports betting platform.
SEE ALSO: Rush Street Interactive Wins Right to Sportsbook at Pro Football HOF
Those that took advantage of the start of the NFL season
Arizona was able to launch both retail and mobile sports betting in time for the NFL season. Sept. 9 completed a light-speed five-month process from sports betting being signed into law and the time it took its first bet. The complicated platform there has yet to release any revenue figures from its time as a legal sports betting family member; however, GeoComply stats have shown that the industry certainly is popular in the Grand Canyon State.
South Dakota's retail-only sports betting launch came Sept. 9 and so far, has been popular in the state. South Dakota won't be able to realize its potential until mobile sports betting operators are given an opportunity to have a stake in the overall scene.
Wyoming legalized sports betting in April and raced to launch on Sept. 1. Wyoming is one of two states that has mobile-only sports betting - there are no plans for retail casinos as of yet.
Washington's tribal-only wagering platform has been expanding in stages since the official Sept. 9 launch of its so-far retail-only platform. Bettors in the state are able to use their mobile devices at some of the casinos that currently house sportsbooks, but statewide mobile wagering seems as though it is at least a year away.
Those that have been around for a while
Virginia is one of the few US jurisdictions with a mobile-only platform. A retail industry is still under construction with little idea about when the first casino will open. The state won the race to become the first to launch in 2021. Virginia regulators are still busy filling out the entire operator menu to 14; however, all of the big names are already competing in the so-far impressive Virginia market.
Michigan actually launched retail sports betting in March 2020 but kicked off mobile betting on Jan. 22, 2021. Michigan has become an elite US sports betting jurisdiction. It hosts all of the biggest mobile providers in the legal sports betting business.
North Carolina went live with retail only on March 18. Is potential mobile platform is currently stuck in legislative limbo.
Those with an undetermined launch date
New York currently has an underwhelming retail sports betting platform at four upstate casinos, away from the major population hubs in the state. After a lengthy battle and the "ah-ha" moment by lawmakers, it will finally start taking advantage of the lucrative mobile sports betting scene that has been carrying neighbor New Jersey for years. The Empire State citizens and tax coffers seem to be the biggest winners. The mobile platform will be taxed at 51%.
SEE ALSO: All picks and odds. Be sure to check out SportsbookReview.com's community forums and betting tools.