Coin Toss and Gatorade Bath Drawing Plenty of Action Ahead of Super Bowl LVI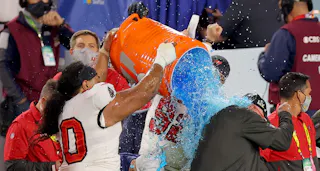 Special and novelty prop bets are receiving a lot of action leading into Super Bowl LVI, and in particular, the coin toss and Gatorade bath are two of the most popular bets.
"These two props are easy to understand and give bettors a chance to win before and after the Super Bowl begins," Tristan Davis, Senior Trader with BetMGM, notes.
Additionally, BetMGM has received more bets on the coin toss than other more traditional props, such as Joe Burrow passing yards, Joe Mixon rushing yards or Odell Beckham Jr. receiving yards.
There's also multiple betting options on the coin toss beyond just heads and tails. Bettors can wager on the call of the toss, which team will win, and whether the coin-toss-winning team will receive the opening kick or defer to receive it in the second half at BetMGM.
SEE ALSO: How to win your Super Bowl Prop Pool
Currently, 60 percent of tickets and 52 percent of the handle is on Tails (-105), which aligns with the historic trend of Tails winning 29 of 55 Super Bowl tosses (53 percent).
Perhaps more interesting, though, is the disparity between the ticket percentage and handle percentage on the decision of the coin-toss winner with 77 percent of the tickets on the winning team receiving the opening kick (-500) while 76 percent of the handle is on the winning team deferring to the second half (+375).
Cincinnati and Los Angeles deferred every time they won a coin toss this season – including during the postseason. Additionally, in each of the past 11 Super Bowls the team winning the coin toss opted to defer to the second half, including Los Angeles in Super Bowl LIII.
The last team to choose to receive the opening kickoff were the New Orleans Saints in Super Bowl XLIV in 2009.
SEE ALSO: 56 Super Bowl Prop Bets
There's probably more randomness for the Gatorade Bath, and the odds at BetMGM reflect it. Orange (+200) is the favorite with Blue (+300), Yellow/Green/Lime (+450) and Clear (+450) following up. Yellow/Green/Lime has received both the highest ticket and handle percentage with 33 percent and 36 percent, respectively.
Historically, the first Gatorade bath in the Super Bowl happened in 1987 when the New York Giants soaked head coach Bill Parcells. Through the past 20 Super Bowls, five Orange Gatorade baths pace the field with clear and no Gatorade shower at all next in line with four occurrences each.
Make sure to keep an eye on our Live Odds page throughout the week to get the best lines possible and connect with others in the SBR community on our popular sports betting forum.