3 NHL Award Futures Bets You Should Make After Free Agency
The first wave of the NHL's free-agency period was filled with significant moves. Here are several NHL award futures to now consider.
A day after the start of free agency in the NHL, we've already seen some major moves and shifting odds for the 2022-23 Stanley Cup champion. Among the most notable moves, Johnny Gaudreau shockingly ditched the Calgary Flames for the Columbus Blue Jackets, Max Pacioretty and Brent Burns moved to the Carolina Hurricanes, and Claude Giroux went home to the Ottawa Senators.
While the Stanley Cup market naturally gets a lot of attention after the dust settles, the player awards markets move after free agency too. Players gain or lose opportunities with their new teams, affecting the other players on their clubs and around the league.
Let's look at a few early NHL award futures bets to consider before the start of the regular season on Oct. 7 (odds via DraftKings Sportsbook and FanDuel Sportsbook).
Stanley Cup Futures Odds
| | | | |
| --- | --- | --- | --- |
| Team | FanDuel | DraftKings | Caesars |
| Avalanche | +500 | +400 | +350 |
| Hurricanes | +1000 | +1200 | +1300 |
| Maple Leafs | +1000 | +850 | +900 |
| Lightning | +1200 | +1000 | +1000 |
| Panthers | +1300 | +850 | +1200 |
| Golden Knights | +1400 | +1600 | +1500 |
| Oilers | +1600 | +1600 | +1800 |
| Rangers | +1600 | +2000 | +1500 |
| Wild | +1800 | +2200 | +2000 |
| Penguins | +1800 | +2000 | +2200 |
NHL Award Futures Picks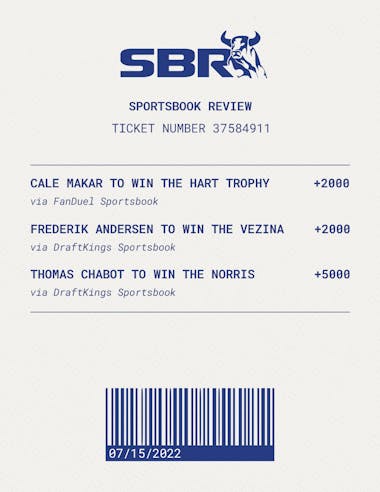 Check out the latest comprehensive and most trusted Sportsbook Reviews by SBR.
NHL Award Futures Predictions
Makar to win the Hart Trophy (+2000)
It's weird to say that the 2021-22 regular season and Stanley Cup playoffs marked a coming-out party for such a dynamic player, but that's what it felt like for Makar.
After finishing the season with 28 goals and 86 points, he notched 29 points over 20 playoff games to lead his team in scoring and win the Conn Smythe Trophy. Oh, and he also won the James Norris Memorial Trophy as the league's top defenseman.
The Avs were one of the clear winners during free agency simply because they managed to keep a lot of their key pieces. They re-signed Valeri Nichushkin and Artturi Lehkonen but swapped goaltender Darcy Kuemper with Alexandar Georgiev from the New York Rangers. That may seem like a big loss, but Kuemper's Goals saved above average (GSAA) went from -3.23 (75th) at five-on-five in 2020-21 to 16.7 (sixth) in 2021-22 when he joined Colorado. The Avs don't need elite goaltending to win. They make goaltenders look elite.
When a connected insider like Elliotte Friedman name-drops Makar as a Hart Trophy favorite on his "32 Thoughts" podcast, you take notice. There's clear momentum behind getting him into the conversation to win. If Makar and his team enjoy a similar level of success in 2022-23 (and the Avs should), the odds here will only decrease.
Andersen to win the Vezina Trophy (+2000)
Andersen was pumping out his best statistical season before leaving a game on April 16 in Colorado with a lower-body injury. His 2.17 GAA and .922 SV% were career bests. He missed just the final six regular-season games. But that was enough for the NHL general managers who vote on this award to not put him in the top three, even though Andersen produced a better and equal SV% than Jacob Markstrom and Juuse Saros, and a better GAA than both.
I like this bet for two reasons. Firstly, Carolina was an obvious winner during free agency, and it wasn't even about the players the team signed. The trades for Pacioretty and Burns solidify a squad that's ready to take the next step. Burns slots perfectly into the role Tony DeAngelo occupied, and Pacioretty is a proven goalscorer who adds to the Hurricanes' already impressive forward depth.
Secondly, a precedent has been set, and to be a finalist for the Vezina (let alone win it) your team needs to make the playoffs. There are only three goalies whose teams I would consider locks to make the postseason ahead of Andersen on the odds board at DraftKings. The rest are on teams that will need to battle to qualify.
Andersen is on a Hurricanes club that will produce another strong regular season. If he can stay healthy, there's a good chance he'll put up similar numbers on a possession powerhouse and win this award.
Chabot to win the Norris Trophy (+5000)
The Senators were obvious winners after free agency. They signed Giroux to a three-year deal, traded for Alex DeBrincat during the NHL draft, and acquired veteran Cam Talbot from the Minnesota Wild to shore up their goaltending.
As a result, the team's odds to win the Stanley Cup through DraftKings shifted from +6500 to +5000. The Sens are still a long shot to win it all, but they'll be better in 2022-23, and that will benefit one player in particular.
Chabot has never struggled to put up points in the NHL. He produced close to a point per game during the shortened 2021 season, and the blue-liner likely would have cracked the 50-point mark in 2021-22 if he stayed healthy. Racking up points is the first step to getting into the Norris conversation, and Chabot will definitely do that with an improved forward group to feed around him at both even strength and on the power play.
A defenseman also needs to post good possession numbers to win the Norris, which is where Chabot and the Sens have struggled. Ottawa ranked 25th at five-on-five in 2021-22 in Expected goals for percentage (xGF%), and the Sens were 21st in Corsi for percentage (CF%). However, Chabot still finished with a 50.04 CF% while averaging 21:03 of ice time at five-on-five per game.
Chabot can hold his own defensively. He just needs some help around him, and the Senators have certainly provided support now. If Chabot and the Sens can land one of the wild-card spots, and the pivot both improves defensively and registers a strong offensive season, he'll be sniffing around the trophy come voting time.
Where to Bet on NHL Award Futures
Here are our top-rated sportsbooks:
FanDuel Sportsbook
Caesars Sportsbook
DraftKings Sportsbook
PointsBet
BetMGM
SEE ALSO: All picks, odds, and sports betting news. Be sure to check out SportsbookReview.com's community forums and betting tools.