Deshaun Watson Prop Picks: Watson Returns From Suspension to Face Former Team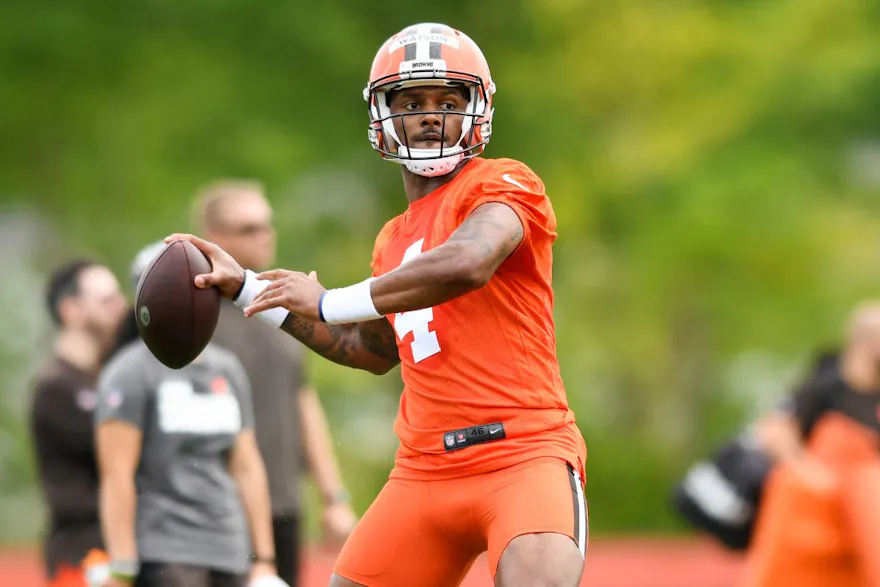 Deshaun Watson makes his debut with the Cleveland Browns this week in his first game back from suspension. Let's examine three prop picks for Deshaun Watson's debut as the Browns face the Houston Texans.
After a year lost to injury and serving an 11-game suspension by the NFL, Watson will make his first start since 2020. For the past couple of weeks, Watson has been practicing in preparation for his return to the field, and the Browns are 7-point favorites over Watson's old team.
How will the Browns utilize Watson in his first game following an extended absence?
Here are my top Deshaun Watson prop picks for the Browns-Texans matchup in Week 13 (odds via BetMGM, and DraftKings Sportsbook; pick confidence based on a 1-to-5-star scale).
Check out our NFL best bets and all of our top picks for Week 13!
Browns vs. Texans Odds
Deshaun Watson Prop Picks
Passing yards: Under 247.5 (-110 via DraftKings) ★★★★★
Passing+rushing yards: Under 274.5 (-115 via BetMGM) ★★
Interceptions thrown: Over 0.5 (+130 via DraftKings) ★★★
Check out our Browns vs. Texans picks!
Deshaun Watson Prop Predictions
Watson Under 247.5 passing yards (-110) ★★★★★
There are several factors at play with this prop that increases the value of the Under, with the biggest one being the Texans' poor rush defense. Considering how long it has been since Watson has started an NFL game, I wouldn't be surprised to see the Browns remain heavily reliant on Nick Chubb, especially in a game where they will be 7-point favorites.
For Watson's passing yards prop, we're seeing a massive edge in the numbers, as I'm seeing Watson projected to throw for 210 yards. Therefore, the Under on the total of 247.5 should be trading at -450, not -115. If I were allowed, I would award this prop a sixth star.
You can find the best price via DraftKings, where the Under 247.5 is trading for -110. The total is the same at 247.5 via BetMGM and Caesars, but the Under is juiced a little heavier at -115 and -133.
Watson Under 274.5 passing + rushing yards (-115) ★★
As a standalone bet, the Under 274.5 passing + rushing yards for Watson should be rated much higher than two stars, but it receives only two stars due to the way it compares to Watson's passing yards prop.
According to the projections, Watson is expected to rush for 37 yards on Sunday. When you subtract 37 from 274.5, you are left with 237.5 yards. By adding Watson's rushing total to this prop, we're reducing the edge we have with his passing yards prop of 247.5.
When combining 210 passing yards and 37 rushing yards, you are still well below 274.5, with a projected passing and rushing total of 247. The problem with this prop is that all of our edge comes from the passing yards, so you might as well just bet on that five-star prop.
Watson Over 0.5 interceptions thrown (+130) ★★★
I could break down all the numbers here, but the truth is, who outside of Cleveland doesn't want Watson to throw an interception this week? My hope is that the Texans' defense picks him off multiple times, and I'm certain they will be extremely motivated against their former teammate, who requested a trade from Houston. As a team, the Texans rank in the middle of the pack with seven interceptions this season, a category led by the Philadelphia Eagles' 15 interceptions.
It should be noted that there is also a small edge in the numbers here, otherwise I wouldn't recommend it. It's projected that Watson is more likely to throw an interception than Kirk Cousins and Patrick Mahomes this week, yet we see Cousins trading at -105 for the Over and Mahomes trading at -145.
BetMGM and DraftKings offer the best price for this prop, with Watson trading at +130 to throw one interception. Watson's price is a little shorter at Caesars, where he is currently trading at +120.
Where to Bet on Deshaun Watson Prop Picks
Deshaun Watson prop picks made 12/02/2022 at 9:30 a.m. ET.