Bills vs. Chiefs Divisional Round Picks: AFC Giants Clash Earlier than Expected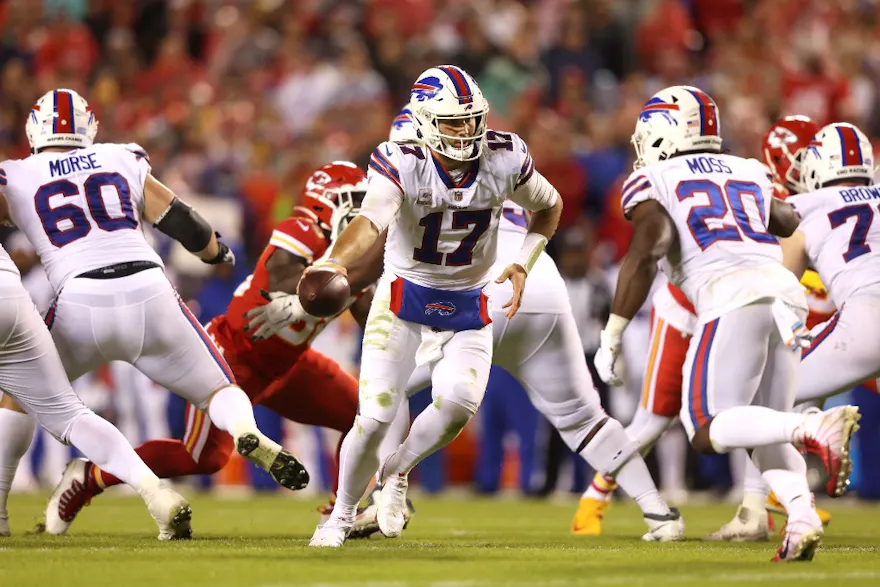 The Buffalo Bills and Kansas City Chiefs meet on Sunday in a matchup many expected to be the AFC Championship Game. We break it down with our Bills-Chiefs Divisional Round NFL picks.
The Chiefs and Bills entered the 2021 NFL season with the first- and second-best odds, respectively, to win the AFC. Though the Tennessee Titans surprised many by going 12-5 to finish as the conference's top seed, Kansas City (12-5) and Buffalo (11-6) won their respective divisions.
Both teams also secured a comfortable 20-plus-point victory on Wild Card Weekend. The Bills throttled the rival New England Patriots 47-17 at home on Saturday night, and the Chiefs routed the Pittsburgh Steelers 42-21 on Sunday.
Here are my picks and predictions for the AFC Divisional Round matchup between the Bills and Chiefs (odds via DraftKings Sportsbook, PointsBet, Barstool Sportsbook, FanDuel Sportsbook; pick confidence based on a 1-to-5-star scale).
Bills vs. Chiefs Game Info
Date/Time: Sunday, Jan. 23, 6:30 p.m. ETTV: CBSLocation: Arrowhead Stadium, Kansas City, MOWeather: 48 degrees, 0% chance of precipitation, 11 mph winds
Bills vs. Chiefs Odds Analysis
The Chiefs opened as 2-point favorites, but that's since been bet down to a consensus line of 1.5 with 64% of the handle and 54% of the tickets on the Bills. Bettors can still find the 2.5-point line at DraftKings. Regardless of the line, most books have equal -110 odds on either side, though PointsBet is juicing Chiefs -1.5 to -115. The public should remain split between two popular teams, so don't expect the line to move much more.
The total of 52.5 points shot up to 54.5 with the Over receiving 66% of the money and 70% of the tickets. A couple of books are offering a flat 54, and PointsBet is juicing the Under 54.5 to -115. I expect the total to rise even further when public money comes pouring in on the Over this weekend. Sharps will likely be waiting this out before taking the Under in hopes of a middle.
Kansas City and Buffalo opened with the best and fifth-best odds to win Super Bowl LVI last February. They entered the season at No. 1 and 3, respectively. They're second and third, respectively, at most books entering this weekend.
https://twitter.com/DavidPurdum/status/1483821280172380163
Bills Betting Preview
Record: 12-6 straight-up, 10-6-2 against the spread, 9-9 O/UKey Players: QB Josh Allen, RB Devin Singletary, WR Stefon Diggs, LB Tremaine Edmunds, S Jordan Poyer, DE Mario AddisonNotable Trend: Bills have won five straight games while going 4-0-1 ATS.
Addison (shoulder, limited) was the only name on Buffalo's opening injury report of the week, though defensive back Tre'Davious White was lost for the season to a knee injury in late November.
Buffalo won 38-20 in Kansas City in Week 5, with Allen throwing for 315 yards and rushing for another 59. Tight end Dawson Knox had 117 receiving yards in that game, and he had another 89 and two touchdowns last weekend.
https://twitter.com/NFL/status/1483920954891939841
Chiefs Betting Preview
Record: 13-5 SU, 9-9 ATS, 11-7 O/UKey Players: QB Patrick Mahomes, RB Clyde Edwards-Helaire, WR Tyreek Hill, TE Travis Kelce, LB Nick Bolton, DT Chris Jones, S Tyrann MathieuNotable Trend: Played to the Over in six straight games while scoring 36.5 points per game.
Edwards-Helaire (shoulder) and Hill (heel) were both on Wednesday's injury report but as full participants. Edwards-Helaire missed last week's game, allowing journeyman backup Jerick McKinnon to total 142 yards on 18 touches.
Kansas City and Pittsburgh played to a 0-0 first quarter on Sunday night. The Steelers opened the scoring in the second quarter, but the Chiefs stormed back to lead 21-7 at the half, and they scored five straight touchdowns en route to a 35-7 lead late in the third frame. They easily covered the biggest spread in wild-card round history.
SEE ALSO: Are Super Bowl MVP Futures More Valuable than Super Bowl Futures?
Bills vs. Chiefs Picks
Bills +2.5 (-110 via DraftKings) ???Over 54.5 (-105 via PointsBet) ????Will there be a successful 2-point conversion? Yes (+260 via PointsBet) ????Patrick Mahomes Over 0.5 interceptions (+108 via Barstool) ????Same-game parlay: Hill Under 70.5 receiving yards + Mahomes Over 22.5 rushing yards + Edwards-Helaire anytime TD + Bills +6.5 + Over 26.5 second half + Chiefs D/ST anytime TD (+10897 via FanDuel)
SEE ALSO: NFL Divisional Round Odds, Lines, and Picks
Bills vs. Chiefs Predictions
Bills +2.5 (-110)
I wish this line was just a little bit bigger, but DraftKings is offering the biggest number in the market, so we'll take what we can get. Ideally, this gets down to Chiefs -1 by Sunday, and then we'll hammer the home side. For now, let's take any insurance we can get.
Both teams were expected to compete for the AFC Championship and the Super Bowl this year. Though they're meeting a week before what was expected, both are in top form after some early season struggles. Kansas City dropped to 2-3 with its Week 5 loss to Buffalo and then went 10-2 to end the regular season. The Bills were 7-6 through Week 14 before winning four straight entering the postseason.
Both quarterbacks led their team in rushing yards in the Week 5 meeting, while Allen outperformed Mahomes as a passer with 315 yards and three touchdowns to Mahomes' line of 272 yards, two TDs, and two interceptions. Buffalo also sacked Mahomes twice.
Since a Week 7 loss to the Titans, Mahomes completed 65.35% of his passes for 2,746 yards and 19 touchdowns against just four interceptions. He went 30-for-39 for 404 yards and five TDs on Wild Card Weekend. Mahomes had a better completion percentage than Allen in the regular season, with more yards and touchdowns, and fewer interceptions.
An underrated strength of the Bills is their sixth-ranked pass-rush win rate, but the Chiefs finished second in pass-block win rate, despite Mahomes taking a career-high 28 sacks this season.
The Bills' path to victory and/or the cover - despite Allen's amazingness - is through their defense. They finished third by weighted DVOA and were No. 1 in pass DVOA. The Chiefs were 13th and 23rd, respectively. While those numbers improved dramatically over the course of the season, it's Buffalo that's more likely to get the key stops in an expected shootout.
Over 54.5 (-105)
Similar to the ATS play, I'm backing the Over at this line, but I'll switch to the Under if it climbs much higher. It's seemingly what the sharps are planning on doing by betting up the total and then jumping on the Under at the highest number of the week. There's nothing quite like winning both sides of the same bet.
Everyone planning on watching this game Sunday evening - i.e. most American sports fans - will want to see fireworks. We have two of the top young quarterbacks in the NFL, and two fantastic offensive coordinators widely expected to land a head coaching gig once this postseason run is over. The AFC Pro Bowl roster will again be left half-empty if Kansas City makes it to the Super Bowl, as expected.
A high-scoring and fast-paced game would also leave open the possibility of defensive scores on either side. Those are always the friend of Over bettors, especially as the opposing offense then needs to catch up.
At the time of publishing, we're getting our best odds on the Over at PointsBet. Should the total rise another point or two and the vig flip to the other side, I'd have no issue changing course with our Bills-Chiefs picks.
Successful 2-point conversion (+260)
PointsBet is giving us the best number in the market on this game prop. DraftKings is offering +255 odds on the Yes.
A high-scoring do-or-die game with a narrow spread is begging us to take this prop. Kansas City converted 66.67% of its 2-point tries this season, and it also ranked No. 1 in the league in third- and fourth-down conversion percentage. Buffalo was third in third-down conversion percentage and converted 50% of its 2-point attempts.
The quarterbacks on either side give both teams an expansive playbook to get aggressive when needed.
Mahomes Over 0.5 INTs (+108)
Another nice plus-money prop for our Bills-Chiefs Divisional Round picks is to back Mahomes for another interception. His 13 picks on the season were more than he threw the previous two seasons combined. He threw another one against the Steelers last week, and he had two vs. the Bills in Week 5. Buffalo finished third in the regular season with 19 interceptions.
We're getting our best price at Barstool, with others offering odds ranging from +100 to +105.
Hill Under 70.5 receiving yards + Mahomes Over 22.5 rushing yards + Edwards-Helaire anytime TD + Bills +6.5 + Over 26.5 second half + Chiefs D/ST anytime TD (+10897)
Let's break down a possible path to success for a gigantic return on our same game parlay:
The Bills allowed a league-low 113.2 yards per game to opposing receivers. Mecole Hardman was the Chiefs' leading receiver with 76 yards in Week 5, while Hill had 63 yards on seven catches. Hill hasn't approached this number since Week 15.
Even with the Chiefs' backfield at full health, expect Mahomes to look to make some plays. We mentioned earlier that he led his team on the ground in Week 5. He had 23 or more rushing yards in each of his last three games, and he's topped this line nine times through 18 games, including last week.
Edwards-Helaire - the largely disappointing 2020 first-round pick - had a modest six total touchdowns this season. However, he can be used as a dual-threat, and anyone standing in the Chiefs' backfield is often overlooked. He has equal odds with McKinnon at most books to find the end zone on Sunday.
With the parlay, we're afforded a little wiggle room with the alternate spread. Bump it up to a 6.5-point line and feel comfortable taking the underdogs.
The Chiefs continued their frustratingly slow starts last week but poured it on in plenty of time to hit the Over. Meanwhile, the Bills never let up against the Patriots.
We get our biggest boost to our Bills-Chiefs picks with the KC D/ST touchdown. Allen is prone to some questionable decisions when pressured and trailing. I also like getting a share of Chiefs return specialist Hardman. He returned three punts for a total of 70 yards last week.
https://giphy.com/gifs/show-money-maguire-9HQRIttS5C4Za
SEE ALSO: All picks and odds. Be sure to check out SportsbookReview.com's community forums and betting tools.
Bills-Chiefs picks made on 1/20/2022 at 9:30 a.m. ET.