ACC Conference Tournament College Basketball Picks: Duke the Favorite in Coach K's Last Season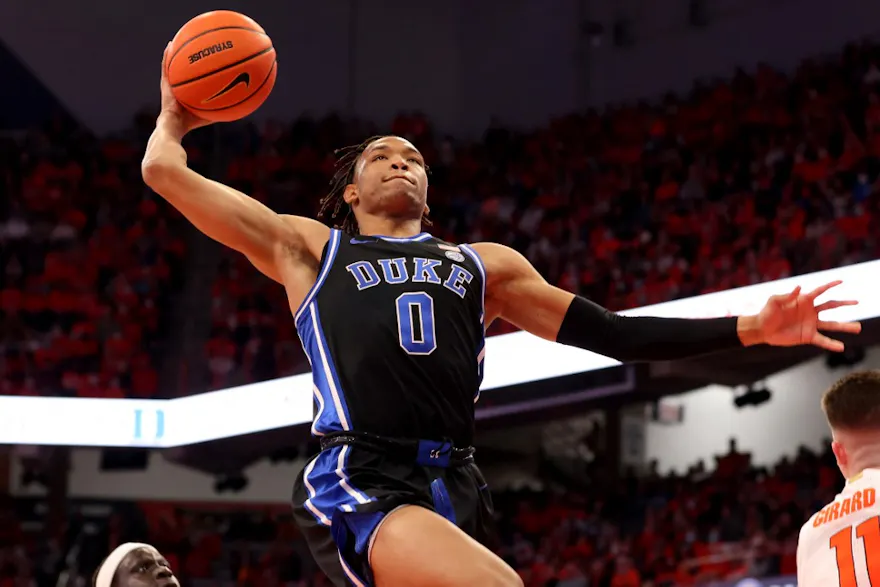 For the first time since 2019, the ACC Tournament will be played with a full contingent of fans from Tuesday to Saturday at the Barclays Center in Brooklyn, New York.
The last nine ACC Tournaments have crowned seven different champions. Duke and Virginia (two each) are the only schools with multiple titles in that span. The parity of this tournament was on full display last season when Georgia Tech won its first conference tournament since 1993. The Blue Devils are the overwhelming -130 moneyline favorites at the start of this tournament, as several other ACC teams will be fighting for their NCAA Tournament chances this week.
Here's my preview of the 2022 ACC Conference Tournament preview, with odds and picks to win (odds via DraftKings Sportsbook, FanDuel Sportsbook).
ACC Conference Tournament Odds, Records, and Trends
No. 1 Duke (26-5, 16-4) | -130 (via FanDuel) | 17-12-2 ATS | 16-14-1 O/UNo. 2 Notre Dame (22-9, 15-5) | +1000 (via DraftKings) | 17-14 ATS | 17-14 O/UNo. 3 North Carolina (23-8, 15-5) | +950 (via FanDuel) | 15-15-1 ATS | 19-12 O/UNo. 4 Miami (22-9, 14-6) | +1200 (via FanDuel) | 17-14 ATS | 18-13 O/UNo. 5 Wake Forest (23-8, 13-7) | +1000 (via DraftKings) | 19-12 ATS | 18-12-1 O/UNo. 6 Virginia (18-12, 12-8) | +1800 (via DraftKings) | 16-14 ATS | 16-14 O/UNo. 7 Virginia Tech (19-12, 11-9) | +1100 (via FanDuel) | 16-15 ATS | 13-18 O/UNo. 8 Florida State (17-13, 10-10) | +6000 (via DraftKings) | 11-18-1 ATS | 17-13 O/UNo. 9 Syracuse (15-16, 9-11) | +5000 (via DraftKings) | 14-17 ATS | 16-15 O/UNo. 10 Clemson (16-15, 8-12) | +9000 (via FanDuel) | 15-13-3 ATS | 17-14 O/UNo. 11 Louisville (12-18, 6-14) | +12000 (via DraftKings) | 9-20-1 ATS | 12-18 O/UNo. 12 Pittsburgh (11-20, 6-14) | +20000 (via DraftKings) | 15-16 ATS | 15-16 O/UNo. 13 Boston College (11-19, 6-14) | +25000 (via DraftKings) | 14-16 ATS | 14-15-1 O/UNo. 14 Georgia Tech (12-19, 5-15) | +15000 (via DraftKings) | 12-17-1 ATS | 14-16 O/UNo. 15 NC State (11-20, 4-16) | +12000 (via FanDuel) | 7-24 ATS | 19-12 O/U
SEE ALSO: Early Targets for March Madness
ACC Conference Tournament Picks
Duke (-130 via DraftKings)
Before Duke's loss to North Carolina in the regular-season finale, the Blue Devils were widely thought of as the only ACC team to be a lock to make the NCAA Tournament. That shows how they dominated the league all season long. It resulted in their first outright regular-season conference championship since 2005-06.
Coming into their last game against the Tar Heels, Duke's four losses had come by a combined nine points. Thus, it is clear the team has the talent to beat anyone in the country but may also give bettors pause that the Blue Devils have trouble finishing close games, as they are 4-4 SU in games decided by five points or less.
Regardless of how the regular season ended, that does not take away the fact that Duke's metrics have been off the charts all season. It is the top-ranked team in the ACC in both adjusted offensive and defensive efficiency, per KenPom. Duke is also the league's best offensive rebounding team, securing 33.1% of its misses in league play. Finally, Duke leads the league in effective field-goal percentage defense and holds its opponents to a league-best 29.2% from the 3-point line in conference play.
https://twitter.com/johnewing/status/1501256559988510727
Duke can be given a pass for its poor performance against North Carolina. The circumstances and subsequent emotions surrounding Mike Krzyzewski's last home game clearly added pressure that does not come with any typical regular-season game. But, as Coach K vowed in his postgame speech, his team will learn from that experience. And -130 odds may not even be too short for it to outlast a field that the Blue Devils dominated for much of the season.
Check out our top-rated sportsbooks here
North Carolina (+950 via FanDuel)
While Duke is undoubtedly the best and most talented team in the conference, North Carolina is playing the best basketball of anyone in the league entering this tournament. The Tar Heels have won five consecutive games, none by fewer than seven points. And three of those wins came on the road. As long as Hubert Davis' squad does not get complacent after spoiling Coach K's Cameron Indoor finale, this team has the talent to win three games in Brooklyn.
North Carolina ranks in the top 20 in the country in adjusted offensive efficiency and the top 30 in 3-point percentage (37.4%). In addition, the Tar Heels have averaged 88.7 points per game over the last three games. It took some time for transfers like Brady Manek to adjust to Davis' system, but they are gelling at the right time.
Perhaps most importantly, North Carolina's win over Duke helped it secure the No. 3 seed. As a result, the team would not face Duke again until the championship round. Other sportsbooks are offering UNC as low as +800, while FanDuel is currently offering the most generous number.
Miami (+1200 via FanDuel)
The Hurricanes' home and road splits to end the season were surprising. Miami won each of its last five road games and lost four of five at home to end the season. However, considering the ACC Tournament is not played in Coral Gables, Miami's road success should inspire confidence entering the conference tournament.
Miami has everything one would want in a team playing in the postseason. The Canes have veteran guards, led by Kameron McGusty, Charlie Moore, and Isaiah Wong. In addition, they have a head coach in Jim Larranaga who has taken a team with less talent to the Final Four, so it is clear he knows what it takes to win in March.
While Miami would have to face Duke in the semifinals if seeding holds, the Hurricanes will not be intimidated by the Blue Devils, as they won at Cameron Indoor Stadium in early January. In addition, the Hurricanes earned one of the four coveted double byes, which means they will have the all-important rest advantage over their first opponent.
Miami is the league's best team at taking care of the basketball, committing turnovers on just 13.9% of possessions. In addition, the team forces turnovers on a league-best 21.1% of opponents' possessions and will look to use that formula to make a deep run in March.
Longshot: Syracuse (+5000 via DraftKings)
Syracuse head coach Jim Boeheim has never had a losing season and will need at least two wins in the ACC Tournament to avoid that dubious fate. As long as Boeheim is trotting out that menacing 2-3 zone, his team is a nightmare to prepare for in a tournament setting as games are played on consecutive days.
Not only are Boeheim's zones tricky because his team is full of long defenders, but zone defenses also require players to exert less energy than when playing man-to-man. Thus, Boeheim's team is not as susceptible to getting worn down as the tournament progresses.
Syracuse ended the regular season with four consecutive losses, though those four losses were to the top four teams in the league. And outside of a 25-point home blowout loss against Duke, the Orange were very competitive in those losses, even pushing North Carolina to overtime on the road.
The Orange have three shooters (Joseph Girard, Buddy Boeheim, Cole Swider) that can keep them in any game, and their elite free-throw shooting is a significant weapon in close games. Syracuse has the daunting task of winning an extra game, four in four days, but is an interesting longshot to take a flier on, especially playing in its home state.
When is the ACC Tournament?
The ACC Tournament runs from Tuesday, March 8 to Saturday, March 12.
Where is the ACC Tournament?
The ACC Tournament is held at the Barclays Center in Brooklyn, New York.
Where to Bet on the ACC Conference Tournament
Here are our top-rated sportsbooks:
FanDuel SportsbookCaesars SportsbookDraftKings SportsbookPointsBetBetMGM
SEE ALSO: All picks, odds, and sports betting news. Be sure to check out SportsbookReview.com's community forums and betting tools.