Top NBA Parlay Picks for Friday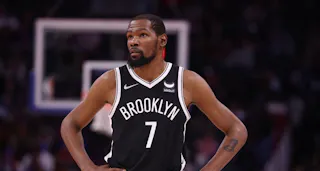 Creating an NBA parlay is a simple process with any of the top online sportsbooks. We're breaking down the best NBA parlay picks so you can start the weekend off with a big profit.
Friday night's 11-game NBA slate is chocked full with profitable parlay opportunities. Three teams head into their games as clear favorites against struggling opponents, and it's a good opportunity to put them together for a three-way parlay pick.
Here's a look at my top parlay picks for Friday's NBA action (odds via DraftKings Sportsbook; pick confidence based on a 1-to-5-star scale).
NBA Parlay Picks: November 12
Nets -8.5 (-105) vs. Pelicans ???
Trail Blazers -6.5 (-115) vs. Rockets ????
Kings -4.5 (-115) vs. Thunder ????
Nets -8.5 (-105) vs. Pelicans
The New Orleans Pelicans have won just once in 12 attempts, and are still without Zion Williamson. That's not the only bad news for the Pelicans as Brandon Ingram is a game-time decision for tonight's game due to a hip contusion.
However, with the Brooklyn Nets as their next opponents, there's not much the Pelicans can do without Williamson. Brooklyn's rotation is too deep and far too talented for the struggling Pelicans to match pound-for-pound. It would take a poor effort from the Nets for them to falter against the worst team in the NBA for Net Rating. The Pelicans are losing games by an average of 11 points, and we're asking the Nets (who have a +2.7 net rating) to win by nine for the parlay.
Trail Blazers -6.5 (-115) vs. Rockets
The Houston Rockets are 1-10 to start the season, despite their star rookie Jalen Green averaging 14.5 points per game. Now the Rockets are facing off against the Portland Trail Blazers for the first time this season, as they look to limit the impact of Damian Lillard. Both teams enter tonight's contest with one of their key rotation players questionable. Norman Powell has a left quad strain for Portland, while Kevin Porter Jr. has a thigh contusion for the Rockets.
Even if the Rockets do have Porter Jr. available for tonight's contest, the team's chances of defeating the Trail Blazers are slim. Their only hope is that Portland's last two defeats have left them short of confidence. Still, sitting at 14th in net rating with a +0.8, the Trail Blazers should be too much for a Rockets team losing games by an average of 7.3 points, making us very confident in Portland.
Kings -4.5 (-115) vs Thunder
To heap even more pain onto the bottom feeders of the Western Conference, we're taking the Sacramento Kings to make light work of the Oklahoma City Thunder. The Thunder are a much sterner opponent than the Pelicans or Trail Blazers, but their two wins against an injury-riddled Los Angeles Lakers team haven't convinced me.
The Thunder currently sit 26th in Net Rating, while the Sacramento Kings sit 19th with a much more reasonable -0.3. Neither of these teams will be expecting a deep postseason run, but the Kings have been improved to begin the season. We're banking on Tyrese Haliburton being cleared to play after starting the day listed as questionable due to lower back tightness, as he's an integral part of how the Kings like to play and how they push the pace.
Sacramento won't live or die by Haliburton's performance tonight and will only fear the incredible Shai Gilgeous-Alexander, who D'Aaron Fox will offset. As a result, we're expecting the Kings to win a tightly contested contest by five points or more.
Combined odds: Nets -8.5 (-105), Trail Blazers -6.5 (-115), Kings -4.5 (-115) = +582
SEE ALSO: Top Expert NBA Prop Picks for Friday
Picks made 11/12/2021 at 4:38 p.m. ET