Federated Auto Parts 400 Power Rankings and Picks: NASCAR Returns to Richmond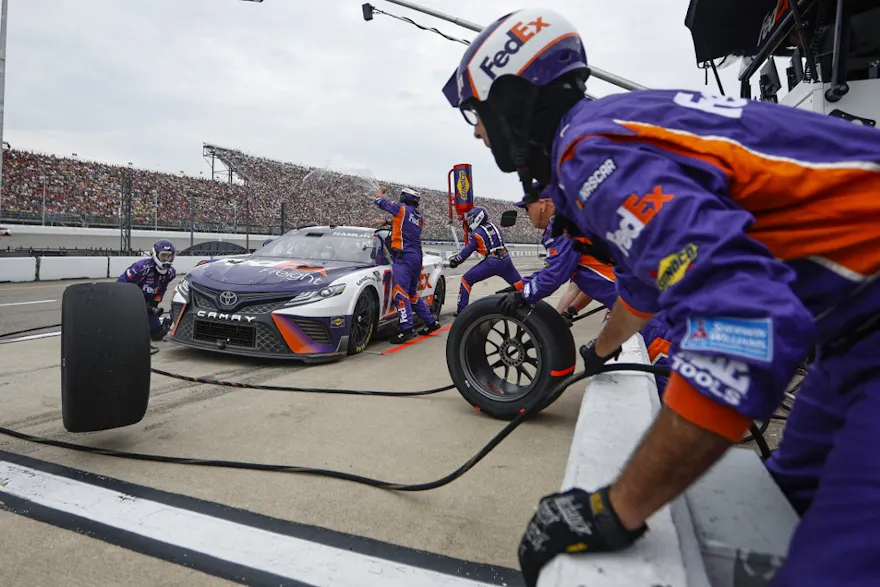 Breaking down the field and drivers to monitor ahead of Sunday's action at Richmond Raceway with our NASCAR power rankings and picks for the Federated Auto Parts 400.
The NASCAR Cup Series is set to return to Richmond Raceway for the second time this season. The 2022 Federated Auto Parts 400 is the third-to-last regular-season race. The playoff battle is heating up in a big way.
Thanks to Kevin Harvick winning in Michigan last weekend, the updated playoff standings now list two of the top-five drivers in points directly on either side of the cutline. Ryan Blaney sits second in the points standings but is now the last driver in the NASCAR Playoffs field of 16 due to not having a win. Just behind him sits Martin Truex Jr. Despite having the fourth-most points of any driver, Truex's lack of a race win this year has him in great danger of missing the playoffs.
Given that NASCAR already raced at Richmond once this season, bettors have a data point with the Next Gen Car with which to work. As the only 0.75-mile track on the series circuit, Richmond Raceway is unique. It is also worth noting that the Federated Auto Parts 400 is switching from being a Saturday night race to Sunday afternoon. This will certainly change the behavior of the track surface and cars compared to previous editions of this race.
Check out our NASCAR picks and power rankings for the 2022 Federated Auto Parts 400 at Richmond Raceway (odds via DraftKings Sportsbook, BetMGM, and Caesars Sportsbook).
Federated Auto Parts 400 Race Odds
Federated Auto Parts 400 NASCAR Power Rankings
10. Wallace (+2000 via DraftKings)
Bubba Wallace has been on an absolute tear that dates all the way back to a top-3 run at New Hampshire one month ago. He has been a top-10 finisher in each of the three races since, including a runner-up showing last week after qualifying on the pole. Given how strong the Toyota fleet always is at Richmond, the No. 23 team figures to be a player once again on Sunday.
9. Blaney (+1200 via DraftKings)
One could argue that Ryan Blaney will be sweating out the Federated Auto Parts 400 more than anyone. After all, his chief competition for the final playoff spot has a tremendous track record at Richmond Raceway. As for Blaney, he has not finished better than seventh in his career at the 3/4-mile oval. On the bright side, that seventh-place run did come in the race earlier this year.
8. Bowman (+3000 via DraftKings)
It has largely been a struggle for Hendrick Motorsports driver Alex Bowman during the summer months. However, the No. 48 team has been running better recently. Bowman finished 11th at Pocono and was ninth at Michigan last week. It was just last spring that Bowman came from out of nowhere to win at Richmond. He has two additional top-10s in his last four starts at this track.
7. Larson (+1000 via DraftKings)
While driving for Chip Ganassi Racing in 2017, Kyle Larson won a race at Richmond. Although he has not been back to victory lane since he does have five top-7 finishes in seven total starts. Larson also finished in the top 10 in each of the last two oval races coming into the weekend. He has as good a shot as anyone to knock off the favored Toyotas on Sunday.
6. Harvick (+1500 via DraftKings)
Momentum is a fickle thing in NASCAR just like any other sport. After snapping a 65-race winless streak last weekend, Kevin Harvick has as much "Uncle Mo" on his side as anyone coming into Richmond. Oh, and his track stats here are phenomenal as well. Despite not having a recent win, Harvick has been extremely consistent. His runner-up showing back in the spring was his seventh top-5 finish and 10th top-10 in his last 12 starts.
5. Logano (+1600 via BetMGM)
The only driver separating the Joe Gibbs Racing quartet at the top of the recent Richmond Raceway average finish leaderboard is Joey Logano. One would have to go all the way back to the spring of 2017 to locate his last win at this track, but he has managed to finish inside the top-5 in seven of the last ten races here. With finishes of sixth and fourth in the last two weeks, Logano is an interesting option at 16-1 odds.
4. Elliott (+1000 via Caesars)
Chase Elliott and the No. 9 team simply didn't have it last week in Michigan. In reality, Elliott's 11th-place finish was probably about as good as the team could have asked for. Now, the points leader comes to a track where he has lacked consistency over the years. Elliott ranks seventh among active drivers with at least 10 NASCAR Cup Series starts in average finish position (10.4), but he has also finished outside of the top 10 in four of his last six starts.
3. Bell (+900 via DraftKings)
Christopher Bell may only have four career Cup Series starts at Richmond Raceway, but they have all been good. The last three stand out in particular as Bell has come home fourth, third and sixth in his last three visits to the track. The No. 20 car has been fast on a regular basis this season. The fact that Richmond has been Toyota's playground in recent years suggests that Sunday will be no different.
2. Truex (+600 via DraftKings)
In the blink of an eye, Truex has gone from reassuring crew chief James Small that they would make the playoffs without winning a race to now being on the wrong side of the cutline. While he can certainly still point his way in, a win in the Federated Auto Parts 400 would remove all doubt. The No. 19 team has been extremely successful at Richmond in recent years. Truex has three wins, five top-3s, and no finish worse than fifth in his last seven starts.
1. Hamlin (+700 via BetMGM)
There are countless reasons why Denny Hamlin checks in at the top of this week's race power rankings. For starters, Hamlin won the spring race at Richmond despite not having anywhere close to the best car that day. That win came after he finished as the runner-up in both Richmond races last year. Hamlin leads all active drivers with a 5.2 average finish at the D-shaped oval in the last 10 starts. Finally, the No. 11 car really and truly was the best on the track a week ago. If not for a pit road penalty, Hamlin undoubtedly would have won the race.
Where to Bet on the Federated Auto Parts 400
Here are our top-rated sportsbooks:
SEE ALSO: All picks, odds, and sports betting news. Be sure to check out SportsbookReview.com's community forums and betting tools.
Federated Auto Parts 400 picks made on 8/12/2022 at 5:47 p.m. ET.