2022 Arnold Palmer Invitational Expert Picks and PGA Tour Bet Slips: Longshots to Target Amid Battle at Top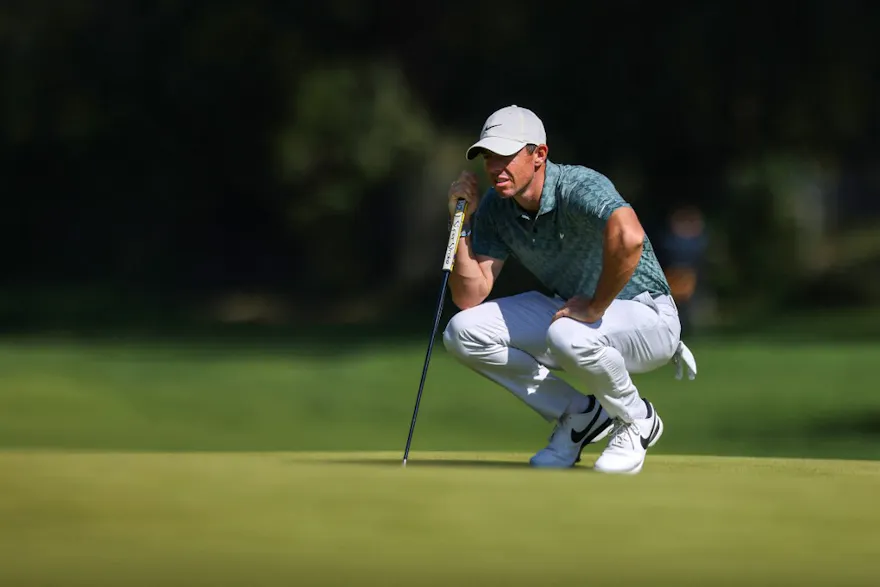 Let our PGA Tour experts help you prepare for the 2022 Arnold Palmer Invitational with their top outright, longshot, matchup, and prop picks.
Defending champion Bryson DeChambeau had to withdraw from the field on Monday due to injury, but a strong contingent that still includes world No. 1 Jon Rahm remains to honor The King at Bay Hill Club & Lodge in Orlando, FL.
Recent Arnold Palmer Invitational winners Tyrrell Hatton, Rory McIlroy, and Marc Leishman are among those projected by the odds to give Rahm his biggest challenge this week.
https://twitter.com/APinv/status/1498659324436094980
Here are our PGA Tour expert picks for the 2022 Arnold Palmer Invitational, including outrights, matchups, and props.
Arnold Palmer Invitational Expert Picks
https://datawrapper.dwcdn.net/63XcN/3/
SEE ALSO: Arnold Palmer Invitational Picks
Arnold Palmer Invitational Picks to Win
McIlroy (+1200 via PointsBet)
The best number on McIlroy was available first thing on Monday morning before DeChambeau's withdrawal. His odds were among those quickly dropped by the sportsbooks with the removal of a top competitor from the field. Formerly ranked No. 1 in the world and a huge public favorite, McIlroy also takes the crown as the course history king this week. All this combines for lower odds than we should see for the fifth-ranked golfer in the world.
Still, McIlroy is the third-best golfer in the field this week, behind Rahm and No. 4 Viktor Hovland. It's his career average of 2.69 total strokes gained on the field per round over his 28 rounds at Bay Hill Club & Lodge that separates him from that competition. Rahm is making his tournament debut at this course and Hovland has never finished better than T-40 in three tries at this event. Meanwhile, McIlroy has four top-10 finishes in addition to his 2018 victory in his last five appearances.
While uncharacteristically struggling with his irons this season, McIlroy is still averaging 0.92 SG: off-the-tee and 1.02 SG: putting per round. It's that rejuvenated flat stick that should help him most on the fast greens on Bay Hill. With McIlroy, we regularly run the risk of a hot start lowering his odds early in Round 1, so we don't have the option of waiting to jump in with a live bet, as we often do with other top-ranked golfers and pre-tournament favorites. - McLaren
https://twitter.com/TaylorMadeGolf/status/1498341015928786944
Matt Fitzpatrick is a player I am heavily invested in for the Race to Dubai, as I have raved about him all year. Given his course history, there is no way he could not be my pick for the Arnold Palmer Invitational.
I was at Bay Hill on the Sunday in 2019 when Fitzpatrick held the 54-hole lead. He ultimately finished in second place. On Sunday, Francesco Molinari shot a 64 to defeat Fitzpatrick by two strokes.
In 24 rounds played at Bay Hill, Fitzpatrick has gained an average of 1.44 total strokes on the field. His worst finish in his last three appearances at the Arnold Palmer Invitational was a T-10 last year. In addition to his course history, it is difficult to ignore his improvements with his irons. Fitzpatrick is averaging 1.12 SG: approach this season, compared to 0.01 SG: approach last season.
When purchasing Fitzpatrick this week, shop around for the longest odds. There are differing opinions among the sportsbooks and the highest price I have found thus far is the +2700 via FanDuel. He is as short as +2000 at DraftKings Sportsbook. - Metler
Zalatoris (+2800 via PointsBet)
After a relatively disappointing T-26 finish at The Genesis Invitational, Will Zalatoris returns from a week off to challenge the field at the API.
Zalatoris was inches away from securing his maiden victory on Tour at the Farmers Insurance Open in February, missing a putt on the 18th green, only to fall in a playoff to Luke List.
SG: approach and ball striking will be paramount this weekend at Bay Hill. Over the past 24 rounds on Tour, Zalatoris ranks first with 24.8 SG: approach. Additionally, he ranks third with 34.9 SG: ball striking.
Willy Z's kryptonite has long been his putter - routinely losing strokes and the Farmers' crown most recently. The good news is Bay Hill has Bermuda greens which he has seen the most success on. Last year he ranked ninth in putting at Southwind – displaying the ability to string together success on the greens.
If Zalatoris can putt even remotely average, his skill set will allow him to contend this weekend and bring home his first PGA Tour title. - Anderson
Arnold Palmer Invitational Longshot Picks
Putnam (+16000 via FanDuel)
Andrew Putnam will play this event for the third time in his career. After missing the cut in his 2020 debut at Bay Hill, he tied for fourth last year while averaging 1.53 SG: putting per round. He's still struggling off the tee, but he's gaining strokes on approach and around the green this season.
Putnam's best driving performance of the season came in a T-6 finish at the AT&T Pebble Beach Pro-Am with 0.30 SG: off-the-tee per round. It was his usually sharp short game that let him down that week. We'll hope here that he can rely on his strengths in scoring on par 5s and par 4s ranging from 450-500 yards and replicate his success on these greens from a year ago.
His odds to win are as low as +9000 at DraftKings, so we're getting excellent value at FanDuel. - McLaren
Thomas Pieters is already a winner this season on the DP World Tour after winning the Abu Dhabi HSBC Championship. This was an impressive victory over one of the strongest fields at a DP World Tour event. Pieters was able to defeat such players as Hovland, McIlroy, and Hatton.
Pieters is being overlooked by DraftKings this week due to his history at Bay Hill. Over six rounds played, he has lost 2.41 total strokes per round. Why am I considering backing Pieters this week? As he has not competed in this event since 2017, his course history does not reflect his current ability.
Pieters has gained strokes in every key category through four events this season and is currently averaging 1.17 SG: total. The European players seem to play much better at the Arnold Palmer Invitational than the Americans. I am therefore leaning toward Pieters with my longshot wager.
It appears that FanDuel and I have the same opinion regarding Pieters since it has him with odds of +7500 to win this week. If you intend to purchase Pieters this week, be sure to take advantage of the +13000 at DraftKings. - Metler
Willett (+19000 via FanDuel)
I always try to find a longshot with win equity, and we get exactly that with Willet – the 2016 Masters champion.
Willet does his best work in challenging tournaments, so he correlates well to conditions at the API.
Last week at the Honda Classic, he was solid, gaining 5.64 strokes from tee to green for the tournament. However, he struggled mightily with the flat stick, losing 4.44 strokes on the greens.
The API features lightning fast Bermuda greens, but Willett displayed his ability to handle such on his way to winning the Masters, so he shouldn't be at a disadvantage at Bay Hill.
His course history is solid here, too. He's finished 18th and 31st in his last two trips, and if he can gain control of the putter, it won't be a shock to see him contend. - Anderson
Check out our top-rated sportsbooks here
Arnold Palmer Invitational Top Matchup Picks
Burns (+100) vs. Mitchell (via DraftKings)
Thank you, DraftKings.
Though Keith Mitchell had back-to-back finishes of T-6 and T-5 in 2019 and 2020, respectively, we'd be silly not to back the 16th-ranked golfer in the world over No. 73, especially as an even-money underdog. Burns will make his fifth straight appearance in this event looking to rebound from a missed cut last year.
He's on a slide of three straight missed cuts coming into this week but still has odds of +3500 to win next week's Players Championship. Those odds are lower than his +5000 odds to win outright this week, and against a stronger field at a more difficult golf course.
By buying Burns this week, we're fading the recency bias baked into the line. We're doing the same by fading Mitchell on the heels of a stretch that includes finishes of T-12, T-10, and T-9 in his last three events. Trust in the world rankings and next week's much sharper odds. - McLaren
Hovland (+105) vs. Scheffler (via DraftKings)
Despite not all of his wins being on the PGA Tour this year, Hovland already has three victories to his name this season. Coming into this week, he is ranked sixth on the PGA Tour with an average of 1.97 SG: total per round.
Like Hovland, Scottie Scheffler has already achieved success on the PGA Tour this season by winning the WM Phoenix Open. The difference between Scheffler and Hovland this week is Scheffler has a much better track record at Bay Hill.
Hovland averages 0.60 SG: total across 12 rounds played at the Arnold Palmer Invitational. Over four rounds, Scheffler has averaged 1.90 SG: total.
Scheffler is juiced as the favorite in this matchup based on the course history at Bay Hill. Despite Scheffler's advantage, I'm inclined to back Hovland at the +105 price point. Hovland is one of the top golfers in the world and I cannot pass up a plus price on him. The Norwegian is the better overall golfer when considering all the statistics, and not just the course history. - Metler
Hovland (+105) vs. Scheffler (-130 via DraftKings)
With approach being such an asset this weekend, Hovland is an excellent fit for Bay Hill. He most recently gained 6.96 strokes on approach at The Genesis Invitational, showing he enters in great form.
At this event, he has perennially struggled, never finishing inside the top-40. Still, Hovland has vastly improved his overall game in the past calendar year while also learning how to win with numerous victories on the DP World Tour and repeating at Mayakoba.
Scheffler is a premier talent and tied for 15th in this event in 2020. He recently secured his first PGA Tour victory at the WMPO and followed that up with a T-7 at the Genesis.
Hovland is looking for his first prominent PGA Tour win, and signs point to that coming this week. As a slight underdog in this matchup, I'll take the Norwegian to put together a stellar week. - Anderson
Arnold Palmer Invitational Top Prop Picks
To lead after Round 1 and win: McIlroy (+3500 via DraftKings)
This is a more profitable way to target the golfer with the second-best odds to win this week. It's also considerably safer than the +9000 odds offered at DraftKings for McIlroy to win wire-to-wire.
While he hasn't played enough rounds this season to qualify for the Round 1 scoring average leaders, McIlroy has historically been a very strong starter. He led the PGA Tour for the 2019-20 season with a first-round scoring average of 68.27 across 15 events. He has started particularly strong at Bay Hill, opening with a 6-under 66 each of the last two years in this event. The former tournament champ shared the Round 1 lead last year and was one back in 2020.
McIlroy's +2200 and second by the odds to lead after the end of Round 1. If he can do that, the lead should be fairly safe given his course history, even with the strong field in attendance. - McLaren
Top rest of world: Sungjae Im (+700 via PointsBet)
Last week, Sungjae Im was the betting favorite at The Honda Classic, and many people were disappointed when he failed to make the cut. Now that his odds are longer, and people are starting to fade his numbers, I see this as a plus for him this week.
Over 12 rounds played at the Arnold Palmer Invitational, Im has averaged 2.52 SG: total. In both 2019 and 2020, Im finished within the top three. He has always excelled on the Florida swing, and this is why I am willing to look past his performance at The Honda Classic.
Im was a +1000 favorite to win last week. That seemed too low to me and was not a price point I was prepared to support. This week I have the opportunity to purchase him at +700 for the rest of the world prop. The price point this week appears to be much more appropriate for Im, and I would be willing to place a bet at +700. - Metler
Matt Wallace Top-30 (+360 via FanDuel)
Wallace enters in poor form, missing his first two cuts in the U.S. this season. However, he has excelled at the API.
In his previous three starts at Bay Hill, he finished in the top-25 - displaying confidence and a natural fit for the course.
Though he has struggled recently, sometimes all it takes is getting on a course at which you're comfortable to turn it around, and there's no better place for Wallace to do so than Bay Hill. - Anderson
Picks to Fade
Rahm
Rahm has started the 2022 portion of the season with five straight made cuts and finishes ranging from runner-up at the Sentry Tournament of Champions to T-21 at The Genesis Invitational two weeks ago. He was the betting favorite entering each of those events, making that stretch relatively disappointing.
While not worth fading on its own, especially while leading this field with 2.27 total strokes gained per round this season, Rahm's lack of course history at this venue is a bit alarming. DeChambeau, Hatton, McIlroy, and Leishman each had at least one top-five finish in this event prior to their victory.
If there's a player to buck a trend like that, of course, it's the world No. 1. However, at just +850 or lower to win and winless since the U.S. Open, I'll pass. - McLaren
Adam Scott (To miss the cut: +250 via DraftKings)
Scott played at Bay Hill only twice in the last five years. His best finish was a T-41 in 2018 and he did not make the cut in his last appearance in 2020.
As a result of Scott's T-4 finish at The Genesis Invitational, I believe he has shorter odds than he should this week. The fact that Scott always performs well at Riviera Country Club is well known. Since this performance is impacting his odds this week, I will be fading Scott at the Arnold Palmer Invitational.
In addition, I believe Scott has shorter odds than he should because of his course history. Most of these statistics are over six years old and do not provide an accurate representation of how he will perform on this course in 2022.
I plan on fading Scott at the Arnold Palmer Invitational and the best price on him to miss the cut can be found on DraftKings, where he is priced at +250. - Metler
Rahm
There's no doubting that Rahm is the most consistent and disputably the best player on the planet right now – but at these odds, it's hard to back a player who doesn't own a significant amount of win equity.
He is a top-10 machine but hasn't won since last year's U.S. Open.
Instead, I'll hope for a rocky start and jump in live at a better price on the Spaniard. As we know, he can climb the leaderboard in a hurry when he puts things together. - Anderson
Where to Bet on the PGA Tour
Here are our top-rated sportsbooks:
FanDuel SportsbookCaesars SportsbookDraftKings SportsbookPointsBetBetMGM
SEE ALSO: All picks, odds, and sports betting news. Be sure to check out SportsbookReview.com's community forums and betting tools.