Down to the Wire: SBR's $20,000 MLB 10-Run Contest Segment 3 and Overall Standings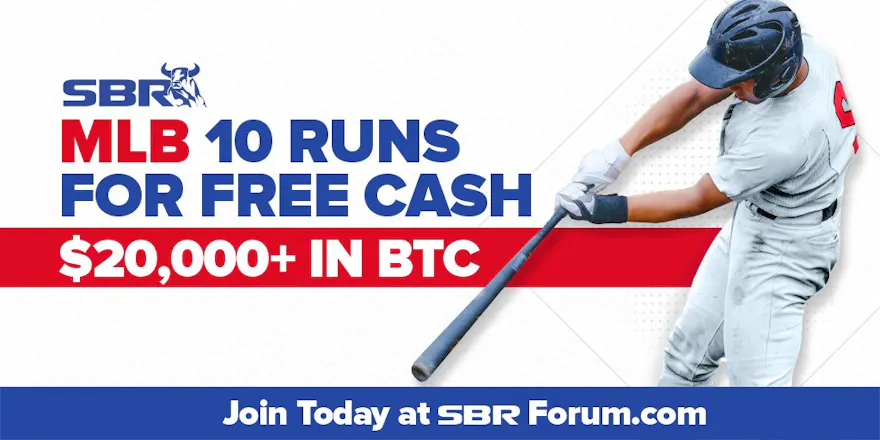 The last week of SBR's $20,000 MLB 10-Run Contest is here and there will be plenty of excitement for those in the running for cash prizes as Segment 3 and year-end winners. Let's check out the standings and invite anyone who wants to join us for the final week to come on in because the water is still warm, so sign up!
Free to Join
There is one week left in the MLB regular season which means only one week remains in the MLB 10-Run Contest. But that doesn't mean you can't join this week and shoot for your share of the daily $100 prize given away to the contestant who selects the team scoring the most runs on that day's schedule, with the caveat that the team must score 10 runs or more.
It's easy to play and takes no time at all. Just pick a team that you believe will score 10 runs or more and make sure that you have not used that team from Monday through Sunday. A team can only be used once during the week but there are plenty of teams to choose from so it is your job to choose the one that will score the most runs that day.
https://www.youtube.com/watch?v=gaI2c5NDoQI
If more than one team scores 10 or more runs, those contestants selecting the team scoring the most runs on that day will be in the running for the daily $100 BTC prize. When you select your team make sure to put in your tiebreaker, which is your prediction for the combined number of hits in that game. The contestant that is closest to the combined number of hits will win the daily prize. If there is still a tie then the winner will be determined by which contestant posted his or her pick first as evidenced by the time stamp on each post.
There is a pinned thread titled, MLB 10 Runs for Free Cash Contest – Over $20,000 in BTC Prizes! that can be found in the Player's Talk Forum, which is where you post your daily picks. And if you want to know what your post should look like then let's use my post as an example:
The Date: 9/27The Team: White SoxTiebreaker: 27https://twitter.com/SBRSportsPicks/status/1442519408463777795?s=20
It's fast, fun, and easy to do but the best part is it is FREE to join and the money is yours for the taking. Sure, this contest is nearly done but get your feet wet and remember, here at SBR there are plenty of free contests and if you sign up to be an SBR PRO, the benefits in doing so are too numerous to mention. But what I can tell you is that you will receive 12 SBR points just for
logging in each day and you will always get your full share of the prize money that is allocated. There are exclusive tournaments and spiffs year-round when you become an SBR PRO so don't wait, sign up and become a VIP!
SBR's $20,000 MLB 10-Run Contest Prize Breakdown
Daily Prizes:$100Segment Prizes[end of each 3 segments]: $2,500 divided unequally to the Top 5Segment 1 – FinishedSegment 2 - FinishedSegment 3 - August 30th through October 3rdSpecial Prize:$5,000 divided unequally to the Top 5 SBR Pros at the end of the season
Detail of a baseball held by a San Diego Padres player. Christian Petersen/Getty Images/AFP
We are now in the 3rd and final segment of the contest and SBR is still paying out $100 BTC as a daily prize to those who pick out the team that scored the highest run total of 10 or more runs. All reward without any of the risk - sounds good to me - how about you?
Top 10 Segment 3 (August 30 – October 3rd) Standings of September 26th
Merk Turk 85cankid 83Microphone 77jezhead 72GoCougs 70Play Link 70Razorbacks1 70Swinging Johnson 68CARDANOS 65MalikHusam 65
Top 10 Overall Standings
GoCougs 244Microphone 221Swinging Johnson 219tradeout 214msutter 213mikejamm 213JOH 206Merk Turk 202cade 200Roger T. Bannon 195