College Football Games to Watch Week 13: Matchups, Info, Odds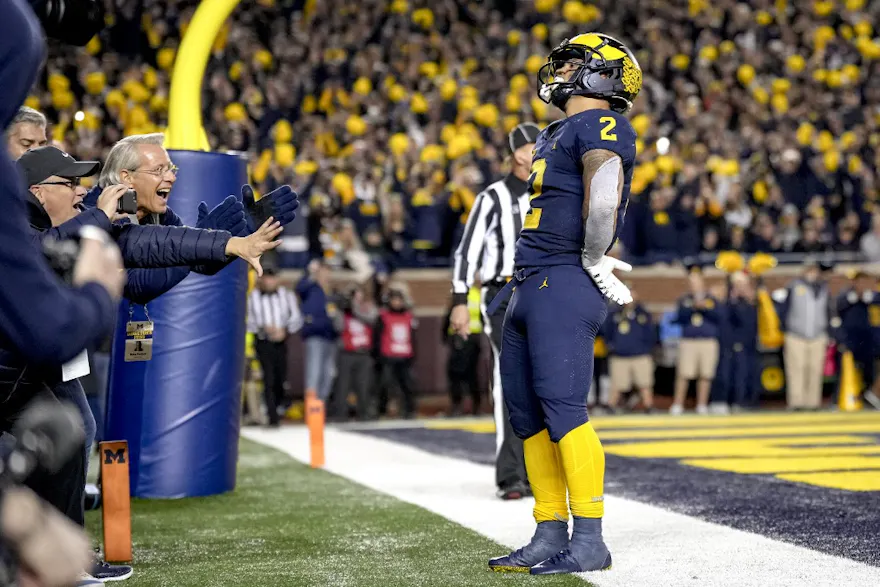 Looking at the biggest matchups and most interesting betting lines for Week 13 of the 2022 college football season
All throughout the college football season, there have been several must-see games on a weekly basis. When it comes to Week 13, better known as Rivalry Week, virtually every game on the schedule is worth watching. After all, nothing beats a good old-fashioned rivalry game in college football.
Trophies, in-state pride, and bowl eligibility will all be on the line. When in doubt, bettors should expect the unexpected when it comes to Rivalry Week.
Here are the top games to watch in Week 13 of the 2022 college football season (all odds via DraftKings Sportsbook).
Top College Football Games to Watch in Week 13
Mississippi State vs. (20) Ole Miss
Date: Thursday, Nov. 24, 7 p.m. ET
TV: ESPN
Location: Vaught-Hemingway Stadium, Oxford, MS
Odds: MISS -2.5 | O/U 59
Why wait for Saturday to get the rivalry week party started? The Golden Egg Trophy will be up for grabs as Mississippi State collides with Ole Miss in the Egg Bowl on Thursday night. Knowing how much these two schools despise one another, fans should expect a hard-hitting affair regardless of the outcome.
Ole Miss holds a 64-46-6 all-time edge in this rivalry that dates all the way back to 1901. The Rebels have won the Egg Bowl each of the last two years under Lane Kiffin and opened up as 3-point home favorites. Sharps have since nibbled up the key number and caused the spread to drop to Ole Miss -2.5.
(19) Tulane vs. (21) Cincinnati
Date: Friday, Nov. 25, Noon ET
TV: ABC
Location: Nippert Stadium, Cincinnati, OH
Odds: CIN -2 | O/U 46.5
Although Tulane and Cincinnati aren't exactly a Rivalry Week staple, it's only fitting that the two schools are meeting in the final week of the regular season this year. Coming in, the Green Wave and Bearcats sit tied atop the AAC standings. However, given that UCF holds the head-to-head tiebreaker over both, this is essentially a play-in game for the American Athletic Conference Championship.
Cincinnati opened up as a field-goal favorite, but the spread has already been cut down to 2. The Bearcats have won four straight in this series, but only led last year's matchup by two at the half. The experienced and resurgent Green Wave can take a big step toward earning a New Year's Six Bowl bid with a win on Friday afternoon.
(3) Michigan vs. (2) Ohio State
Date: Saturday, Nov. 26, Noon ET
TV: FOX
Location: Ohio Stadium, Columbus, OH
Odds: OSU -7.5 | O/U 57
The game known simply as "The Game" could not come with higher stakes this year. Undefeated Michigan will battle undefeated Ohio State in what will by all accounts be a play-in for the College Football Playoff.
The first installment of this rivalry took place in 1897. Michigan leads the series 59-51-6, however, you wouldn't know it based on recent history. The Wolverines' win last year snapped an eight-game losing streak to their rivals. Ohio State has won 15 of 17 meetings dating back to 2004 and is laying north of a touchdown at home ahead of this year's chapter.
South Carolina vs. (7) Clemson
Date: Saturday, Nov. 26, Noon ET
TV: ABC
Location: Memorial Stadium, Clemson, SC
Odds: CLEM -14.5 | O/U 50.5
If you're like us, you're still trying to wrap your head around what happened this past weekend in Columbia. Once a highly-touted prospect, Spencer Rattler's collegiate career to date has been a major disappointment. That is until he had the game of his life against Tennessee. After destroying the Volunteers' CFP hopes, South Carolina can do the same to in-state rival Clemson this Saturday.
The first edition of the Palmetto Bowl was played back in 1896. Although South Carolina was victorious in that game, Clemson holds a 72-42-4 all-time edge in the series. The Tigers also carry a seven-game win streak into Saturday's installment, which is tied for the longest in series history. Can the Gamecocks shock the college football world as a multi-touchdown underdog for the second week in a row?
(10) Oregon vs. (22) Oregon State
Date: Saturday, Nov. 26, 3:30 p.m. ET
TV: ABC
Location: Reser Stadium, Corvallis, OR
Odds: ORE -3.5 | O/U 56.5
When it comes to college football rivalry trophies, it doesn't get much better than the Platypus Trophy given to the winner of Oregon-Oregon State. The Ducks hold a 67-48-10 all-time series advantage. Lately, the rivalry has been even more lopsided as Oregon has won 12 of 14 meetings dating back to 2008.
As for this year's Civil War game, it's hard to remember the last time the rivalry had a betting spread set this small. Oregon has largely been a double-digit favorite in recent years, but is only laying a field goal on the road this time around. For the Ducks, a win will clinch a trip to Las Vegas for the Pac-12 Championship Game.
(13) Notre Dame vs. (5) USC
Date: Saturday, Nov. 26, 7:30 p.m. ET
TV: ABC
Location: Los Angeles Memorial Coliseum, Los Angeles, CA
Odds: USC -5.5 | O/U 63
Speaking of the Pac-12 Championship Game, USC punched its ticket this past weekend with a hard-fought win over crosstown rival UCLA. Another rivalry game looms for USC this weekend against Notre Dame. Although the Trojans are assured of competing for a conference title, their College Football Playoff aspirations hinge on their ability to beat the Fighting Irish for the first time since 2016.
In addition to winning four straight and five of the last six meetings, Notre Dame holds a 48-36-5 all-time series edge. This year, USC will go off as a betting favorite, something that hasn't happened in the last several meetings. The contrast in strengths between the teams is also interesting with regard to the betting total. Notre Dame's stellar defense combined with the Trojans' electric offense has resulted in a total of 63.
(12) Washington vs. Washington State
Date: Saturday, Nov. 26, 10:30 p.m. ET
TV: ESPN
Location: Martin Stadium, Pullman, WA
Odds: WAS -2 | O/U 59
If Oregon loses to Oregon State earlier in the day, the stakes of this year's Apple Cup rivalry will become that much greater. By virtue of its head-to-head victory over the Ducks, Washington would be able to sneak into the Pac-12 title game with a win over rival Washington State on Saturday night.
In this year's Apple Cup, we find yet another historic rivalry with a very tight point spread. Despite being ranked 12th in the country, Washington is only a 2-point favorite on the road. The Huskies own a 74-33-6 all-time edge in this series and have also dominated recently, winning 10 of the last 12 meetings. Last year wasn't one of those, as the Cougars went into Seattle and won by 27 as a 1-point favorite.
Where to Bet on Week 13 College Football
Check out our top-rated sportsbooks: