Ranking the Most Dangerous NFL Stadiums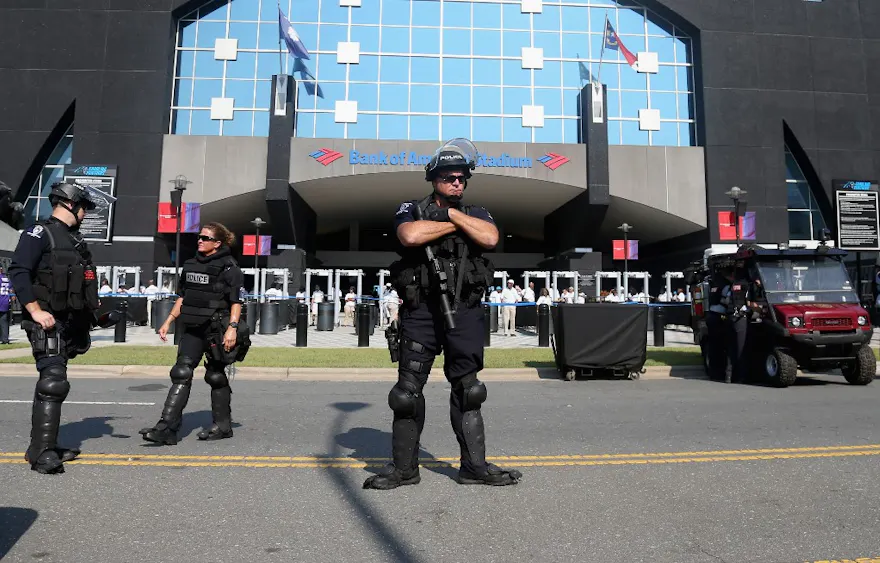 If you've ever been to a football game in person, you know that the fans in the stands can get quite rowdy.
Supporters on both sides are all-in on their teams – and when one group is celebrating a sack or a touchdown, the other isn't celebrating at all. It's all in good fun most of the time; throw a few beers into the mix, and the NFL stadium experience is generally a great time – until it isn't.
And in extreme cases, incidents in the stands lead to tragic consequences.

That was the case during the Sunday Night Football matchup between the Miami Dolphins and the host New England Patriots at Gillette Stadium, when Dale Mooney, a 53-year-old New Hampshire man, died of an "apparent medical event" after eyewitnesses say he was punched in the face by a Miami Dolphins fan.

Feeling safe at a sporting event is critical to your enjoyment of it – and while we wish it wasn't true, a concerning number of NFL fans we polled have witnessed (or been a victim of) at least one act of harassment, vandalism, theft, or violence in or around the NFL stadiums they frequent.
No one wants to think about getting into it while trying to enjoy a riotous game of football (or afterward in the parking lot), but the reality is that it happens, and being aware means you can learn to enjoy them more safely.
We looked at crime statistics local to each stadium and polled over 3,000 football fans about their experiences; shockingly, 39.2% of respondents have witnessed or fallen victim to at least one crime in areas local to their teams' stadiums.

Here's what we found when it comes to the most dangerous NFL stadiums.
Which NFL Stadium is the Most Dangerous?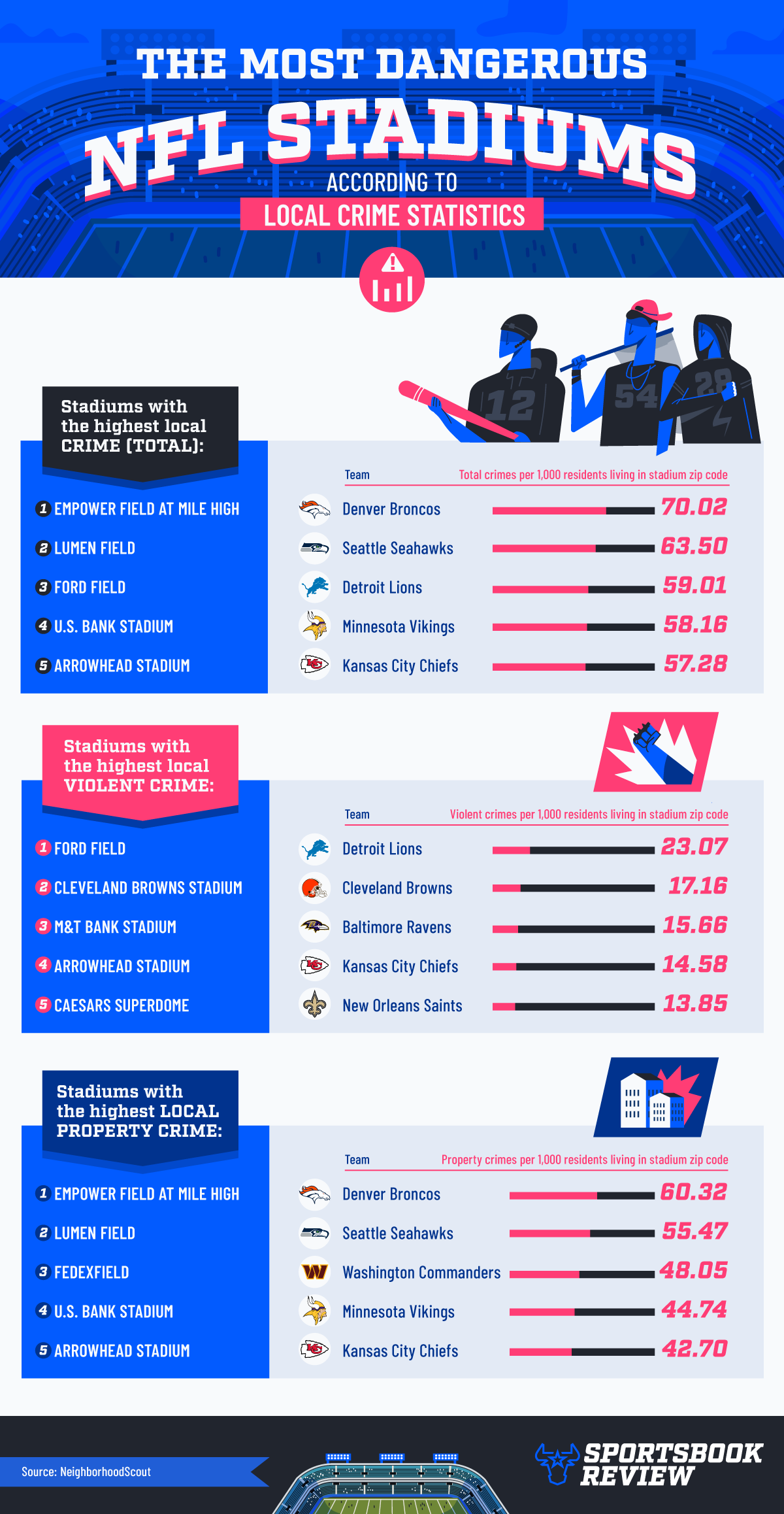 Coming in first for overall local crime according to report data is Empower Field at Mile High (home of the Denver Broncos), with 70.02 crimes taking place per 1,000 people that live in the stadium's zip code.
Lumen Field in Seattle sees 63.5 crimes per the same data points, while Ford Field (Detroit Lions), U.S. Bank Stadium (Minnesota Vikings), and Arrowhead Stadium (Kansas City Chiefs) round out the top five with 59.01, 58.16, and 57.28 crimes, respectively.
Interestingly, both Empower Stadium (60.32) and Lumen Field (55.47) are first and second when it comes to property crime per 1,000 people that live in the stadium's zip code.
FedExField, home of the Washington Commanders; U.S. Bank Stadium (again); and Arrowhead Stadium (also again) all see an average of between 40 and 50 property crimes per 1,000 residents in their zip codes. With Kansas City in fifth place and still offering average home prices of $1.4 million, the top five say more about the distribution of wealth in the aforementioned cities, but nevertheless – crime is crime.
When it comes to violent crime, it's a whole different story. Detroit, ever-reputable for its tough streets, is in first place with Ford Field's zip code as the site of 23.07 crimes per 1,000 residents. Cleveland Browns Stadium – no mystery who plays there – is a distant second with 17.16 crimes, and M&T Bank Stadium (home of the Baltimore Ravens) ranks third at 15.66.
Arrowhead Stadium, the only one to make all three top five crime lists, is next on the list at 14.58 violent crimes per 1,000 people, with Caesars Superdome in the notorious party city of New Orleans coming in fifth with 13.85.
Firsthand Fan Experiences of Crime
It's one thing to analyze local crime statistics from afar, but it's another thing entirely when it comes to being a fan.
Whether you have been a witness to a crime or have experienced one yourself, first-hand involvement is an absolutely harrowing experience. As we shared at the outset, nearly 40 percent of fans surveyed said they'd witnessed a crime at or around an NFL stadium; 7.2% said they'd been victims of one themselves.
The most common location for first-hand encounters: Lincoln Financial Field in Philadelphia; 63.2% of NFL fans surveyed who have been to a game there have witnessed a crime. And the most common infraction seen there? Physical violence.
AT&T Stadium, home of the Cowboys, saw 54.6% of fans surveyed say they'd seen a crime committed, with Gillette Stadium at 51.1% (with physical violence also the most common kind witnessed). From there, all other stadiums had less than half of those surveyed say they were witness to criminal acts, including MetLife Stadium with 47.3% of fans (mostly disorderly conduct) and Cleveland Browns Stadium with 42.2%.
What about stats on those who have actually been the targets of crime across NFL stadiums and their zip codes?
Three familiar stadiums hold the top percentages and are the only ones in double digits: AT&T Stadium (13.1% reported victims), MetLife Stadium (11.6%) and Lincoln Financial Field (10.6%). It's worth noting the most common crime experienced at the former two was verbal harassment, which, unfortunately, is almost to be expected at a football game.
The Eagles' nest and FedExField (9.4% polled) both had physical violence cited as the most common crime, while Lumen Field in Seattle (9.1% of fans as victims) saw the most sexual harassment in or around their stadium's zip code.
It's not surprising, then, that 14.9% of NFL fans said that Lincoln Financial Field (again ...) was the stadium at which they'd feel the least safe, the only one with a double-digit percentage. For comparison, Allegiant Stadium (hello, Vegas!) was in fifth place with only 5.6% – good news for the rest of the league's stadiums.
Which Stadiums Are Worst for Women, Children, and Visitors?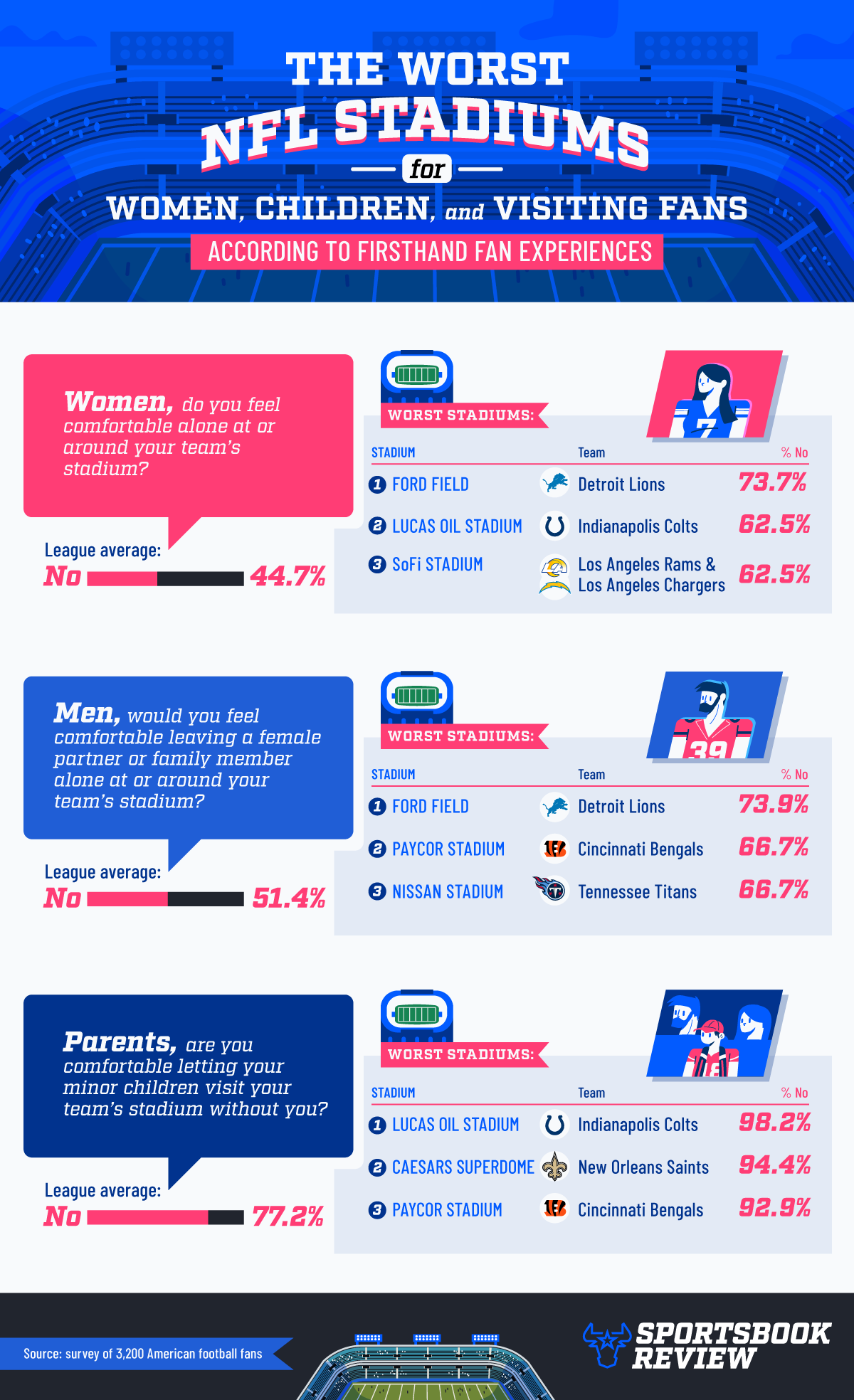 Women love football just as much as men do – and so do those sweet children who want to accompany their families to live games and feel their stadium's energy. But how can you enjoy an NFL game if you don't even feel safe going to one?
When it comes to the simple question of whether women feel safe in general while attending a football game at their teams' stadium, 44.7% said they did not.

Ford Field in Detroit, Lucas Oil Stadium in Indianapolis, and SoFi Stadium in Los Angeles were the stadiums women felt most unsafe in (not necessarily shocking given the high rates of crime in those cities as a whole). Nearly three-quarters of female respondents said they did not feel safe at Ford Field, with both Lucas Oil Stadium and SoFi Stadium coming in at 62.5%.

Over half of men (51.4%) say they wouldn't feel comfortable leaving a female partner or family member alone around their team's stadium, with Ford Field (73.9%) once again at the top of the most dangerous list. Paycor Stadium in Cincinnati and Nissan Stadium in Nashville are tied for second, with 66.7% of men uncomfortable with the idea of the females in their lives walking around the places solo.
Of all the parents surveyed, 77.2% said they don't feel their children are safe at their team's stadium without supervision – and Lucas Oil pops up again, this time rated the most unsafe for young people, with 98.2% of parents against the idea.

Methodology
To learn about the safety of NFL stadiums, we surveyed 3,200 American football fans across all 32 fandoms in September 2023, the average age of respondents 39 years old. The majority of respondents (71%) identify as male, 28% identify as women, and 1% other. We also collected local crime data from NeighborhoodScout.
Fair Use: If you'd like to share this data, you are welcome to utilize any of the information or graphics above for non-commercial use. Just make sure to include a linked attribution to this page in your article.