Counting Down the Top 50 NHL UFA Skaters, 10-1: Johnny Gaudreau and Filip Forsberg are Stars Headed to Free Agency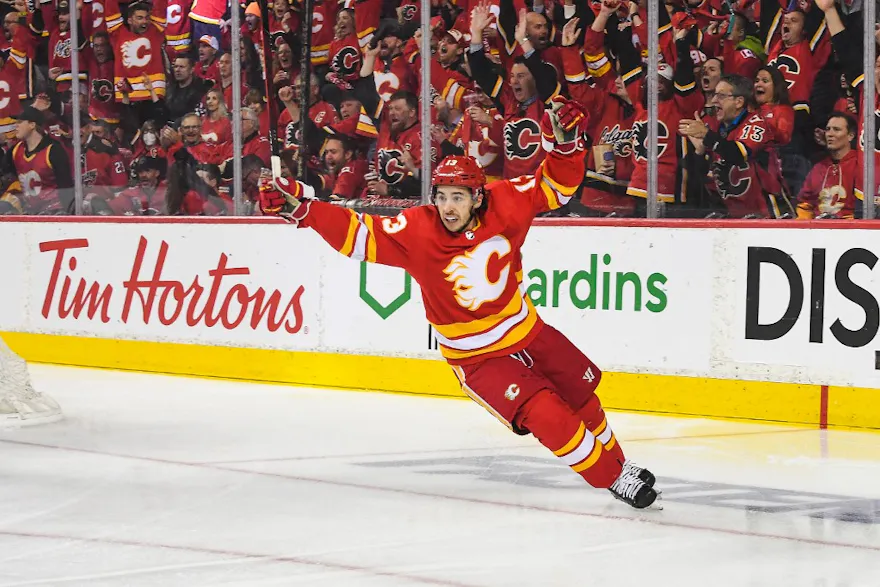 Scott Cullen breaks down the Top NHL Free Agents this offseason with a top 50 countdown this week. You can see 50-41 here, 40-31 here, 30-21 here, and 20-11 here. 
Free agency can be a high-risk, high-reward game, as not every big-ticket signing will work out as hoped, but when it comes to the top players, there is at least the chance of landing an impact player for nothing but the cost of a new contract.
This week, I have covered the Top 50 skaters headed for unrestricted free agency, and today the countdown gets into the Top 10, expensive items that could make an immediate difference with a new team.
Free agency kicks off at 12:00 PM ET on July 13.
Check out the latest comprehensive and most trusted Sportsbook Reviews by SBR here.
10. John Klingberg, D, Dallas (6 G, 41 A, 49.1 CF%, 50.7 xGF%, 74 GP)
A long-time power play quarterback, who has accumulated 148 power-play points in eight NHL seasons, Klingberg will have value in the free agent marketplace because he is a skilled offensive defenseman.
The trouble is, his defensive play has declined precipitously in recent seasons, so there is going to be a risk in signing the 29-year-old blueliner to a long-term deal if his results are already suspect when his team does not have the puck.
9. Evander Kane, LW, Edmonton (22 G, 17 A, 52.5 CF%, 52.1 xGF%, 43 GP)
That the 30-year-old winger had success upon joining the Oilers was not a surprise.
He is a strong, physical skater who is an elite shot generator, and putting that alongside elite talent in Edmonton should generate positive results, and that's what happened.
Including playoffs, Kane scored 35 goals in 58 games with Edmonton, so the Oilers might want to keep Kane around. Considering his highly publicized financial troubles, it would be entirely understandable if Kane is not inclined to give a discount to remain with the Oilers.
8. Evgeni Malkin, C, Pittsburgh (20 G, 22 A, 54.3 CF%, 54.2 xGF%, 41 GP)
At his best, Malkin is one of the premier skill centers in the game, and he remains a force on the power play, but he is going to turn 36 this summer and has been injury-plagued for quite some time, as he has missed more than a dozen games in nine of his past ten seasons.
Among active skaters that have played in at least 200 NHL games, only Connor McDavid (1.43 ppg) and Sidney Crosby (1.27 ppg) rank ahead of Malkin's 1.17 points per game.
That production will make the risk worth it for a contending team that wants to juice their offensive production.
7. Claude Giroux, RW, Florida (21 G, 44 A, 55.0 CF%, 53.5 xGF%, 75 GP)
The 34-year-old picked his landing spot for a trade out of Philadelphia, and while the playoffs ended sooner than expected, Giroux put up 31 points (6 G, 25 A) in 28 (regular season plus playoff) games with the Panthers.
Now, he will still have value as a free agent because Giroux can still play at a high level. It will be interesting to see, given his age, what kind of contract commitment Giroux might earn this summer.
6. Valeri Nichushkin, LW, Colorado (25 G, 27 A, 58.5 CF%, 56.3 xGF%, 62 GP)
This might seem high for a player who scored a career-high 52 points this season, but Nichushkin is one of the best checking forwards in the game and is showcasing his two-way impact as an important part of Colorado's Stanley Cup run.
The Avalanche might want to keep Nichushkin, but the 27-year-old is in line for a substantial new deal no matter where he signs.
5. Kris Letang, D, Pittsburgh (10 G, 58 A, 51.2 CF%, 51.7 xGF%, 78 GP)
The 35-year-old right-handed shot defenseman has been a star power play performer for many years and just recorded a career-high 68-points last season.
Not only is he a terrific puck mover who can generate scoring chances, but Letang plays with some edge to his game, and while he might not be around for a long time, a contending team could get a real boost for the next few years.
4. Patrice Bergeron, C, Boston (25 G, 40 A, 65.6 CF%, 69.2 xGF%, 73 GP)
While Bergeron has said that if he plays again, it will only be for the Bruins, and he was seen with his arm in a brace at an offseason UFC event, Bergeron also had an incredible 2021-2022 season.
He is a slam-dunk choice to win the Selke Award as the league's best defensive forward for the fifth time in his career, and when he was on the ice, the Bruins controlled more than 69% of the expected goals.
That's ridiculous dominance, so even if Bergeron is turning 37 this summer, he will be an impact player if he decides to continue playing next season.
3. Nazem Kadri, C, Colorado (28 G, 59 A, 57.0 CF%, 53.9 xGF%, 71 GP)
At times maligned for losing his cool and earning suspensions during previous playoff runs, the 31-year-old has stepped up with the best season of his career for the Avalanche, and he will surely be a sought-after free agent because point-per-game centers are not easy to acquire.
2. Filip Forsberg, LW, Nashville (42 G, 42 A, 52.7 CF%, 54.3 xGF%, 69 GP)
A wonderfully talented winger coming off the best season of his career, the 27-year-old has some durability issues as he has missed at least a dozen games in four of the past five seasons.
He also has one of the best highlight reels of any player in the league, so that kind of talent will get paid. 
1. Johnny Gaudreau, LW, Calgary (40 G, 75 A, 56.8 CF%, 59.2 xGF%, 82 GP)
Johnny Hockey just put up a career-high 115-points and his line, with Elias Lindholm and Matthew Tkachuk, was outrageously dominant during the 2021-2022 season.
Gaudreau will turn 29 this summer, and the Flames would love to keep him, but there will be many bidders for his services.
If he decides to go elsewhere, that will be the kind of move that has ripple effects throughout the NHL.
Looking ahead to next season, Caesars now has odds for the 2023 Stanley Cup champion. 
Make sure to keep an eye on our Live Odds page throughout the week to get the best lines possible and connect with others in the SBR community on our popular sports betting forum.