Tyson Fury vs. Deontay Wilder III First Look: Boxing Odds, Betting Picks, and Predictions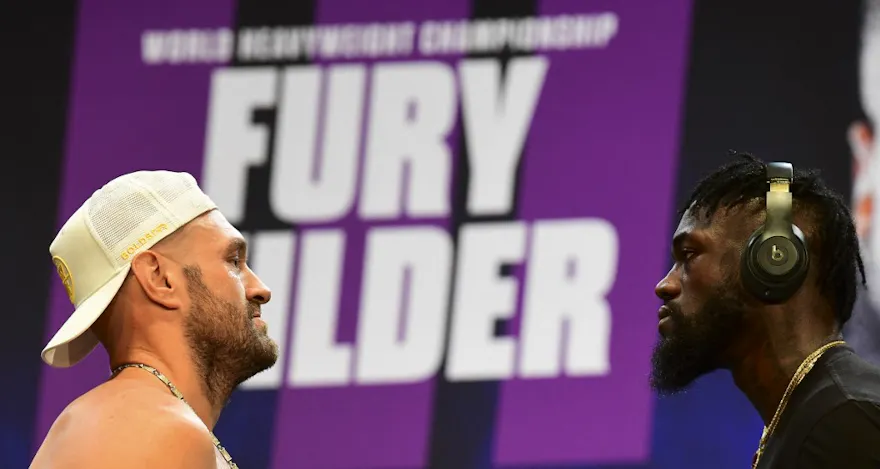 Heavyweight boxing returns to the T-Mobile Arena in Las Vegas for a highly anticipated boxing pay-per-view event.
The WBC and The Ring heavyweight champion, Tyson Fury, will defend his crown versus the former WBC heavyweight champion and current challenger, Deontay Wilder.
Read on for our complete betting guide taking a first look at Fury vs. Wilder, including updated boxing odds and our free expert boxing betting predictions.
Tyson Fury vs. Deontay Wilder III
WBC Heavyweight Championship Main Event Bout
Sunday, October 10, 2021 - 12:27 AM EDT at T-Mobile Arena
Tyson "The Gypsy King" Fury (31-0-1, 21 KOs)
When Tyson Fury refers to his upcoming opponent as a "big dosser", it's hard to argue against those insults when coming from a standpoint centered around the first two meetings.
The British-born heavyweight champion of the world, Tyson Fury, has fought through the ups and downs, but he's currently sat on top of the world. A formidable opponent for anyone, the 6-foot 9-inch stature of Fury is beautifully complemented with a boxing prowess unlike no other, which is why "The Gypsy King" remains undefeated after 31 professional bouts.
US boxer Deontay Wilder (L) and British boxer Tyson Fury. John Gurzinski / AFP
The trilogy bout scheduled for this weekend only surfaced because a judges' arbitration ruling favored Wilder, who was owed a rematch for the championship he dropped during their second encounter.
Fury dominated the first and second fight, but a knockdown for Wilder during the first bout somehow earned him a draw on the judges' scorecard. However, outside of the knockdown, Wilder was dominated from pillar to post and if you're still questioning who's the more excellent boxer, just watch the second fight.
Tyson Fury Boxing Accomplishments
Two-time Heavyweight Champion (WBC & The Ring Magazine titles) (2020)WBA (Super), IBF, WBO, IBO Heavyweight Champion (2015)The third heavyweight in boxing history to hold The Ring magazine title (After Floyd Patterson & Muhammad Ali)#1 ranked best active heavyweight boxer in the world (ESPN, TBRB, & BoxRec)https://twitter.com/MTKGlobal/status/1444609086402686995?s=20
Best Available Odds: (visit our Sportsbook Review)
Deontay Wilder (42-1-1, 41 KOs)
Deontay Wilder might not go down as the greatest technical boxer in history, but it's hard to deny that he'll be known as the heaviest puncher in boxing history.
"The Bronze Bomber" was a late bloomer compared to his peers, beginning the sport at the age of 20. His amateur reign was impressive, claiming a bronze medal at the 2008 Olympics, hence where the nickname has stemmed from. He held onto the WBC heavyweight championship from 2015 to 2020, including ten title defenses and nine knockouts within that championship reign.
Becoming a heavyweight champion isn't easy, but Wilder will be remembered for his 95% finishing rate inside the squared circle. His punching power is remarkable, and besides Tyson Fury and Eric Molina, no other boxer has been able to withstand his feat of strength.
Deontay Wilder Boxing Accomplishments
WBC Heavyweight Champion (2015-2020)Winner of the 2011 World ChampionshipsOlympic Bronze Medallist in 2008
Best Available Odds:
https://twitter.com/BronzeBomber/status/1444350783919575042?s=20
How Can Wilder Win?
There isn't much analysis required to conjure up a game plan to derive Tyson Fury; we've witnessed Wilder fall victim to a technical boxing masterclass two times already, so his only hope is to find that fight-ending power shot.
Allowing Fury to find his feet, control the range, and fight behind his extended jab will be useless. Attempting to out-box Fury, also useless, Wilder wants to make this one ugly – turn it into a street fight.
Should Wilder remove Fury's ability to settle in and unleash his power early, it's only going to take one significant defensive mistake on Fury's behalf, and he could be seeing stars.
WBC heavyweight champion Deontay Wilder. Steve Marcus/Getty Images/AFP
How Can Fury Win?
Fury fought the perfect fight during the second contest; emulating these results could prove challenging, but his strategy to be the more elusive boxer, claim rounds and technically embarrass Wilder was made to look effortless.
Fury took note of Wilder's left jab, which gave him the edge on rolling with or dodging the explosive right hand, which Wilder has relied on so much. Wilder's technical deficiencies were exposed, and continuous reliance on his power backfired. Fury will want to utilize his reach again, stepping away from Wilder's shots and countering as he did last time out.
https://twitter.com/Tyson_Fury/status/1445088507312148482?s=20
Fury put a lot more hip and sat into those counters, resulting in a lot of power that caused Wilder's balance to fumble on occasions. Wilder had no answers, whereas Fury altered any mistakes made during the fight.
I don't believe Wilder will have altered his entire style heading into the trilogy, and unless Fury is a complete slob, I also can't envision him losing this contest.
Betting Picks
The boxing odds at Sportsbook Review are fair, and this bout signifies the first time during his professional career where Deontay Wilder is the betting underdog.
Fury's complete dominance in both fights, particularly his weight and power adjustments in the second bout, are just too blatant to ignore. Of course, it only takes one, but for my boxing pick, I'd rather side with the greater technician than put my chances behind the one-punch knockout artist who'll solely rely on his right hand to become victorious.
Boxing Pick: [2.65u to win 1u]
*The pick reflects the line at the moment the writer made the play, the odds at the beginning of this article show the live line movement. Since the lines might vary, don't forget to refer back to our live odds.