Pala Casino 400 Odds, Picks, Predictions 2023: Can Larson Repeat in California?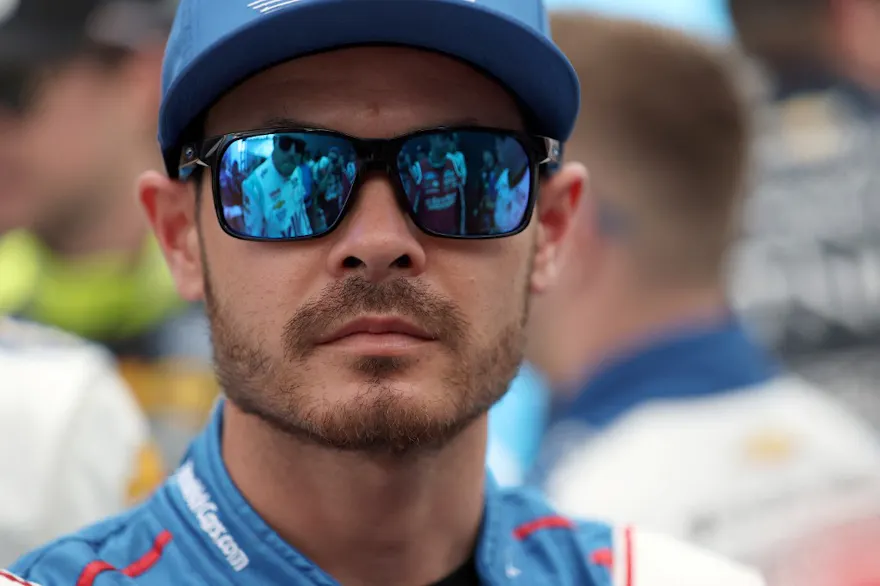 NASCAR takes a break from the Auto Club Speedway following the Pala Casino 400 Sunday. So, enjoy the final ride with our Pala Casino 400 NASCAR odds and picks.
For what may be the last time, drivers take the green flag in at the Auto Club Speedway this weekend. Crews will wait until the checkered flag waves over the Pala Casino 400 and will immediately get to work on a full redesign of the two-mile oval. The final outcome is still unclear, but for now, NASCAR will not return to Fontana for the foreseeable future.
Now that the dust settled on an exciting Daytona 500 superspeedway race, we can return to some more predictable action. California native Kyle Larson won this race last season after a forgettable day in Florida. He struggled again last week, so can he turn it around Sunday like he did last season?
The books seem to still be in superspeedway mode. Many feel generous, especially in their odds for the favorites. This is a great race to put some money on, especially if you're new to NASCAR betting.
Here are our best bets and picks for the 2023 Pala Casino 400 at the Auto Club Speedway (odds via DraftKings Sportsbook, BetMGM, and FanDuel Sportsbook; pick confidence based on a 1-to-5-star scale).
Pala Casino 400 picks to win
Kyle Larson +650 (via FanDuel) ⭐⭐⭐⭐⭐
Kyle Busch +1000 (via BetMGM) ⭐⭐⭐⭐
Tyler Reddick +1200 (via DraftKings) ⭐⭐⭐
Pala Casino 400 odds
| | | | | | |
| --- | --- | --- | --- | --- | --- |
| | DraftKings | FanDuel | BetMGM | Caesars | PointsBet |
| Kyle Larson | +650 | +650 | +600 | +500 | +600 |
| Denny Hamlin | +800 | +800 | +900 | +850 | +850 |
| Chase Elliott | +800 | +700 | +1000 | +900 | +750 |
| Ryan Blaney | +1000 | +1000 | +900 | +1000 | +1000 |
| Kyle Busch | +1000 | +950 | +1000 | +1000 | +900 |
| Christopher Bell | +1000 | +1300 | +1100 | +1000 | +1200 |
| Tyler Reddick | +1200 | +1200 | +1100 | +1000 | +1200 |
| Ross Chastain | +1200 | +1500 | +1200 | +1000 | +1400 |
| Martin Truex Jr. | +1200 | +1200 | +1200 | +1000 | +1200 |
| Joey Logano | +1200 | +1200 | +1100 | +1000 | +1200 |
Kyle Larson (+650 via FanDuel) ⭐⭐⭐⭐⭐
Larson has eight career Cup Series starts in Fontana. In those starts, he had two wins and two second place finishes. In seven of the eight, he piloted of the No. 42 Chip Ganassi Chevrolet, a step below his current Hendrick Motorsports ride. Larson also enjoyed success on the Michigan International Speedway, another two-mile track, logging three wins on the circuit.
The No. 5 car is the clear favorite across the books. However, there's still actual value in betting on him to win this week even at Caesars' +500 price. These odds already dipped by at least 50 points on some books, so the earlier you lock him in, the better.
Kyle Busch (+1000 via BetMGM) ⭐⭐⭐⭐
Busch has four wins in Fontana in 23 starts. That total leads all active, full-time drivers participating in the race Sunday. He's a consistent frontrunner, finishing inside the top-10 an impressive 69.6% of the time. This week, he'll make the start in his new No. 8 Chevrolet. Tyler Reddick led the most laps in that same car last season but was denied a win after a late race incident.
There's very little deviation in his odds to win this race as only 100 points separate his +900 listing on PointsBet and his +1000 on DraftKings, BetMGM and Caesars. His new team paired with his 14th place finish here last season likely keep him from even shorter odds.
Tyler Reddick (+1200 via DraftKings)⭐⭐⭐
Reddick made just two Cup Series starts at the Auto Club Speedway. In 2020, he crossed the finish line in 11th place. Last season, he was one of the strongest cars on the track, leading 90 laps before cutting a tire late in the race and having the No. 24 clip him. He'll now drive the No. 45 car which saw Kurt Busch finish in eighth place in last year's race.
Books are consistent with Reddick's odds and price him among the favorites to win, but with still enough value to warrant a wager. He loses a couple of stars of confidence given the strength of the favorites above him on this track.
Pala Casino 400 NASCAR Power Rankings
10. Austin Dillon (+4000 via DraftKings)
Austin Dillon finished runner-up in this race a year ago and posted top-10 finishes in three of his last four starts at Auto Club. A general theme in our power rankings is a focus on Chevrolet drivers, of which AD3 is one. Dillon also recently had fast cars at Michigan, a comparable two-mile oval to what the drivers encounter Sunday.
9. Daniel Suarez (+5000 via DraftKings)
This weekend's Pala Casino 400 marks just the sixth Cup Series start for Daniel Suarez at Fontana. While the sample size is limited, he's certainly put together some solid runs, including a fourth-place showing last year. With Chevy power under the hood, Suarez is a viable sleeper to take Trackhouse Racing to victory this weekend.
8. Erik Jones (+3000 via DraftKings)
While he only has five previous Cup Series starts at Auto Club, Erik Jones' 10. 2 average finish ranks second among active drivers. The No. 43 team really turned some heads a year ago, leading several laps and ultimately closing the deal with a third-place finish. Jones always gets the most out of his equipment and is an intriguing value pick this week.
7. Ross Chastain (+1400 via PointsBet)
In four previous starts at Auto Club Speedway, Ross Chastain failed to crack the top-15, let alone the top-10. Of course, the majority of this limited sample size came in lesser equipment than what "The Melon Man" currently drives for Trackhouse. Chastain picked up a stage win and top-10 finish at Daytona and looks to carry that momentum with him into the weekend.
6. Kevin Harvick (+2000 via DraftKings)
It may be his final full-time season, but Kevin Harvick showed at Daytona that he still has plenty of juice left in the tank. Concerning Auto Club Speedway, he had only one outright victory back in 2011. Like so many other tracks, however, Harvick is as consistent as anyone in Fontana. He has two runner-up finishes and five total top-10s since 2015.
5. Alex Bowman (+2000 via DraftKings)
In six career Cup Series starts at Fontana, Alex Bowman only finished in the top-10 once. However, that result came with an outright win in 2020. Thus, he's proven he can dial it in on the two-mile oval track. Knowing how strong Hendrick Motorsports and Chevrolet tend to be, Bowman makes for an enticing pick at 20-1 odds.
4. Chase Elliott (+1200 via SuperBook)
Fans certainly won't forget the controversy in last year's race at Auto Club where Chase Elliott made contact with Hendrick Motorsports teammate, Kyle Larson. While the latter went on to win, Elliott was relegated to 26th after being one of the strongest cars in the field. An early exit from the Daytona 500 will have the No. 9 team hungry for a bounce-back effort.
3. Joey Logano (+1200 via DraftKings)
Had the Daytona 500 come all the way back to the start/finish line on the final lap, Joey Logano almost certainly would've won. The defending NASCAR Cup Series Champion seeks some redemption in Fontana at a track where he quietly held his own over the years. In seven starts since 2015, Logano recorded five top-5 runs and never finished worse than 12th.
2. Kyle Larson (+650 via DraftKings)
As a California native, Kyle Larson considers Auto Club Speedway one of his hometown tracks. He won this very race a year ago and is the betting favorite to get the job done again Sunday. It's hard to argue with the odds considering how well Larson races in Fontana historically. His last five starts include two outright wins and a runner-up finish.
1. Kyle Busch (+1000 via DraftKings)
In his first race driving the No. 8 RCR Chevrolet, Kyle Busch very nearly captured the Daytona 500 victory that eluded him his entire career. The frustration was real when he got wrecked out, but one has to believe Busch can bounce back this week. Dating back to 2013, he has three wins and five top-3 finishes in eight starts at Auto Club Speedway.
Pala Casino 400 race info
Date: Sunday, Feb. 26, 3:30 p.m. ET
Location: Auto Club Speedway, Fontana, CA
TV: Fox
Defending winner: Kyle Larson
Pala Casino 400 picks made 2/26/2023 at 2:56 p.m. ET
(21+. Gambling Problem? Call 1-800-GAMBLER)
* Bonuses not applicable in Ontario.
Related pages