Yoshinobu Yamamoto Next Team Odds 2023: Is Coveted Japanese Ace Boston Bound?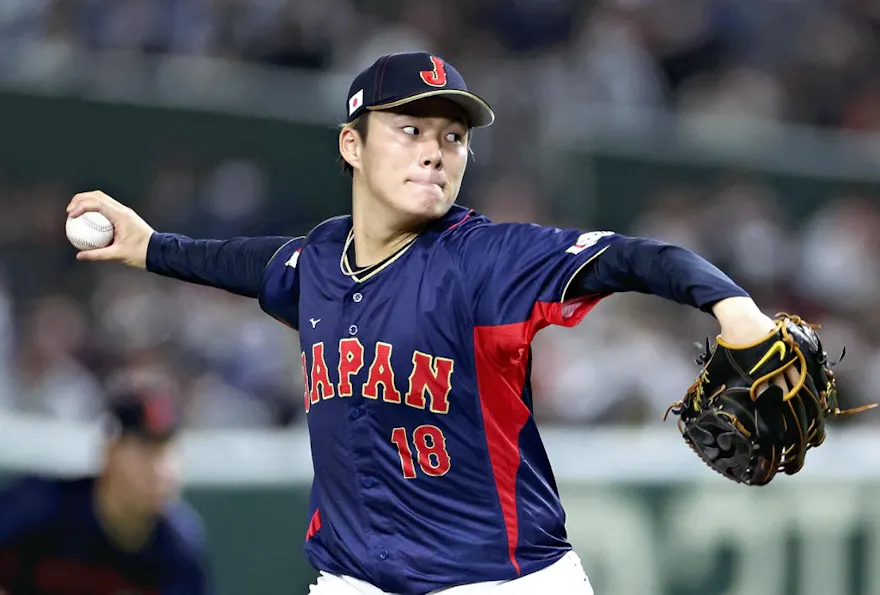 Yoshinobu Yamamoto is the latest highly coveted Japanese ace, and here's a look at the best MLB odds for Yamamoto's next team via our best sports betting apps now that he's officially a free agent.
Yoshinobu Yamamoto might be the second-best player available this winter for big-league teams to pursue, and he hasn't yet thrown an MLB pitch.
The latest Japanese megastar pitcher who's been a shining gem for a while now was posted on Monday, Nov. 20, and his official negotiating window with MLB clubs opened on Tuesday.
A dazzling 14-strikeout start in Game 6 of the Japan Series on 138 pitches ended his time with the Orix Buffaloes. That capped a campaign of utter dominance in which Yamamoto finished with a 1.16 ERA and 0.86 WHIP over 171 innings.
He comes with MLB Rookie of the Year potential, and his brilliance during the World Baseball Classic showed Yamamoto can handle the bright lights well. The Buffaloes will post him after his seven years of high-level performance in Nippon Professional Baseball that included a 1.72 career ERA, and instantly the 25-year-old will be a hot commodity. He now gets 45 days to sign with an MLB club.
One of our MLB betting sites was offering odds for which team will sign Yamamoto, though those prices were pulled on the morning of Nov. 20. Nonetheless, let's examine what was being offered and evaluate the best option for Yamamoto's next team.
Yoshinobu Yamamoto's next team odds
(Odds as of Nov. 14)
| Team | DraftKings |
| --- | --- |
| New York Mets | +220 |
| Boston Red Sox | +400 |
| Los Angeles Dodgers | +450 |
| New York Yankees | +550 |
| Chicago Cubs | +600 |
| San Francisco Giants | +900 |
| Field (any other team) | +1000 |
| St. Louis Cardinals | +1100 |
| Philadelphia Phillies | +1200 |
| Texas Rangers | +1500 |
Not intended for use in MA
Affiliate Disclosure: Sportsbook Review may receive advertising commissions for visits to a sportsbook
Yoshinobu Yamamoto's next team odds analysis
DraftKings is featuring a handful of next team odds markets before the baseball offseason picks up, including prices for Yamamoto and fellow Japanese superstar Shohei Ohtani's next team.
That shop isn't hiding the divide in the likely destinations, with "the field" getting the seventh-best odds, and only the San Francisco Giants, Chicago Cubs, New York Yankees, Los Angeles Dodgers, Boston Red Sox, and New York Mets ahead of that option. Just the Mets, Red Sox, and Dodgers have been given odds lower than +500, and New York is easily the front-runner in that group.
It's entirely unsurprising that large-market teams known for splashy moves and heaving wads of cash at players every winter are ranked at the top. Yamamoto's appealing blend of youth and unique skill is set to drive his price sky-high.
Masahiro Tanaka came over to MLB back in 2014 prior to his age-25 season, and he was given a seven-year deal worth $155 millon. Given the inflation over time, Yamamoto also being young, and his sheer talent after three straight campaigns with a sub-2.00 ERA, it's reasonable to expect a contract north of $200 million, which is what MLB Trade Rumors projects.
Visit our Google News page and click "Follow" (⭐) for the latest odds, picks and news!
Yoshinobu Yamamoto's next team pick
No franchise enjoys losing. It's no fun at all, but the patience for lackluster seasons and the rebuilding process is especially short in Boston. Combine that with a glaring need so bright it's blinding, and Yamamoto's fit is clear for the Red Sox.
The club has posted a 78-84 record in two straight seasons while missing the playoffs in both campaigns, and in four of the last five years.
Offense certainly wasn't a central issue for a 2023 Red Sox team that finished ninth in OPS and a respectable 11th in runs. But Boston's pitching staff regularly stumbled en route to recording a 4.52 ERA (21st) and .256 opponents' batting average (24th). That's the area most in need of a quick facelift, especially with an aging and oft-injured Chris Sale entering the final year of his contract.
As talented as he is after being named Nippon Professional Baseball's best pitcher in three straight seasons, Yamamoto alone likely won't turn the Red Sox around immediately. But it will surely take at least a seven-year contract to land the stud Japanese hurler, making him the ideal building block for a club that's typically an AL East juggernaut.
(21+. Gambling Problem? Call 1-800-GAMBLER)
* Bonuses not applicable in Ontario.
Related pages