NHL Playoff Power Rankings: Panthers, Avalanche Leading the Charge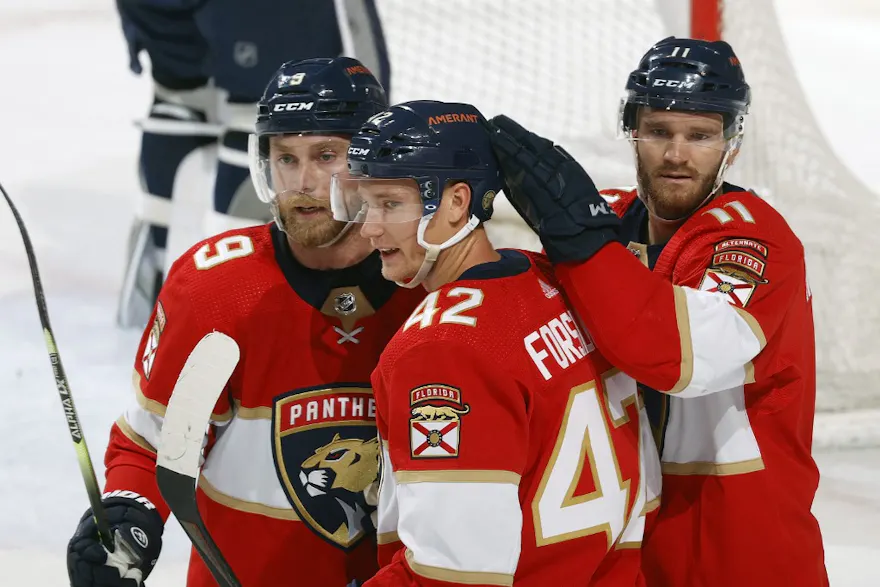 The National Hockey League just completed its highest scoring season in more than 25 years. The Colorado Avalanche and Florida Panthers are two of the highest scoring teams in the league and rank first and second in the NHL Power Rankings going into the playoffs.
While the Avalanche and Panthers are the betting favorites heading into the Stanley Cup Playoffs, there are several teams with a legitimate shot to win the title this season.
Goaltending is important any time in hockey, but especially so in the playoffs, and that leads to uncertainty this year because, aside from Tampa Bay's Andrei Vasilevskiy who has won back-to-back Stanley Cups, there are a lot of goaltenders that are not proven playoff performers.
Here are my NHL Power Rankings with odds from DraftKings, FanDuel, and Caesars.
NHL Power Rankings
1. Colorado Avalanche
The Avalanche are loaded with talent, led by center Nathan MacKinnon and defenseman Cale Makar, and bursting with anticipation after recent playoff disappointments. Captain Gabriel Landeskog is expected to return from late-season knee surgery in time for the first game of the postseason. The Avs had the most favorable penalty differential in the league during the regular season and that unleashes a potent power play.
First-round: (-650 via DraftKings) vs. Nashville
2. Florida Panthers
The highest scoring team in the league, averaging 4.06 goals per 60 minutes, the Panthers won the Presidents' Trophy after finishing with a franchise-best 122 points. They also led the league with 56.4% of score-and-venue-adjusted 5v5 shot attempts. Jonathan Huberdeau and Aleksander Barkov lead a deep Panthers attack and No. 1 defenseman Aaron Ekblad may be ready to return from a lower-body injury that has kept him out of the lineup for the past six weeks.
First-round: (-340) vs. Washington
3. Calgary Flames
The Flames rebounded after missing the playoffs last season and earned their place at the top of the Pacific Division. The top line of Johnny Gaudreau, Elias Lindholm, and Matthew Tkachuk each scored at least 40 goals and had more than 70% of the goal share during 5v5 play. Head coach Darryl Sutter has brought out the best in a skilled team that can also play a hard physical game in the playoffs.
First Round: (-350) vs. Dallas
4. Tampa Bay Lightning
The back-to-back Stanley Cup champions have a legitimate shot for a third straight title. Steven Stamkos, Nikita Kucherov, and Victor Hedman are premier talents and Brayden Point, who has been battling a late-season lower-body injury, has been a huge part of the Lightning's past two Stanley Cup wins. They do not have an easy path, in a division that includes Florida, Toronto, and Boston, but the Lightning won't go away quietly.
First Round: (+100) vs. Toronto
5. Edmonton Oilers
While there was some inconsistency earlier in the season, the Oilers have been much better since Jay Woodcroft took over as head coach. Connor McDavid finished first in the league in points and Leon Draisaitl finished second in goals, and that elite talent gives Edmonton a chance, provided that the supporting cast can at least tread water. Physical defenseman Darnell Nurse suffered a lower-body injury late in the season but is expected to be ready for the first game of the playoffs.
First Round: (-250) vs. Los Angeles
6. Toronto Maple Leafs
For a franchise that is known for playoff disappointment, especially in recent seasons, a matchup against the two-time defending champs is hardly an easy path out of the first round. Nevertheless, the Maple Leafs have the talent to go on a deep run. Auston Matthews led the league with 60 goals and Mitch Marner put up 97 points, though they will be missing left winger Michael Bunting, who helped to make that trio one of the most dangerous lines in the league this season but will be out for a few weeks with a lower-body injury.
First Round: (-120) vs. Tampa Bay
7. Boston Bruins
After a slow start to the season, the Bruins rounded into form down the stretch, controlling 58.0% of score-and-venue-adjusted 5v5 shot attempts and a league-best 59.7% of expected goals since the trade deadline. The Bruins look like a lively underdog heading into the postseason, not least of all because veterans Patrice Bergeron and Brad Marchand remain as dominant as ever when it comes to driving 5v5 play.
First Round: (-105) vs. Carolina
8. Carolina Hurricanes
A strong puck possession team that relies on a balanced attack, the Hurricanes do have Sebastian Aho and Andrei Svechnikov to lead the way, but Carolina allowed 2.41 goals against per 60 minutes, best in the league this season. With starting goaltender Frederik Andersen still injured for a few more weeks, Antti Raanta takes on more responsibility at a crucial time for the 'Canes.
First Round: (-115) vs. Boston
9. New York Rangers
The Blueshirts enjoyed the work of Igor Shesterkin, who was the best goaltender in the league this season, and for much of the season, were probably too dependent on their goaltender, but the team played much better after the trade deadline. Artemi Panarin, Mika Zibanejad, Chris Kreider, and Adam Fox are stars, but the Rangers require strong play from their supporting cast if they are going to have postseason success.
First Round: (-115) vs. Pittsburgh
10. Pittsburgh Penguins
This could be the last ride together for the Penguins veteran stars, as center Evgeni Malkin, right winger Bryan Rust, and defenseman Kris Letang will all be free agents this summer. Sidney Crosby is still in fine form and that star power gives the Penguins a shot, though there is uncertainty in goal as Tristan Jarry has a broken bone in his foot and that leaves backup Casey DeSmith as Pittsburgh's last line of defense to start the playoffs.
First Round: (-105) vs. N.Y. Rangers
11. Minnesota Wild
Kirill Kaprizov has transformed the Wild, but the emergence of Kevin Fiala and rookie Matt Boldy has provided scoring depth that should make the Wild more dangerous. They brought in Marc-Andre Fleury at the trade deadline, with the expectation that his experience and previous playoff success can help push this team over the top. Industrious winger Marcus Foligno suffered a lower-body injury late in the regular season and is questionable for the start of the playoffs.
First Round: (-150) vs. St. Louis
12. St. Louis Blues
A balanced attack that boasts nine 20-goal scorers, the Blues were once again led by Vladimir Tarasenko, who had 34 goals and 82 points. Although St. Louis has poor possession numbers, controlling 47.1% of score-and-venue-adjusted 5v5 shot attempts and 47.2% of expected goals, they have enjoyed great success against their first-round opponent, going 9-1-1 in their past 11 games against the Minnesota Wild.
First Round: (+130) vs. Minnesota
13. Washington Capitals
Even if star left winger Alex Ovechkin is in the lineup for Game 1 against Florida, he will be playing through an upper-body injury suffered late in the regular season. The Capitals do not look like they have the firepower to keep pace with the Panthers, nor do they have the shutdown ability or the goaltending to keep the league's top offense in check.
First Round: (+260) vs. Florida
14. Los Angeles Kings
The Kings faded down the stretch, not least of all because of injuries to their defense and Drew Doughty is out for the season, so they are not in great position heading into the postseason. At the same time, with Anze Kopitar and Phillip Danault as their top two centers, the Kings do have the ability to control play and perhaps neutralize their opposition. That may not be enough to get them through four rounds of the playoffs.
First Round: (+200) vs. Edmonton
15. Dallas Stars
An inconsistent squad that relies on their outstanding top line of Jason Robertson, Roope Hintz, and Joe Pavelski, the Stars will have to pull together in a way that has not been standard for them this season if they are going to mount any kind of playoff run.
First Round: (+270) vs. Calgary
16. Nashville Predators
A physical team that received outstanding seasons from defenseman Roman Josi as well as wingers Filip Forsberg and Matt Duchene, the Predators' playoff hopes took a dramatic hit when goaltender Juuse Saros was injured late in the season. Their first-round matchup with Colorado is already difficult but, without their No. 1 goalie, the task is even more daunting.
First Round: (+450) vs. Colorado
Make sure to keep an eye on our Live Odds page throughout the week to get the best lines possible and connect with others in the SBR community on our popular sports betting forum.