NBA Draft Picks & Predictions 2023: Two Surprise Long-Shot Bets for Thursday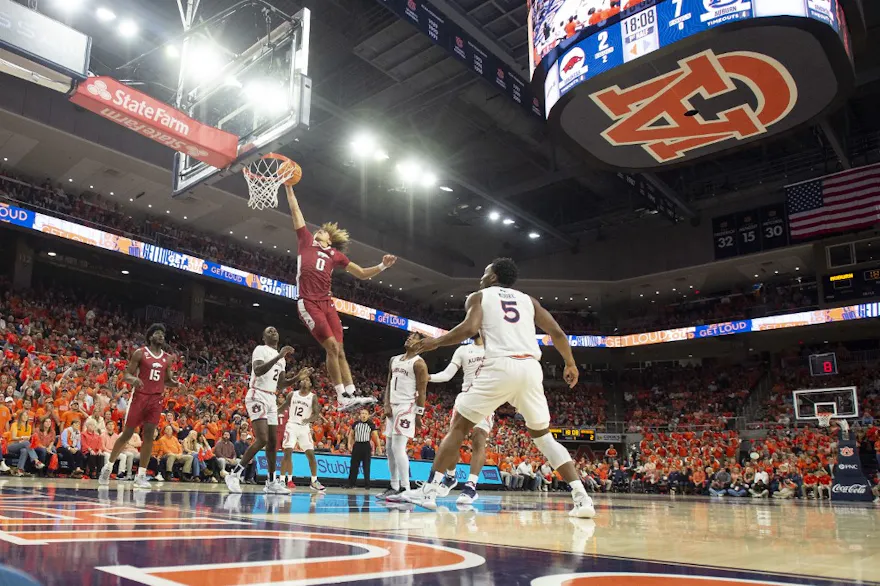 Victor Wembanyama, Scoot Henderson, and Brandon Miller are the talk of the town when it comes to the 2023 NBA Draft. However, my focus with this article is on making money. Let's dive into our best NBA draft picks and predictions using our best sports betting apps.
Betting on drafts in any professional league is a challenging endeavor. Our best NBA betting sites and bettors have access to essentially the same information, which can provide the latter with an advantage not available in conventional betting markets. However, it also means sifting through information and rumors where NBA executives and teams purposefully attempt to mislead people.
Draft betting markets are highly sensitive and can experience significant shifts based on the smallest rumor from any notable NBA analyst seen on television or Twitter. Not all rumors are accurate, but the markets love to adjust based on even the flimsiest of reports. Tracking these reports and rumors throughout Thursday can give you the upper hand with your NBA draft prop bet sheet.
This is precisely why I approach draft betting in the same manner every time. I'm not interested in placing bets on favorites in the market. Instead, I prefer wagering on longer NBA draft odds because on draft night, truly anything is possible.
Let's take a close look at some NBA draft markets and highlight two plus money bets that I have already placed ahead of the 2023 NBA Draft, using our best sports betting sites.
NBA draft picks & predictions
Not intended for use in MA
Affiliate Disclosure: Sportsbook Review may receive advertising commissions for visits to a sportsbook
5th overall pick: Anthony Black (+3400 via FanDuel)
Do I believe the Detroit Pistons will draft Black? No, I actually don't, even though they had him come in for a workout. But if that's how we end up winning this bet, I'll take it. I'm betting on a trade for the fifth pick because Black is attracting interest from more than one team, and the Pistons have expressed their desire to trade back in the draft.
Draft betting markets are adept at adapting to mock drafts and predicting who each team might select with their designated pick. However, they struggle when it comes to accounting for trades. Black has never been projected to the Pistons in mock drafts because he doesn't quite fit alongside Cade Cunningham and Jaden Ivey. That's precisely why we can grab him at +3400 to be the fifth overall pick. The market is assuming that the Pistons will make this selection, but that's not how I'm approaching this bet.
The fifth overall pick market has been consistently changing, with Cam Whitmore, Jarace Walker, and now Ausar Thompson spending some time as the favorites in the odds. This indicates that there are no leaks regarding the Pistons' intended pick, and the market truly has no clue. It suggests that the Pistons aren't particularly set on any specific player at this spot, leading me to believe they will pursue a trade.
Additionally, I looked back at Monty Williams' first-round picks with the New Orleans Pelicans and Phoenix Suns when he initially took over as head coach. In both instances, he traded back. Black has been projected to go to the Washington Wizards at eighth overall, the Utah Jazz at ninth overall, and most recently, the Orlando Magic at sixth overall. If other teams are genuinely interested in selecting Black, they may need to leapfrog the Magic, and the Pistons seem to be the ideal trade partner.
If another team jumps ahead of the Magic to choose Black, it aligns with my next bet regarding who the Magic will select.
6th overall pick: Kobe Bufkin (+5000 via DraftKings)
I'm certain this isn't the bet you expected to see when you opened this article. However, allow me to explain why I believe Bufkin is worth considering as a flier at +5000 to be the sixth overall pick.
Firstly, the Magic managed to successfully keep their draft choice under wraps last season when they surprised everyone by selecting Paolo Banchero with the first overall pick. The Magic kept everything completely confidential, so it would be unwise to assume that mock drafters know who the Magic will choose this time, especially since secrecy is even more crucial without the top pick.
There have also been reports indicating that Bufkin has been elusive when it comes to workout sessions and meetings with interested teams throughout the draft process. This suggests that Bufkin has received a promise from someone. Diving into past mock drafts, I stumbled upon an interesting detail: in 2021, there were similar reports about Franz Wagner being difficult to schedule workouts with because he had a promise from a team.
We know that the Magic and the Michigan Wolverines have a strong relationship, so is it possible that Bufkin has been promised the 11th overall pick by the Magic? It's quite conceivable, as Bufkin's NBA draft position odds have him slotted at 12.5 with heavy juice on the Under. However, with Bufkin now appearing in mock drafts as the eighth overall pick to the Wizards, the Utah Jazz showing interest at No. 9, and the Dallas Mavericks looking to trade the 10th overall pick, would Orlando consider selecting Bufkin at No. 6 and not need to worry about another team potentially jumping ahead of them for Bufkin?
It may seem far-fetched, but that's precisely why we're getting +5000 odds on Bufkin being chosen at this spot. I believe Bufkin is a more viable option for the Magic's lineup than the media is leading us to believe, and that's exactly how the Magic want this situation to unfold.
(21+. Gambling Problem? Call 1-800-GAMBLER)
* Bonuses not applicable in Ontario.
Related pages