Georgia vs. Auburn Free College Football Picks for Week 6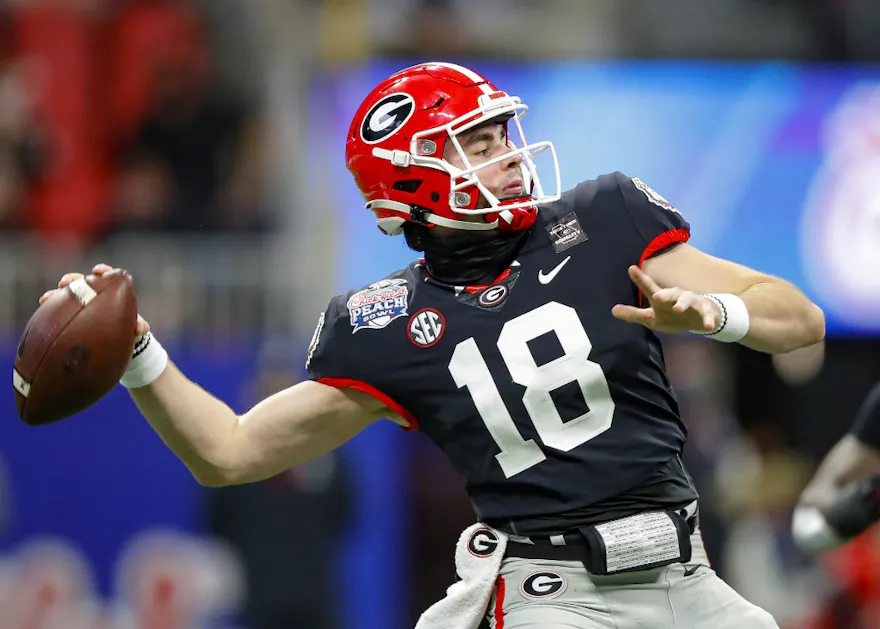 After throttling eighth-ranked Arkansas 37-0 last week, Georgia remains undefeated and ranked second in the nation. Auburn, meanwhile, moved up to 18th and is 4-1 after earning a thrilling victory at LSU.
The top sportsbooks have released their NCAAF odds for Saturday's SEC clash between Georgia and Auburn.
For reasons that I will explain, there are two different betting possibilities. Whether you play the total or the spread will depend on the health of Georgia's starting quarterback.
Here is betting advice for the game.
Georgia Bulldogs vs. Auburn Tigers
Saturday, October 09, 2021 - 03:30 PM EDT at Jordan-Hare Stadium
Georgia's Top-Ranked Defense
It's difficult to overstate how solid Georgia's defense is. The Bulldogs rank number one nationally in several categories. For example, they rank first nationally in limiting opponents to 148.2 yards per game. They also rank as highly in limiting opposing scoring to 4.6 points per game. After shutting out Arkansas, Georgia has gone eight straight quarters without allowing a point.
https://youtu.be/kPyivB9ttzw
The last score that they conceded was to South Carolina. Down 40-6, going against Bulldog backups, South Carolina became the only team to score a touchdown against Georgia. That score allowed the Gamecocks to sneak in a cover because the spread was so big.
Despite the fact that the Bulldogs are regularly favored so heavily at the online sports betting sites, they are 4-1 ATS. They typically cover with ease because their elite defense keeps their offense from having to accomplish much.
https://twitter.com/GeorgiaFootball/status/1444740252971700225?s=20
Out in Space
Defensively, Georgia is known for its physicality. Its defensive linemen will blast offensive linemen off their spots, their defensive backs will play physically against opposing pass-catchers, and their linebackers and safeties will hit hard. One of those hard-hitters is safety Lewis Cine who, among other things, is known for a hard hit that mutually knocked both himself and former Gator star Kyle Pitts out.
https://twitter.com/GeorgiaFootball/status/1436784342651457538?s=20
Before last Saturday's game, the question was often raised whether Cine and his physical teammates could corral Arkansas' playmakers in space. The Razorbacks are used to getting Treylon Burks out into space. Burks is a versatile speedster who will line up at different positions in order to keep defenses guessing.
While Burks is known for being difficult to manage, he mustered a season-low 10 yards from scrimmage against Georgia.
Devin Guice #28 of the Auburn Tigers. Jonathan Bachman/Getty Images/AFP
Auburn's Offensive Style
When I talk about what Auburn likes to do offensively, it will become clear why I discussed Georgia's defensive success against Burks. Auburn offensive coordinator Mike Bobo has been explicit about what he wants his offense's identity to be: a physical, downhill ground game.
The Tigers like to utilize a variety of running backs and they are effective at what they do. Three different Tiger running backs average at least five YPC off at least 10 carries. One of those three is not Shaun Shivers, who missed some games due to injury. But against LSU, the Auburn Tigers mostly passed the ball.
https://twitter.com/AuburnFootball/status/1444524081546612740?s=20
They started slowly because they couldn't thrive with their ground game against an LSU Tiger defense that regularly stacked the box. Auburn's ground game, therefore, is not good enough to face Georgia when the Bulldog defense zeroes in on Tiger running backs and when the Tiger pass attack fails to punish Georgia's defense for focusing on stopping Auburn's rush attack.
The Auburn Tigers accumulated so many pass attempts because they attempted many RPOs and other short passes like little wheel routes towards the sideline. Because they could not impose their will North-South on the LSU defense -- and when they committed themselves to do so, key drives stalled -- they tried to get the ball to their guys in space.
Georgia will know from film footage that the Tiger offense will resort to this tactic. The Bulldogs also know that they can hang with good athletes in space because they just shut down Burks.
Bo Nix #10 of the Auburn Tigers. Jonathan Bachman/Getty Images/AFP
Bo Nix
Bo Nix is not going to take the top off of Georgia's defense. He is simply too inaccurate as a passer -- especially downfield -- to give the Bulldog secondary meaningful concern. Evidence for Nix's inaccuracy lies in his constantly low completion percentages. Against Alcorn State, Georgia State, and LSU he failed to complete even 53 percent of his passes.
Nix's efforts against LSU are justly being praised. They were indeed heroic. But let's keep in mind that this is still a guy who can't even keep his starting position secure: Nix was benched in the second quarter against the Tigers.
While Nix made a statement against LSU, know for your Sports Betting that he will come down to Earth against a Bulldog defense that allows close to 300 yards fewer per game than LSU does.
https://twitter.com/AuburnFootball/status/1444511643149352969?s=20
Auburn Defensive Line
Auburn's defensive line does deserve some credit, as its PFF grades have suggested as well as its rush defense stats. The Tigers, for example, rank 21st nationally in limiting opposing rushing yards with highly-ranked Penn State and Noah Cain among their victims. But even that game against Penn State doesn't mean much considering how regularly Cain struggles to do much for a statistically mediocre Nittany Lion ground game.
By thriving with a ground-and-pound approach against Arkansas, Georgia's offensive line truly proved itself because it managed to bully what had been a highly-ranked Razorback run defense featuring a difficult Arkansas defensive line that is solidified by a tremendous space-eater in the middle.
Georgia's Quarterback
I don't think that the Bulldog ground game can throttle Auburn's evidently respectable defensive line by itself. What will make the difference in this game is whether JT Daniels is healthy.
The status of Georgia's starting quarterback is uncertain because of his lat sprain. Daniels' addition to Georgia has proven since last year to make a monumental difference in its offensive capacity.
Quarterback JT Daniels #18 of the Georgia Bulldogs. Todd Kirkland/Getty Images/AFP
Know for your Best Bets that he can give the Bulldog pass attack a downfield, vertical element that his backup, Stetson Bennett, cannot. While Bennett is a fine quarterback, his numbers this year are inflated by soft opponents like UAB. He is not going to rack up big numbers by any means.
His passing volume is much lower than Daniels' when he plays because his team doesn't trust him as much. Bennett's numbers last year, when he was starting games against SEC opponents, are more reflective of his quality: he completed 55.5 percent of his passes on 7.6 YPA.
https://twitter.com/DawgNation/status/1444326149400711174?s=20
The Verdict
If Daniels plays, Georgia's two-dimensional offense will flourish against Auburn en route to another easy cover. I like the "under," and definitely still dislike Auburn, if Bennett plays because Auburn's offense lacks the weaponry or versatility to challenge the Bulldogs' physical and elite defense.
For the above reasons, play Georgia if Daniels plays and the "under" if Bennett plays for your NCAAF Picks.
NCAAF Pick: If Daniel plays, (visit our Sportsbook Review)
NCAAF Pick: If Bennett plays,
*The pick reflects the line at the moment the writer made the play, the odds at the beginning of this article show the live line movement. Since the lines might vary, don't forget to refer back to our live odds.