Arkansas vs. Ole Miss Free College Football Picks for Week 6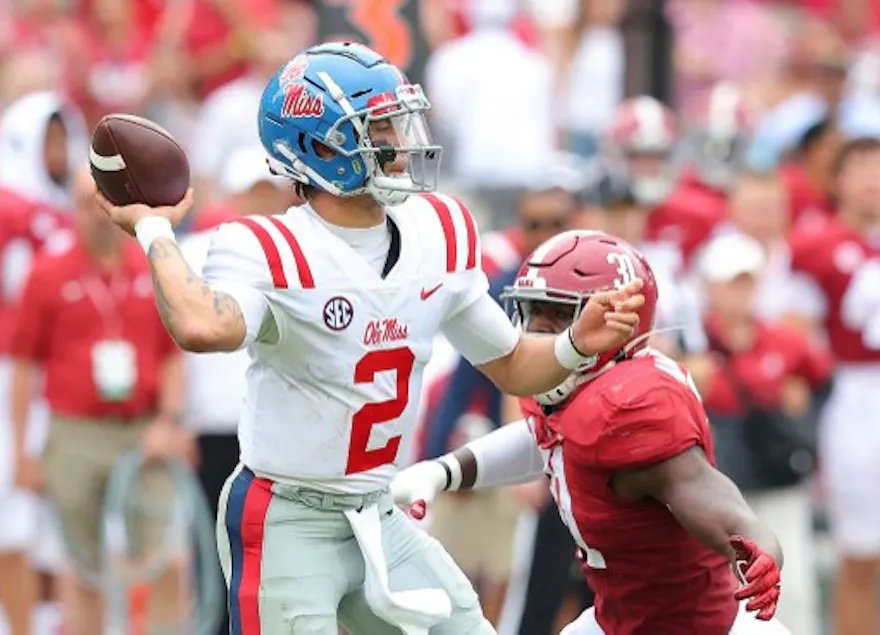 Two of the surprise teams in the SEC West got brought back down to earth in a big way last week. Arkansas had moved into the Top 10 after starting off by winning its first four games. The Razorbacks beat Texas by 19 and then No. 7 Texas A&M, 20-10 before taking their first road trip to No. 2 Georgia last week. The Dawgs blanked Arkansas by an embarrassing 37-0 margin, sending the Hogs to No. 13 in the latest poll.
Ole Miss swept through three non-conference games, including a dominating neutral site win over Louisville. The Rebels had scored an average of 51.6 points a game before heading to top-ranked Alabama. The Crimson Tide doubled them up by a lopsided 42-21 score.
Now Arkansas and Ole Miss look to get back on track when they meet each other this week. One team will rebound with a key conference win, while the other will find its hot start a distant memory so let's go ahead and check out the college football odds for this game!
Arkansas Razorbacks vs. Ole Miss Rebels
Saturday, October 09, 2021 - 12:00 PM EDT at Vaught-Hemingway Stadium
Shaking off UGA
The Razorbacks were dominated by a Georgia defense that pitched its second straight shutout. Arkansas had three-and-outs on four of its first five drives and seven of its ten drives for the game.
The Razorbacks managed just 156 yards of offense on the day, less than half of what they'd been averaging. The defense was also knocked back early in the game. After allowing no first-quarter points in the first four games, the Razorbacks gave up three first-quarter touchdowns to Georgia.
https://youtu.be/l1vlVcMrRsw
Arkansas also committed 13 penalties, six in the decisive first quarter, and had a punt blocked for the second time this season.
The Razorbacks aren't going to harp on the beat down, taking a "burn the game film" approach. Coach Sam Pittman said he'll only make things worse "if I make a mountain out of a molehill because we went and got kicked."
"If I go totally off and start having meetings with the players and all this stuff, I think I'm sending a message that I'm panicking, and I'm not," he added. The goal is to get the team past the loss, focus on fixing the penalties, but otherwise avoid wallowing in the beating. "I'll be damned if Georgia's is going to make us lose this Ole Miss game," he said.
https://twitter.com/RazorbackFB/status/1444255849833172994?s=20
No More Popcorn
In an interview just before kickoff in Alabama, Ole Miss coach Lane Kiffin said "get your popcorn ready." At halftime, he told his assistants, "Looks like we didn't plug the microwave in." Ole Miss trailed 28-0 at the half and didn't score until late in the third quarter.
The Rebels lost a fumble and failed in three of their five tries on fourth down. Alabama turned all four of those miscues into touchdowns. The Bama defense held Ole Miss to 78 rushing yards—a 2.3 yards per carry average—and 291 total yards for the game, the lowest output in Lane Kiffin's two years as head coach.
https://twitter.com/OleMissFB/status/1444434658905653249?s=20
Ole Miss was without its No. 2 receiver, Jonathan Mingo, and will likely be out again this week. Mingo was wearing a protective boot on the sideline after reportedly breaking his foot at practice.
"That was late in the week thing," Kiffin said. "I feel down for the kid, he was in tears wanting to play in this game and has worked as hard as anybody." Of Mingo's prognosis for the future, Kiffin said merely, "We'll see."
The Pick
Even with the lopsided loss to Alabama, Ole Miss was able to put up 21 points on offense in the second half. The Rebels have been a scoring machine this year and should be able to continue to produce at home against the Hawgs.
Look for Arkansas to struggle to keep up so take the Rebels to bounce back for your college football pick.
NCAAF Pick: (visit our Sportsbook Review)
*The pick reflects the line at the moment the writer made the play, the odds at the beginning of this article show the live line movement. Since the lines might vary, don't forget to refer back to our live odds.