Arizona State vs. BYU College Football Week 3 Picks and Predictions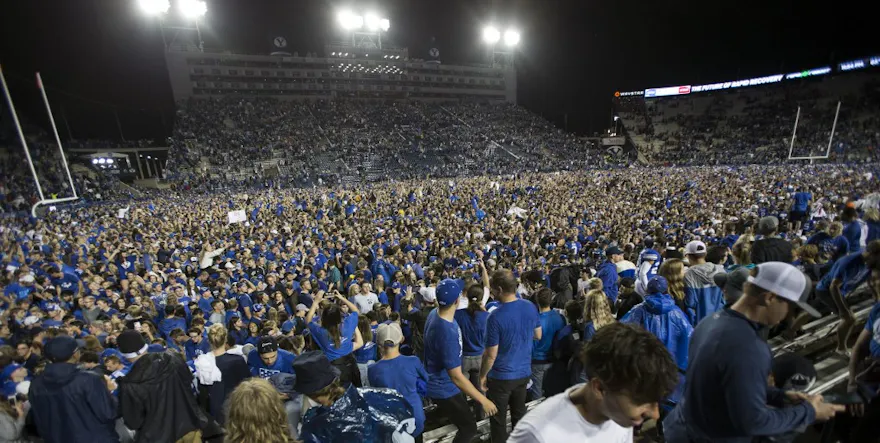 BYU may be an independent team this year, but they are essentially in the Pac-12. Two weeks into the 2021 college football season, the Cougars are already 2-0 against Pac-12 opponents. They beat Arizona by single digits in the first game, and they pulled off an impressive upset against a ranked Utah team the week after.
Arizona State Sun Devils vs. BYU Cougars
Saturday, Sept. 18, 2021 -10:15 PM EDT at LaVell Edwards Stadium
Now, BYU faces another tough Pac-12 opponent. They'll play against the Arizona State Sun Devils, another ranked team. After just two weeks, the Pac-12 only has three teams still undefeated.
This game could make that number shrink again, but the Sun Devils have plenty to be hopeful for. Despite playing on the road, they are favored by NCAAF odds. The line is moving around -3.5 for ASU.
Arizona State has a great offense led by Jayden Daniels. They have one of the most experienced coaches at the conference. Can they remain undefeated after playing BYU? Here are keys for each team to come away with a victory and a pick for this Saturday's game.
https://www.youtube.com/watch?v=eTw-o3Z9-JE
Keys for Arizona State to Cover the Spread
Arizona State's offense hasn't been elite despite playing inferior opponents. This early in the season, that raises questions. Are they saving their best plays for future opponents? Are they worried about getting hurt and therefore going easy on offense? Regardless, they have to step it up against BYU. Look for Jayden Daniels to be the focal point on offense. He needs to prove himself as a passer after averaging less than 200 passing yards per game so far this year.
Daniels will get plenty of chances to throw the ball. Overall, he is a solid passer. The true key is to win in the crucial areas. A great drive can be stalled by one bad pass on third down. If they reach the red zone, they have to convert with points.
https://twitter.com/3_chaad/status/1428362027739750400
Both teams have won the turnover margin so far this season, so that will be an interesting stat to watch on Saturday. If Arizona State can convert in key scenarios and force a few turnovers, they should be set to win this game outright. At that point, covering the spread comes down to who makes the biggest plays.
Keys for BYU to Cover the Spread
BYU is a bruising team. They've rushed for nearly 200 yards a game so far, and they love to extend drives on the ground. Playing at home will be even more important. It will keep this game low-scoring and close until the fourth quarter, and momentum should then be on the side of the Cougars. However, they have only scored one rushing touchdown so far this year. They can wear down a defense, but they also need to finish drives on the ground. Failing to do so puts too much pressure on the quarterback.
https://twitter.com/BYUfootball/status/1437804448164712450
On defense, BYU has to work on stopping the passing attack. This has been their weakness so far this season. Against Daniels, look for them to contain him in the pocket and force him to make tough throws. Daniels is capable of doing this, but it's a better situation for BYU than letting him scramble and find free yards. BYU has what it takes to win this game. Playing at home helps their case to go 3-0. Still, can they pull off the upset?
Time for a Pick
BYU is not the same team that they were last year. Losing Zach Wilson was always going to hurt the Cougars. Still, they are getting competent play at quarterback. Their offense has balance, and that has been enough so far. Will it be enough against Arizona State? The Cougars have already been tested, and they've proven that they're a top 25 team. Arizona State has not.
Zach Wilson. Mike Comer/Getty Images/AFP
BYU has yet to give up a turnover, showing its ability to remain efficient. Arizona State can't say the same. A lot of things are pointing towards BYU in this game, which is why it surprises me that ASU is favored. While a money line bet on the Cougars has value, for my NCAAF picks, I'm going to stick with the spread. Expect BYU to cover in a low-scoring game that comes down to the fourth quarter.
NCAAF Pick: (visit our Sportsbook Review)
*The pick reflects the line at the moment the writer made the play, the odds at the beginning of this article show the live line movement. Since the lines might vary, don't forget to refer back to our live odds.