The State of the U.S. Legal Sports Betting Landscape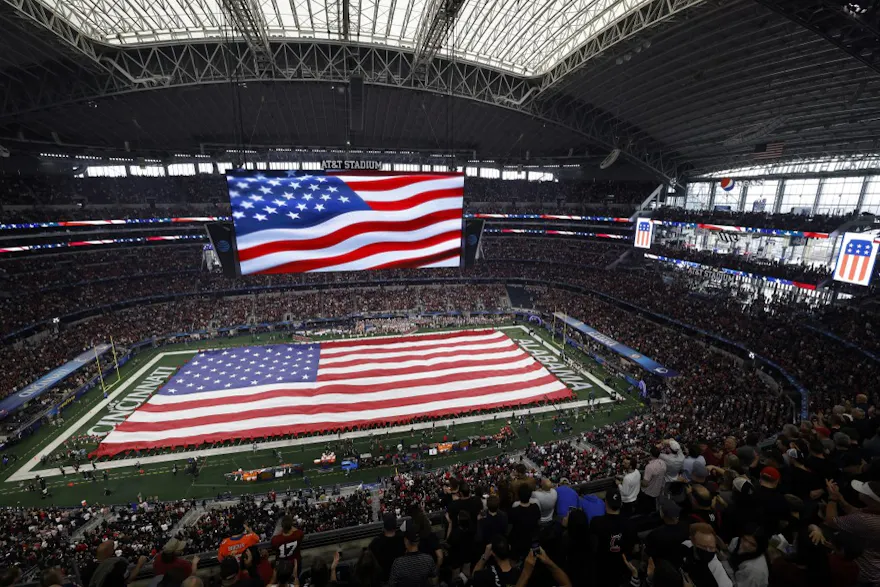 January was yet another banner month for the U.S. legal sports betting industry. Most states have reported on their January numbers, and a majority reported monthly records.
Let's take a peek into where each state is in terms of its standing in the competitive U.S. market, starting with Tier 1 and working our way down.
Tier 1
New York
The state of New York has taken the title of "King of the Bet-Friendly States" from the previous gatekeeper, New Jersey, thanks to the launch of a long-overdue and hugely successful mobile sports betting platform on January 8. New York's expanded legal sports betting platform took in $2 billion in the first 30 days of operation.
$1,686,263,898 was reported by New York sportsbooks in January alone, with only 23 days of mobile betting. That number bested the old monthly sports betting handle record from New Jersey by over $3,000,000.
By comparison, New York's high-water mark in terms of monthly handles in 2021 (when the state had retail-only sports betting) came in October when $25.5 million was taken in by the state's sportsbooks.
New York's top performing sportsbooks from January 9-31 were:
Caesars - $627,401,761 FanDuel- $517,492,498 DraftKings - $377,952,846 BetMGM - $82,204,532 BetRivers -$33,465,116
Over $70 million in tax revenue for state and local coffers was generated in the first 30 days of mobile sports betting in New York.
https://twitter.com/BFawkes22/status/1495887560438333441
New Jersey
New Jersey's status as the most successful legal sports betting jurisdiction in the U.S. is no longer, but it didn't stop the state's books from reporting a record handle haul in January.
A $1.349 billion handle was reported in the Garden State, 3.5% higher than their previous monthly handle record of $1.303 million and about 10% higher than December's haul. The numbers are surprising since New York was expected to dent New Jersey's numbers significantly.
January marked the fifth straight month New Jersey eclipsed the $1 billion handle mark. Sportsbook gross revenue winners for the month were.
FanDuel/PointsBet/SuperBook - $35.5 million DraftKings/Fox Bet/Resorts - $10.2 millionBetMGM/Borgata - $4.8 million.
Nevada
Nevada has been a tad slow in releasing its January legal sports betting numbers. But on the heels of three straight $1 billion months (from October-December), the state remains in the top tier of legal sports betting states.
December saw $1.1 billion in wagers flow in, and thanks to $179.8 million in bets on the Super Bowl, January could see a new record haul.
Since June 2018, Nevada has taken in a total of $20,824,527,904 in sports wagers, and with the change in mobile registration policy (from in-person only to remote), Nevada expects to stay in the conversation as a top jurisdiction in the U.S.
Tier 2
Illinois
Illinois is notoriously slow in reporting its legal sports betting numbers. Generally, we can expect their figures to be released six weeks after the end of the month.
Because of that, January's figures haven't been released yet. But based on December's figures, we can expect Illinois to maintain their top-5 spot on the "Bet-Friendly States" list.
With December's $789,600,348 handle, Illinois had posted three straight $750,000+ betting months and had a record of $840,440,436 wagered in October. Nearly $61 million was wagered in the state on the Super Bowl, putting Illinois on track for a massive January report.
Keep it pegged right here to SBR for January updates, when they are indeed released.
Pennsylvania
On Friday, Pennsylvania came out with their January legal sports betting figures, and they too set a handle record for a month-long period.
The Pennsylvania Gaming Control Board reported $793.7 million for January, up 5.7% from December. It was the fourth-straight month the state had eclipsed the $750 million handle mark.
FanDuel Sportsbook with $273.3 million was the top Pennsylvania performer in January - 37% of the state's overall wagering activity.
DraftKings was second with $195.7 million in wagers taken in over the month.
https://twitter.com/EricRaskin/status/1494680972259909639
Michigan
Michigan's sports betting scene remained in the second tier of U.S. jurisdictions but just barely with the emergence of New York. The state's sportsbooks reported just over $530 million in sports bets in January - a new record monthly haul for the state. That number bests their previous handle record of $514.6 million from December.
Tier 3
Indiana
Indiana falls out of Tier 2 but strongly leads the Tier 3 jurisdictions, thanks to a record $500.1 million sports betting handle in January. Last month marked the first time the Wolverine State eclipsed the $500 million mark, which was about $36 million higher than the previous handle record for the state of $463.7 million in November.
Colorado
Colorado is reporting a $461.4 million handle for December - but January figures have not been released.
December's haul was 2.9% less than November but did take Colorado's lifetime handle over the $5 billion mark, spanning 20 months - $3.8 billion was wagered in 2021.
Virginia
Virginia is another state that has yet to release its January legal sports betting numbers. But December's figures put the state squarely in Tier 3 of U.S. legal sports betting jurisdictions.
The state reported a $426.6 million December handle, just shy of the record $427.3 million from October.
Virginia's first full-year sports betting total came to just over $3 billion with those numbers in the books.
Tier 4
Tennessee
Tennessee had been in Tier 3 before New York knocked them down a peg. Still, the state's sports betting activity set a record in January. A $386 million handle was reported by regulators in the Volunteer State, beating the old record of $375.3 million from October.
Iowa
The Iowa Racing and Gaming Commission released its January legal sports betting figures - they revealed yet another state handle record.
The January reporting period revealed a $303.3 million handle and the first time the state has eclipsed the $300 million plateau. Last month's handle was 13.8% higher than December's and just over $16 million higher than their previous record posted in November.
https://twitter.com/ButlerBets/status/1494067849568079877
States Threatening to Break into the Top 4 Tiers
A few states have recently launched that are threatening to unseat some of the mainstays on the top-11 list of sports betting jurisdictions. It won't be long before we see the likes of these states supplanting Tennessee and Iowa.
Included are:
Arizona
Since its launch in September, Arizona has been slow to release their legal sports betting numbers.
The latest figures show a handle of $466 million, which would put the state in Tier 3 of legal sports betting jurisdictions. $1.2 billion in wagers was generated in the state in the first three months of legal sports betting. Expect Arizona to officially jump onto the Top-10 list as early as this month.
Louisiana
Mobile sports betting became a reality in Louisiana (minus a few parishes) on January 28.
It's been reported that in its first four days of operation, mobile sportsbooks took in $40.5 million in wagers. Of course, the Super Bowl helped with that, but there is apparent momentum in the Bayou State - enough for most analysts to feel the state is on the cusp of breaking into the Top-10 list of U.S. legal sport betting jurisdictions.
Note: Louisiana retail betting launched October 31 - mobile was introduced in late January. In December, the retail sector produced a respectable $39,495,003, making the addition of mobile something to keep an eye on.
Lower Tiers
Connecticut
A relatively new sports betting state, Connecticut's industry continues to grow. In January, the state's Department of Consumer Protection reported a $158.1 million handle, representing a 5.3% month-over-month increase from December.
New Hampshire
January numbers aren't out yet, but December produced $86,449,528 in handle, about $12.5 million less than their record $98 million from October but still a respectable figure.
West Virginia
In January, the state's sportsbooks took in $58,894,228, roughly $1.5 million more than in December. The handle record for the state came in November when $84,259,419 was wagered.
Mississippi
In December, the state reported $56,839,743 in sports betting activity.
Rhode Island
In December, regulators in the state reported $54.9 million in wagers, up 4.1% from the $52.7 million in November.
Oregon
December was a record month for the state, thanks largely to DraftKings finally being able to operate there against the underwhelming Lottery platform. $33,743,754 in bets was taken in during January.
Maryland
So far, the retail-only legal sports betting platform recorded $32.5 million in bets in January - during their first entire month of legalized sports betting.
Mobile apps for the state have yet to be launched and don't seem imminent. Five brick-and-mortar casinos are responsible for the entirety of the handle.
Washington DC
In January, the state saw a $18,627,789 sports betting handle up 3.1% from December's $19,220,228.
Wyoming
January's numbers have yet to be released.
December set a record with $12,285,012 for the month. $10,973,008 was the previous record - set in November.
Arkansas
January's numbers have yet to be released.
In December, the state's sportsbooks reported $7,794,292 in wagering activity, making the state one of the smallest markets in the country.
Montana
In January, Montana reported a record handle - just $5,117,000, nearly $500,000 higher than their previous record from November.
South Dakota
January's numbers have yet to be released - but saw $675,312 flow into its retail sportsbooks in December.
Make sure to keep an eye on our Live Odds page throughout the week to get the best lines possible and connect with others in the SBR community on our popular sports betting forum.