Reviewing the Top 10 U.S. Legal Sports Betting States in May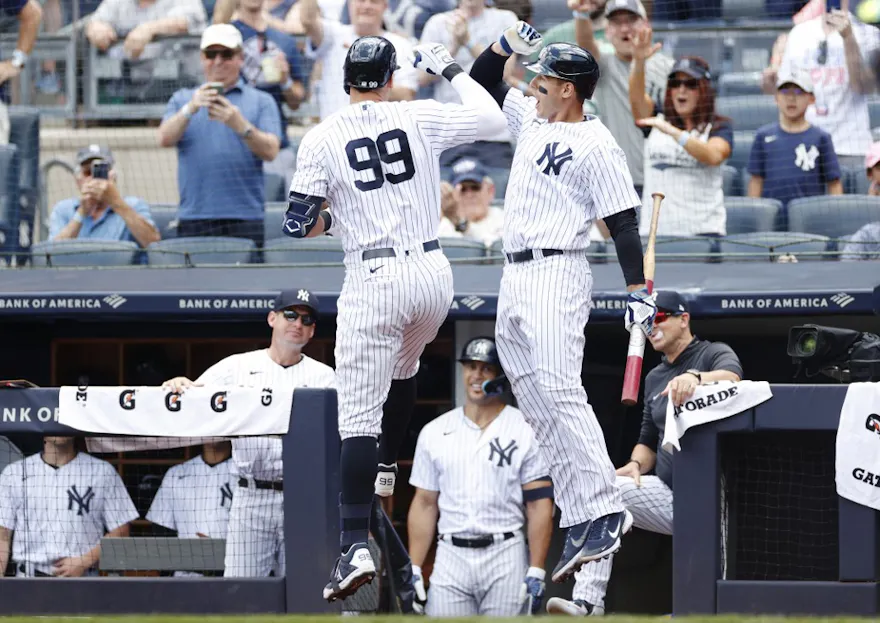 The month of June is almost in the books, which means that nearly all of the participating U.S. legal sports betting states have released their May handle and revenue figures. To nobody's surprise, the lack of a marquee sporting event, outside of the NBA and NHL playoffs, has led to the start of the annual summer sports betting slowdown for books across the country.
Some states have seen the start of their annual summer sports betting slump, while others have seen minor drop-offs. Others haven't yet reported their May sports betting handles, leaving us to project what we think their monthly sports betting figures will be.
The Top-10 May Bet-Friendly states will look familiar. May didn't exactly provide any earth-shattering surprises.
Without further adieu, let's take a peek at the top 10 performers in the U.S. legal sports betting space for May.
1. New York
New York is one of a few states on the Top-10 list that has not yet experienced any major month-over-month slide. Thanks Yankees and Mets! The overall May sports betting handle for the Empire State sportsbooks was reported to be $1,269,862,570, which would be the second-best month for a state not named New York. The state's sportsbooks drew nearly $1.4 billion in April, which means $130 million was shed from the state's handle from month-to-month.
Revenues for New York's sportsbooks didn't take as much of a hit. In fact, revenues increased. Sportsbooks made $110,418,075 in May thanks to an uptick in the hold-rate to 8.7%. In April, revenue totals came in at $104,535,898.
A whopping $53,859,457 was generated for state and local coffers from the New York sports betting scene.
Despite posting its lowest monthly total since the January launch of the mobile sports betting industry, in May, New York further separated themselves from the pack. No other state generated even a $1 billion handle. In fact, New York took in nearly $500 million more than #2 on the list.
The sportsbook breakdown for the state is as follows:
· FanDuel - $552.6 million (just over 40% of New York's total)
· DraftKings - $313.6 million
· Caesars Sportsbook - $192.7 million
· BetMGM - $123 million
· PointsBet - $33.8 million (a 50% month-over-month drop)
· BetRivers - $31.3 million in handle for May
· WynnBET - $9.8 million
· Resorts World Bet - $6.7 million
2. New Jersey
New Jersey was able to stand tall in May and maintain their #2 spot on the list of successful sports betting states. Sportsbooks in the Garden State took in $766,412,352 in bets in May, down substantially from the $926,946,780 in April. Revenues on the other hand increased dramatically from $50,345,808 in April to $61,594,016 in May. This is thanks to an 8% hold last month, as opposed to the 5.4% hold in April.
$7,998,017 in taxes was paid by New Jersey sportsbooks to tax coffers in the state.
Sportsbook revenue breakdown for the Garden State are as follows:
· Meadowlands partners FanDuel, PointsBet and SuperBook - $35.5 million
· Resorts Digital's partners DraftKings, FoxBET and Resorts' own sportsbook - $11.3 million
· Borgata, which features its own sportsbook brand and BetMGM $6.4 million
Check out the latest comprehensive and most trusted Sportsbook Reviews by SBR.
3. Illinois
Illinois is a state that has traditionally been slow to release their May figures. So, we are going with their April figures to project where they finish on May's list of bet-friendly states. Illinois has long been considered a Major threat to Nevada, a Top-3 mainstay… and in April, they finally leapfrogged the Silver State. We are expecting that again in May.
Illinois managed a very respectable $839,386,882 handle in April. Again, we haven't seen any May numbers yet. Revenue totals came in at $70,462,360 and taxes paid by sportsbooks was $11,321,487. The month-over-month drop-off wasn't nearly as drastic as expected in Illinois, - their April figures are good enough for us to assume their podium spot in May.
Illinois sportsbooks have been benefiting from 2 MLB teams, the Chicago Cubs and White Sox and have been seeing some action on their MLS team, the Chicago Fire.
4. Nevada
Nevada has been a bit slow to report their May sports betting numbers as well. They are one of the most reliable jurisdictions in the American market but haven't released their May figures just yet. At this point, we have to assume their #4 spot on the list, based on recent history.
Nevada in April was nearly $100 million ahead of the fifth-place state, Pennsylvania thanks to a $582,529,725 handle. That number however is more than $250 million behind the new #3 on the list, Illinois. April marked the first time that Nevada has slipped out of the top-3 most successful sports wagering states, and judging by Illinois' performance in April, the same could be true in May.
$25,368,725 in revenue was reported by Nevada sportsbooks, who paid $1, 712,340 in taxes.
5. Pennsylvania
Pennsylvania rounds out the top-5 most successful sports betting states in the U.S. market for April. They too saw a decent decrease in month-over-month sports betting activity from April to May.
Pennsylvania sportsbooks took in $493,350,519 in bets in May, which is down from $572.8 million in April. $47,828,553 in revenues was reported by the state's sportsbooks and thanks to a large 9.7% hold, $12,603,546 in taxes was paid by the state's wagering providers.
Four of Pennsylvania's heavyweight providers – FanDuel, DraftKings, BetMGM and Barstool Sportsbook accounted for 85% of all online betting in Pennsylvania.
There is still a chance that Pennsylvania could overtake Nevada for #4 on May's list of successful sports betting states but for now, we have them at #5.
6. Michigan
Michigan experienced a 10% drop in handle from April to May but still maintained their spot on the top-10 list. A $356.1 million handle was reported by the state, down from the $396 million in April. Profits for the state's sportsbooks came in at $35.9 million and thanks to a nice 10.1% hold. $1.3 million in taxes was paid to state and local coffers.
7. Colorado
Add Colorado to the list of states that have yet to report their May sports betting figures but based on their previous months' numbers, they land at #7, where they were last month… and the month before. A $392.3 million handle in April leads us to project about a $325 million sports betting handle for the state in May… but that is just a projection.
The Colorado Avalanche's run in the Stanley Cup Playoffs has been of major interest in the Centennial State. That interest should be evident in June's numbers as well.
8. Indiana
Indiana maintained its spot in the top-10 thanks to basketball, which was responsible for about one-third of May's sports betting handle. The Hoosier State sportsbooks took in $308.4 million in May, a drop of $52 million from the $360 million in April.
Revenues, like a few others on the list, increased slightly from April to May. Sportsbook profits came in at about $30.7 million in May, about $2 million more than the $28.66 million in April thanks to a 9.9% hold.
9. Tennessee
Unfortunately, Tennessee is another jurisdiction that has yet to release its May sports betting numbers, but the Volunteer State has become a mainstay on the Top-10 list. The state reported a nearly $293 million handle in April, giving us confidence that between $200 million and $250 million will have flowed into the state's sportsbooks in May.
That's good for #9 on our list.
10. Louisiana
Louisiana's relatively new legal sports betting industry experienced their first real slowdown in May. The Bayou State saw $171.1 million in sports betting activity in May, a 17.8% drop from April's $208.2 million. It's still good for #10 on the U.S. Bet-friendly states list.
Revenues for Louisiana's sportsbooks saw a slight increase, however. Profits climbed dramatically, from $5.5 million in April to $25.3 million in May. The spike is due to a hold-rate that jumped from just under 3% in April to a whopping 14.8% in May.
Make sure to keep an eye on our Live Odds page throughout the week to get the best lines possible and connect with others in the SBR community on our popular sports betting forum.