5 Storylines That Shaped the 2021 U.S. Legal Sports Betting Narrative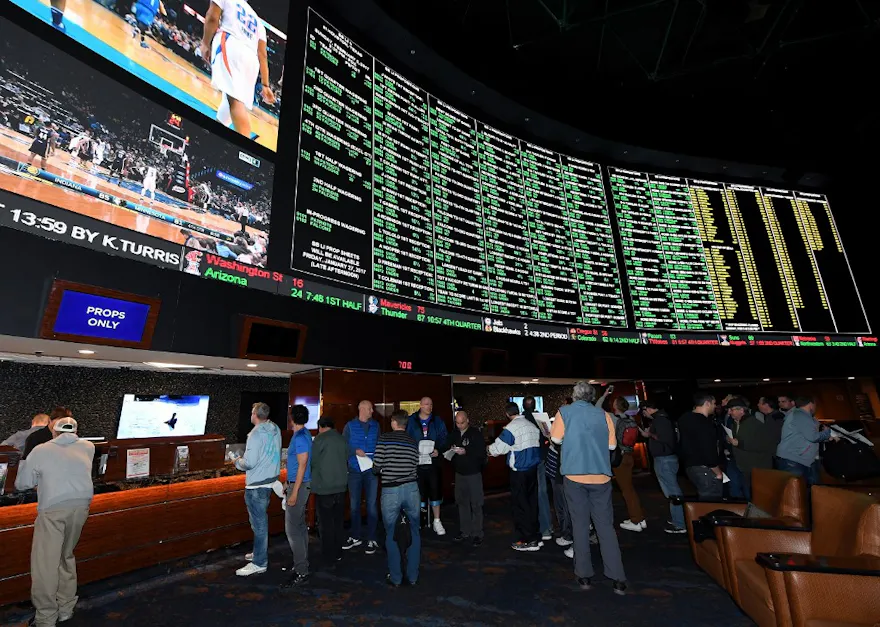 There was no shortage of game-changing events for the U.S. legal sports betting scene in 2021. From the overall growth of the industry to the partnership/mergers that took place, to the sheer amount of money taken in, analysts may look back on 2021 as the year that added jet fuel to an already exploding industry in the U.S.
The foundational blocks laid by the events of 2021 should propel 2022 into uncharted territory. They should also pave the way for even more future expansion as reluctant states become more aware of the mainstreaming of the platform itself and just how much the tax revenue generated can be a boon for any given jurisdiction.
Let's take a peek at some of the biggest U.S. legal sports betting stories of 2021.
Expansion
Eleven states legalized and launched their own legal sports betting platforms in 2021. There are six others such as Ohio that legalized but haven't launched yet. New York agreed to expand its legal sports betting industry past just four upstate retail casinos - mobile sports betting in the Empire State is a game-changer for not only that jurisdiction but also for the national scene as well.
Altogether, there are now 30 legal sports betting states plus Washington, D.C. operating their own legal sports betting scenes. Once the six that are legalized in 2021 go live, 36 of 72% of U.S. states will have legal sports betting.
The three biggest fish - California, Texas, and Florida (although the Sunshine State actually did launch before being shut down by the courts) - have yet to welcome their own sports betting platforms. Eyes will be on those states in 2022 to see if they do indeed join the sports wagering family.
Partnerships
It seemed that 2021 was the year that everyone wanted to get in on the legal sports betting industry in the U.S., from high-end legal wagering providers to individual leagues, teams, and even players, to celebrities who lined up to become ambassadors for various brands.
Deals between sportsbooks such as Caesars' acquisition of William Hill and Penn National's takeover of theScore highlighted what was a U.S. legal sports betting gold rush in 2021.
Major pro sports leagues and even some college teams and events such as the Fiesta Bowl and the LSU Tigers signed on with sportsbooks in 2021 and some of the biggest names in the pop-culture universe joined the legal sports betting fray. Names like J.B. Smoove, Wayne Gretzky, Shaquille O'Neal, Drew Brees, and Jamie Foxx to name a few lined up deals to become sportsbook brand ambassadors in 2021.
The billion-dollar mark
A few short years ago, it seemed unfathomable for a state to hit a $1-billion sports betting handle in one month. Well, New Jersey has done it three months in a row and likely will make it four once December's numbers are in and Nevada has eclipsed the $1-billion mark in two straight months.
New Jersey popped the bubble in September with a $1.01-billion handle and set the record in October for a state in a single month with $1.3 billion in bets taken in. Nevada saw $1.1 billion in sports bets in October and $1.086 billion in November.
While December had its share of COVID-related postponements, disruptions, and cancellations of sporting events, both New Jersey and Nevada have a chance to eclipse that $1-billion mark again.
The dollars
The wagering volume in the U.S. in 2021 was arguably the biggest story. A total $4.3 billion was bet on the Super Bowl alone in 2021. Spending at the country's retail and mobile sportsbooks was like a runaway train last year. In June 2018, sports gamblers wagered $310 million for the month. In October 2021, the U.S. legal sports betting scene took in more than $7 billion with two jurisdictions missing on that report.
Five states surpassed $500 million in handle in 2021 and eight states took in over $400 million in a month during the year.
In 2020, the national sports betting handle stood at $21.5 billion. That number is expected to approach $50 billion in 2021. The American Gaming Association is out with its expectation that $46.8 billion will be wagered this year on sports in the U.S.
Looking ahead to 2022
Early in 2022, the U.S. legal sports betting family will welcome Ohio, the seventh most populous state, into the legal sports betting family, and a previously underwhelming New York state scene will bring a much-needed and long-overdue mobile platform into the fold.
Florida looks likely to get on board, California could be in line for its own legal sports betting platform and other major states are likely to consider, and possibly send, the ideas of legalized sports betting to their voters on the 2022 election ballot.
We thought that 2021 was an explosive year for the U.S. legal sports betting industry, but 2022 figures to provide more of a bang! A year from now, we should be talking about another year-over-year explosion of the U.S. legal sports betting industry. Whether or not it will double, as it did this year compared to last, remains to be seen.