Top 12 Remaining NFL Free Agents: Odell Beckham Jr., J.C. Tretter and More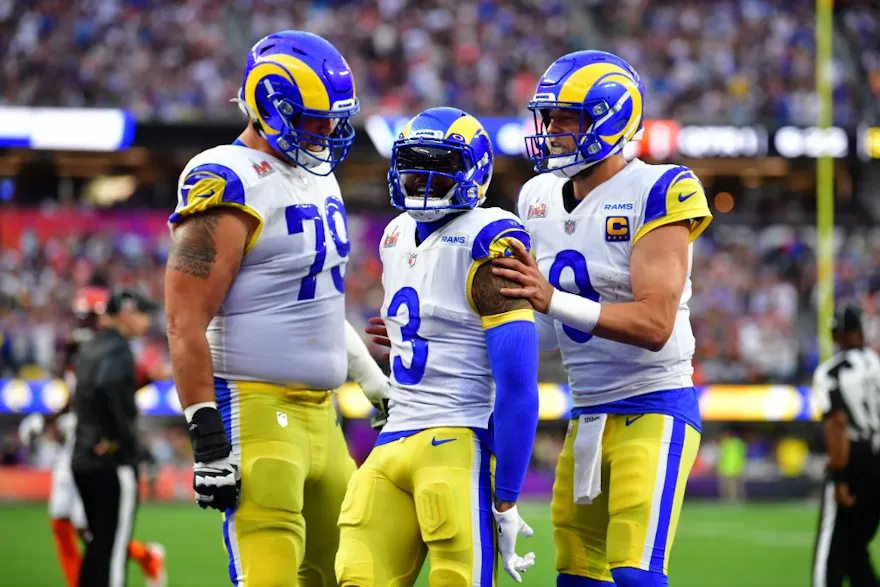 Now that NFL training camps are underway, there might be more urgency for some of the unsigned players to secure a new contract. As veteran players, they might not be inclined to be there for all of training camp, but they also might want to find the right situation that will set them up to be productive in 2022.
There are a handful of proven wide receivers who should be of interest, but there are veteran offensive linemen and an all-time great tight end among the players still on the free agent market.
Here are the latest Super Bowl odds from DraftKings, FanDuel, and Caesars.
Super Bowl Odds
https://datawrapper.dwcdn.net/5ZzWc/1/
Check out the latest comprehensive and most trusted Sportsbook Reviews by SBR.
Odell Beckham Jr.
Although the 29-year-old wide receiver suffered a torn ACL in the Super Bowl, he played well enough with the Rams last season to generate plenty of interest. He's not necessarily the guy who put up 1,300-plus yards in his first three seasons but would be a valuable contributor in a supporting role for just about any contender. Of course, this is based on Beckham being healthy.
J.C. Tretter
A 31-year-old center and guard who has strong grades and is super durable, playing every snap in 16 games for five straight seasons. He is not a player who should be a depth addition, he is more a quality center who could help a team like Tampa Bay, who just lost center Ryan Jensen to injury.
Duane Brown
Even at 36-years-old, the five-time Pro Bowler remains a reliable starting left tackle and that is still highly valued. It might not be a long-term investment, but for a team needing stability at an important position, Brown is a viable option.
Cole Beasley
The 33-year-old slot receiver had a career-high 112 targets for Buffalo last season, tying a career high with 82 receptions. He has a very specific niche, running short routes, but has thrived in that role, putting up at least 65 catches in each of the past four seasons. That could play with many teams in 2022.
Jason Peters
It is hard to imagine that a 40-year-old tackle would still be valuable, but the nine-time Pro Bowler can still play at a high level. There are durability concerns but if a team has a hole at one of their tackle spots, Peters could easily fill it and do the job.
Rob Gronkowski
While other players have announced their retirements this offseason, it is more difficult to buy that Gronkowski is surely retired for good now. Just ask his girlfriend:
https://twitter.com/TB_Times/status/1549129752962908167?s=20&t=apqDHEXOrGm77T_RqwsnTA
In any case, Gronk might be the best tight end ever and he just had 55 catches for 802 yards and six touchdown catches for Tampa Bay last season. Maybe he is not a typical free agent, but if Brady asks him nicely and the Bucs put up the money, Gronk could probably be convinced to come back again.
Cam Newton
Believe it or not, there are no great free agent quarterbacks just waiting to be called in early August, so the best of the available options may be Newton, a 33-year-old who has clearly declined in recent seasons but, in a pinch, could start a few games.
Eric Fisher
The first pick in the 2013 Draft, Fisher is never going to live up to that draft slot, but he is a solid starting tackle who has made a couple of Pro Bowls. The 31-year-old would be a reliable option for a team that needs more stability at left tackle.
Dee Ford
It has been a while since the 31-year-old edge rusher was a difference maker but in 2018 he had 13 sacks and seven forced fumbles. That kind of production tantalizes and even though Ford has played just seven games in the past two seasons, there should be a team interested in Ford's pass rushing ability.
Joe Schobert
After coming up with Cleveland and then bouncing to Jacksonville and Pittsburgh in the past two seasons, the 28-year-old linebacker has been very productive, putting up more than 100 combined tackles in five straight seasons.
Devontae Booker
There are a handful of viable running back options, and 30-year-old Booker is coming off a solid season with the Giants, averaging 4.1 yards per carry and catching 40 passes in 16 games. His 861 yards from scrimmage was the second highest of his career, behind only his 2016 rookie season.
T.Y. Hilton
A four-time Pro Bowler whose last 1,000-yard season was in 2018, Hilton is not the player he was during his peak, but could still be an interesting option for a contending team that needs better wide receiver depth.
Honorable Mentions: RT Daryl Williams, RB Latavius Murray, WR Emmanuel Sanders, WR Will Fuller, WR DeSean Jackson, RB Jalen Richard, T Ereck Flowers, G Oday Aboushi, CB Janoris Jenkins, S Landon Collins
Make sure to keep an eye on our Live Odds page throughout the week to get the best lines possible and connect with others in the SBR community on our popular sports betting forum.