Top 10 NHL Trade Candidates (Defense Edition): Jakob Chychrun and More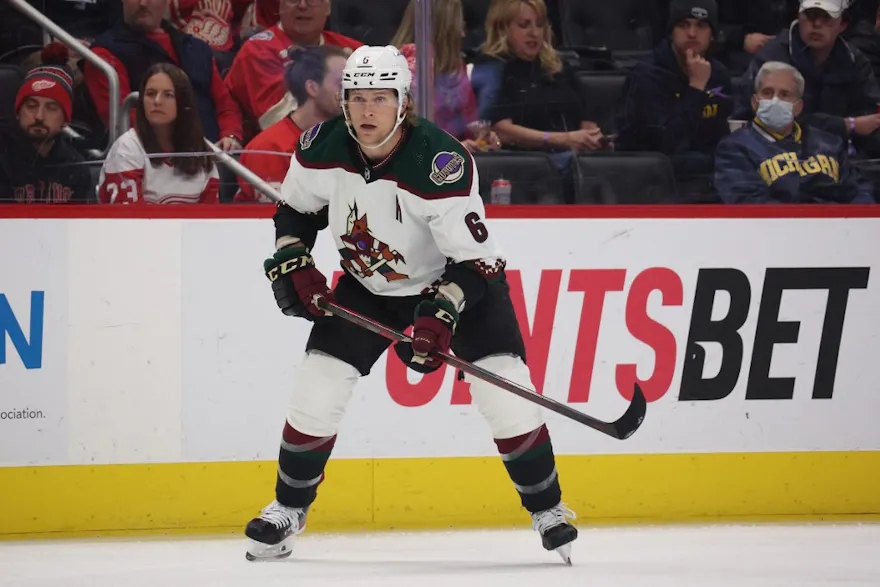 Top 10 Centers Trade Candidates I Top 10 Wingers Trade Candidates I Top Goalie Trade Candidates
While it is typically not easy to swing deals for quality defensemen, this summer does appear to offer some possible blueline deals that could include top four or even top pair options.
Acquiring defensemen through trade can be a challenge but with some teams rebuilding and others seeking salary cap relief, there are some blueliners that could spring loose.
Check out the latest comprehensive and most trusted Sportsbook Reviews by SBR.
Here are the latest Stanley Cup odds from DraftKings Sportsbook, FanDuel Sportsbook, and Caesars Sportsbook.
Here are 10 defensemen that could get traded this offseason (stats courtesy of Natural Stat Trick).
Jakob Chychrun, Arizona (7 G, 14 A, 47.2 Corsi for %, 45.2 Expected goals for %, 47 GP)
It should indicate just how long the Coyotes' rebuilding plan is going to take if they are interested in trading a 24-year-old defenseman who plays 23 minutes a night and has three years remaining on a contract with a very reasonable $4.6 million cap hit. Chychrun has battled injuries at times but should bring a major haul of picks and prospects to help turn the Coyotes' fortunes around.
Brent Burns, San Jose (10 G, 44 A, 45.0 CF%, 47.3 xGF%, 82 GP)
At 37 years old, Burns is not the game-breaker that he was earlier in his career. However, he is still a dynamic contributor from the blueline, and with San Jose in need of cap flexibility, Burns should have appeal in the marketplace. That's not only because he remains a productive offensive threat from the blueline, but Burns has three years left on his deal with an $8 million cap hit per season but is owed $13 million in real dollars over that period.
He is at least cost-effective if not cap hit effective.
Ethan Bear, Carolina (5 G, 9 A, 56.6 CF%, 55.5 xGF%, 58 GP)
One season in Carolina did not really have the desired effect for Bear, as he played a career-low 16:05 per game and was a healthy scratch throughout the Hurricanes' playoff run. A 25-year-old right-shot defenseman, Bear was playing nearly 22 minutes per game for the Edmonton Oilers in 2019-2020 but has declined in the past two seasons, offering a potential buy-low situation for a team looking to upgrade their blueline.
Tyson Barrie, Edmonton (7 G, 34 A, 50.4 CF%, 49.5 xGF%, 73 GP)
Barrie is a productive 30-year-old blueliner who can still run a power play but has had mediocre 5v5 play for a few years now. He has two years left on his deal with a $4.5 million cap hit.
From Edmonton's perspective, they can get the right-handed power play work taken care of by Evan Bouchard at a fraction of the price.
Alec Martinez, Vegas (3 G, 5 A, 51.6 CF%, 53.3 xGF%, 26 GP)
The Golden Knights have a bunch of trade options, which makes sense given their tight salary cap situation. While opposing teams might come sniffing around for up-and-coming defenseman Nic Hague, the Golden Knights would probably prefer to move Martinez, who has playoff pedigree and is an elite shot blocker. He also turns 35 this summer, has missed substantial time with injuries and has two years with a $5.25 million cap hit remaining on his contract.
John Marino, Pittsburgh (1 G, 24 A, 51.8 CF%, 51.5 xGF%, 81 GP)
As the Penguins contemplate the idea of bringing back their veteran free agents like Kris Letang and Evgeni Malkin, they might need to consider moving out another contract or two to make it work. On the blueline, Marino or Marcus Pettersson are viable options and Marino should have some appeal in the marketplace.
Even if his development has stalled a bit, the 25-year-old is a right-shot defenseman who can play a top-four role and has five years with a $4.4 million cap hit left on his deal.
Jake Muzzin, Toronto (3 G, 11 A, 52.4 CF%, 53.6 xGF%, 47 GP)
While a healthy Muzzin can still impact the game in a way that other Maple Leafs defenders can't, it is getting tougher to trust that the 33-year-old can stay healthy.
His play dipped last season, too, so that puts the Maple Leafs in a difficult spot if they intend to re-sign restricted free agent Rasmus Sandin, so a Muzzin trade could free up cap space ($5.625 million for each of the next two seasons) and ensure that Sandin has a regular spot in the Toronto lineup.
Jeff Petry, Montreal (6 G, 21 A, 49.5 CF%, 49.2 xGF%, 68 GP)
The veteran blueliner endured a miserable season in 2021-2022 and reportedly wanted out of Montreal, which is understandable. What 34-year-old wants to be part of a rebuilding process? In any case, once the Canadiens brought in Martin St. Louis as their head coach, Petry's season turned around and his desire to leave may have waned. Petry finished the season with 11 points and 32 shots on goal in his last 11 games, so he can still play, potentially well enough that other teams might be willing to take on the three years and $6.25 million cap hit remaining on his contract.
Tyler Myers, Vancouver (1 G, 17 A, 49.2 CF%, 49.4 xGF%, 82 GP)
Although Myers' 10-team no-trade list kicked in on July 1, a Canucks team that is intent on creating more cap flexibility ought to consider what they might be able to do with the $6 million in cap space that is allocated to Myers over the next two seasons. The 32-year-old is 6-foot-8 and skates really well, so there will likely be teams that would take him, but Myers' results have been mediocre for a long time.
Matt Dumba, Minnesota (7 G, 20 A, 49.6 CF%, 52.1 xGF%, 57 GP)
What kind of trade list would not include Dumba, the 27-year-old right-shot defenseman who has been the subject of trade rumors for a good chunk of his career?
Dumba can run the power play but also create offense at even strength and has one year left on his contract with a $6 million cap hit. The Wild are in a tight spot financially after buying out Zach Parise and Ryan Suter last summer, and it has already cost them winger Kevin Fiala, but if they need any more flexibility, maybe a Dumba trade could finally happen.
Make sure to keep an eye on our Live Odds page throughout the week to get the best lines possible and connect with others in the SBR community on our popular sports betting forum.