Pat McAfee Considering FanDuel Departure; Network Gig Possible?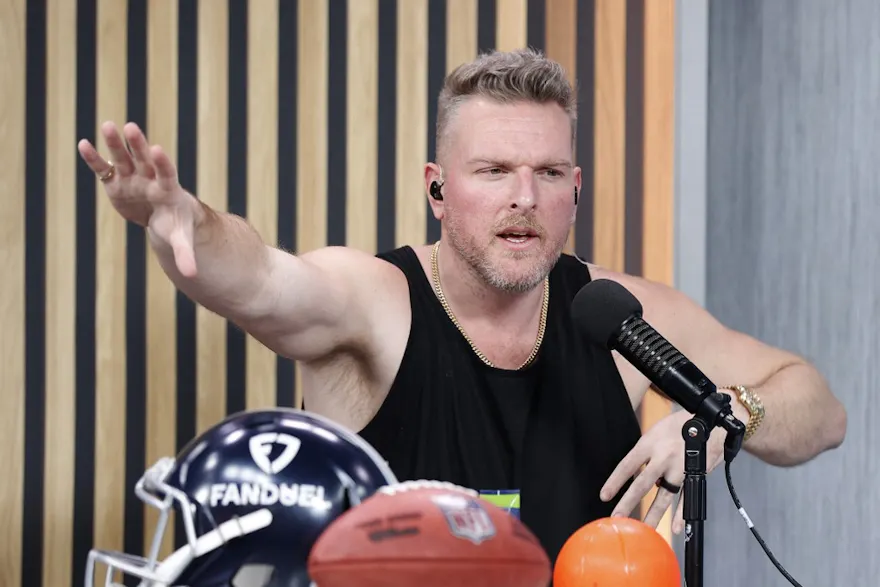 Pat McAfee is thinking about his future – and it might not include FanDuel Sportsbook.
The former NFL punter and FanDuel brand ambassador said Wednesday on his YouTube show that he's considering all of his options in an effort to ease his massive workload – highlighted by his work with the No. 1 sports betting site in the U.S.

"In an effort to make my life a lot easier, I am exploring the options of maybe joining a network or a family, a community that could help handle a lot of stuff that we're running into at this stage," he told viewers on The Pat McAfee Show. "And the sportsbook bucket is a massive bucket."
The popular player-turned-host signed a four-year sponsorship deal worth $120 million with FanDuel in December 2021 – an agreement that included an opt-out clause after three years. McAfee, who joined Barstool Sports in 2016 after his retirement from the NFL, reportedly removed the FanDuel logo from his show recently; FanDuel declined to comment on the report.

McAfee explained that the demands of his show – which has exploded in popularity – require more resources than FanDuel can provide.

"They have a TV channel, but they do not have a network that would alleviate a lot of the issues that we are currently (facing)," he said. "(FanDuel has) been very understanding with us. They've been great partners since the beginning."
According to a report from Andrew Marchand of the New York Post, McAfee is already courting other companies like Amazon.
McAfee pointed to the difficulty new users have in finding his show (which drew an audience of more than 140,000 for his comments on the report) as one major reason for thinking bigger.
"You gotta go into an app, you gotta find us in an app ... it's a little bit of a journey," he said.
"With where we have gotten to, it would be nice to be able to live a little bit of a life. I love my wife, and I can't wait for the next stage. (But) these are just conversations we're having."
McAfee said he would like to remain tied to FanDuel in some capacity, but that could prove difficult depending on where he lands next. ESPN is reportedly nearing a major partnership agreement with DraftKings, and were McAfee to align with The Worldwide Leader, he wouldn't be able to remain connected with FanDuel.