How the Sportsbooks Handled Monday's Bills-Bengals Postponement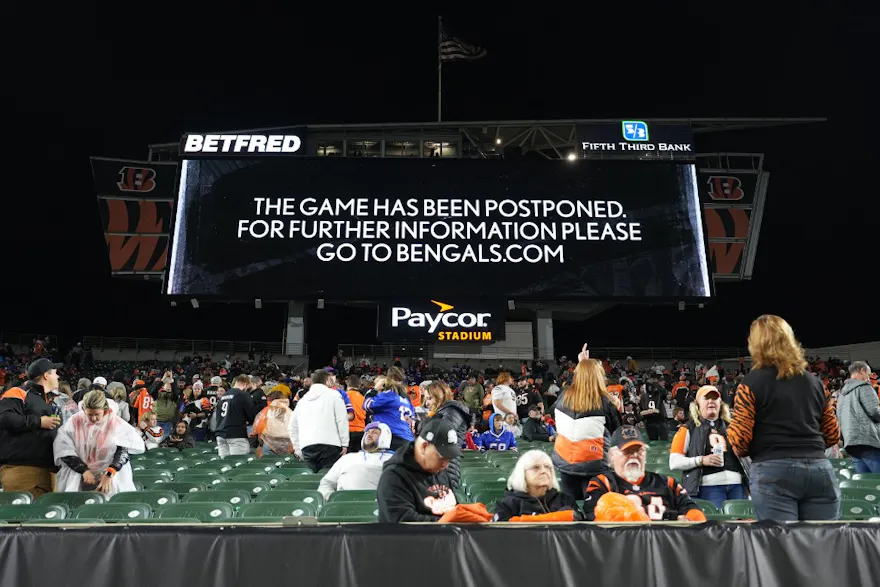 Bills safety Damar Hamlin remains in critical condition Tuesday after suffering cardiac arrest and collapsing on the field in the first quarter of Buffalo's Monday Night Football encounter with the host Cincinnati Bengals.
Hamlin had his heart restarted on the field and was given CPR for eight minutes prior to being taken off the field in an ambulance. The Bills said in a statement that the 24-year-old remains sedated at the University of Cincinnati Medical Center and is undergoing a battery of tests.
The game was suspended immediately following Hamlin's collapse, which happened moments after a tackle on Cincinnati receiver Tee Higgins with 6:12 remaining in the opening quarter and the Bengals leading 7-3. Tuesday afternoon, the league announced that the game would not resume in Week 17, and that no immediate changes would be made to the Week 18 schedule.

One positive to come out of the tragedy: NFL fans flocked to Hamlin's toy drive fundraiser on GoFundMe, which surpassed $3.5 million in donations early Tuesday morning. Click here if you would like to make a donation.

From a sports betting perspective, the scary situation led to plenty of confusion at sportsbooks across the country, with customers scrambling to find out what would happen with their wagers once the game was officially postponed.

The majority of sportsbooks stood pat as of Tuesday morning, grading any bets that had been settled to that point (including Tyler Boyd as the first touchdown scorer) but leaving any remaining active bets open. Once word came down that the game would not be played, sports betting sites worked quickly to void those active bets and return the funds to players' accounts.
This situation provides a good example of why it's important that sports bettors become familiar with each sportsbook's house rules. It's common practice for sportsbooks to "hold" active wagers in the case of an NFL game postponement or suspension. The majority of sportsbooks will void any bet made on a suspended game that does not resume within 48 hours.
While scores of bettors reached out to their respective sportsbooks demanding answers, the sports betting sites followed usual protocol in this case, waiting for the league to announce next steps before referring to their respective house rules.